This is the best apple bread recipe and the only recipe you'll need. Dutch apple bread recipe makes a delicious and moist bread that is filled with chunks of sweet apples and spiced with cinnamon. It's the perfect treat for a fall afternoon, served warm with a pat of butter or a dollop of cream cheese.
This apple bread recipe is easy to make and is sure to become a family favorite. Whether you enjoy it as a breakfast bread or as a dessert, it is sure to satisfy your cravings!
So why wait? Gather your ingredients and give this apple bread recipe a try today!
Ingredients you'll need
Butter: use unsalted butter for your baking, this way you can control the amount of salt in your recipe
Granulated and brown sugar: granulated sugar is used in the batter and the topping, while brown sugar will just be used to make the crumble topping.
Milk: I personally like to use whole milk because of it's its full-fat content which adds more to the overall substance of the recipe, but any other milk or milk substitute works just as well too.
Eggs: room temperature eggs are best so as not to disrupt the consistency of the creamed butter and sugar combo.
All-purpose Flour: you'll need 2 cups
Baking powder: not the same as baking soda. In this recipe, we need baking powder.
Green apple: I like using green apples for their tartness and because they keep their shape well when baked
Walnuts or pecans: These are my favorite nuts, but you can use your favorite (except peanuts).
Ground cinnamon: Cinnamon and apples are such a great combination!
Powdered sugar: this is the best type of sugar for making smooth icings
Vanilla extract: this is for some extra flavor, you can always substitute it with your preferred extract, almond could be a good choice as well!
How to make Apple Bread?
This recipe takes just 10 minutes to prepare. All you have to do is mix your softened butter with your sugars, add the wet ingredients, and then fold in the dry. Top it off with your crumble and pop it in the oven.
The hardest part is waiting for it to finish baking,! But, after 50 minutes you should have a beautiful loaf full of cinnamon and apple goodness.
Make topping:
The topping is so simple yet so delicious. It's vital to this recipe. It comes together in one step and just requires mixing the ingredients together!
Make the Glaze:
Another simple task! Just mix melted butter with powdered sugar, milk, and vanilla extract until smooth and you've got a wonderful glaze!
Tips for the Best Apple Bread!
Do not over-mix the dry ingredients, fold them in. When mixing flour into a batter it develops gluten. Which is great! But too much mixing can lead to too much gluten development which will in turn lead to an apple bread that's too dense.
You can use a thermometer to check doneness! A fully cooked loaf should be 200 degrees F
Room-temperature eggs are best to allow for your creamed butter and sugar to incorporate and mix together with the rest of the ingredients.
Let your loaf rest and cool completely before cutting into it to ensure your get clean and neat slices
Can I freeze my Apple Bread?
Yes, you can freeze it in an airtight container. I would recommend pre-slicing it prior to freezing so that way you can thaw it slice by slice. You can keep it stored in the freezer for one month.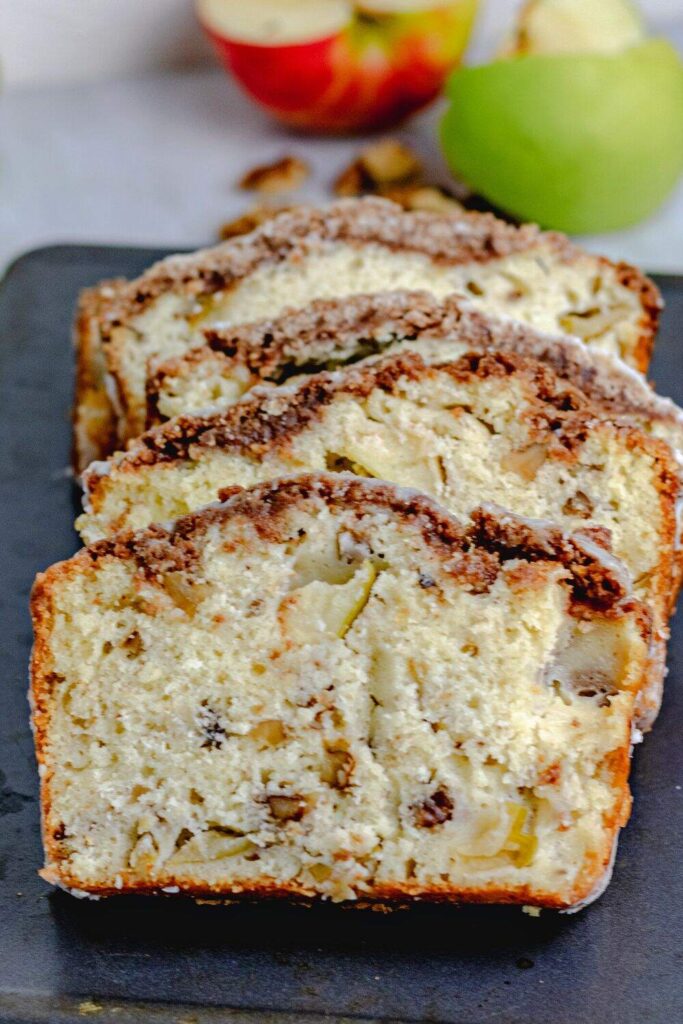 Variations and substitutions:
Different extracts are great to try with this bread if you're looking for something other than vanilla flavor. Furthermore, you can experiment with different fruits.! I'd recommend something similar in texture and density to the apple. Try out some stone fruit like peaches or nectarines.!
The milk can be substituted with milk of different fat contents, nut, or oat milk
Storing the Bread
Make sure to store any leftovers in an airtight container like Tupperware. It can be stored at room temp for 2 or 3 days, and in the fridge for up to a week. If you'd like to make it last longer you can store it in the freezer.
If you like sweet bread recipes and are looking for more, you can check:
Dutch Apple Bread
Dutch apple bread is perfect for breakfast, as a snack, or as dessert! The apple and cinnamon flavors really come through!
Ingredients
Bread Batter
½ cup softened butter (1 stick)
1 cup granulated sugar
2 large eggs, room temperature
½ cup milk
1 tsp vanilla extract
2 cups all-purpose flour
½ tsp salt
1 tsp baking powder
1 ½ cups green apples, peeled and diced
½ cup walnuts or pecans, chopped
Dutch Crumble:
5 tbsp cold butter
⅓ cup flour
2 tbsp granulated sugar
2 tbsp brown sugar
2 tsp ground cinnamon
Glaze
1 tbsp melted butter
½ cup powdered sugar
1 tbsp milk
¼ tsp vanilla extract
Instructions
Making the Apple Bread
Preheat the oven to 350 F. Grease and line a loaf pan with parchment paper



Chop apples and nuts into bite-size pieces and set aside



Mix dry ingredients together (2 cups flour, ½ tsp salt, and 1 tsp baking powder) and set aside
In a large mixing bowl, using a handheld or a stand mixer, cream together 1 stick of room-temperature butter with 1 cup of granulated sugar.



The mixture should look pale and fluffy. Scrape the bowl with a spatula to make sure everything is incorporated.



Beat in the room temperature eggs, ½ cup of milk, and 1 tsp of vanilla extract to the creamed mixture until everything is well combined



Fold in the dry ingredients carefully using a spatula. Do not overmix! Over-mixing can create a dense loaf



Mix in the chopped apples and nuts, until everything is evenly incorporated



Transfer the batter to your prepared loaf pan



Sprinkle the Dutch Crumble evenly on top.



Bake in the oven at 350 F for 50-60 minutes or until a toothpick inserted in the middle comes out clean
Let it cool before adding your glaze
Dutch Crumble Topping:
Cube 5 tbsp of cold butter and combine with 2 tbsp of granulated and brown sugar, ⅓ cup of flour, and 2 tsp of ground cinnamon



Add in some pecans or walnuts for extra texture
Mix with a butter knife or a pastry cutter enough to create a crumbly sandy texture. You could even use your hands.


Make the Glaze:
Melt 1 tbsp of butter and mix with ½ cup of powdered sugar, 1 tbsp of milk, and ¼ tsp of vanilla extract



Whisk until smooth



Drizzle over cooled loaf



Nutritional information per slice (10 slices per loaf)
Calories: 383
Carbohydrates: 45g
Fat: 17.5g
Protein: 4.7g