Dealing with fresh seafood can be a stress. Frozen shrimp is easy to work with, and you can store it in your freezer for a long time. It is great to know you can pull out your frozen shrimp and whip together one of these frozen shrimp recipes in no time.
If you are looking for a precooked or cooked shrimp recipe, there are plenty of options here for recipes with cooked shrimp in our decked out list below.
Want to make sure your shrimp will taste its best right out of the freezer?
This creamy, garlicky recipe will work wonders for your frozen shrimp. Shrimp Scampi is one of the yummiest ways to use precooked or cooked shrimp in a recipe.
Shrimp Scampi is a classic favorite for a reason. The shrimp will cook quickly in the pan, and all the liquid in the recipe makes them extra juicy.
Scampi is usually served over a long pasta, but you can substitute that ingredient for a short pasta or another grain, like wild rice.
Be sure to have some crusty bread on hand to sop off the delicious juices from this garlic butter shrimp recipe.
This recipe promises to come together in about 10 minutes, making it the perfect frozen shrimp recipe for a quick weeknight meal.
You can top your garlic butter shrimp with a sprinkle of parmesan or red pepper flake for an added bite.
This recipe is simple but flexible. An easy ingredient substitute is to replace the butter with a rich oil like olive oil or avocado oil.
you don't need a backyard and a firepit to make this authentic-tasting southern-style shrimp boil at home.
Don't have Old Bay? Not to worry, you can make a substitute Old Bay-style seasoning mixture easily, probably with what you already have in your spice cabinet.
This shrimp recipe is so juicy and delicious.
Your guests won't even realize you were asking yourself what to do with cooked shrimp that same day.
The special ingredient that makes this dish is the smoked sausage. You can use an authentic andouille sausage for that Cajun flavor or use a healthier substitute like chicken sausage.
Nothing says summer or a day at the beach like the refreshing taste of ceviche. This shrimp ceviche will make you feel like you are right on the shore!
Shrimp ceviche is the perfect idea if you are looking for already cooked shrimp recipes because it is served cold, and prep is so simple.
Once you thaw your already cooked shrimp, just chop it up and mix it with the lovely flavors of onion and peppers.
You do not need to mess with raw fish for this ceviche and a few squeezes of lemon and lime are all you need to bring this dish together.
Looking for one of the best recipes using cooked shrimp? This decadent shrimp salad recipe will make your frozen shrimp shine.
Shrimp salad is a perfect make-ahead or meal prep dish and can last in the fridge quite well.
Use your shrimp salad on a sandwich, in a wrap, or ass the protein addition to a green salad.
If you have a picky eater, shrimp salad is a great way to get someone to eat seafood because it can get hidden in a typical deli sandwich or topped on a cracker.
Looking to add some spice to your usual weeknight dinner routine? Try out this kickin' Cajun shrimp recipe that comes together so easily.
The secret ingredient to making this a stand-out dish is smoked paprika, which, compared to regular paprika, adds a broad depth of rich flavor.
If you don't have fresh lemon, a squeeze from the bottled kind is an easy ingredient substitute, and with the other flavors in this dish, you won't even notice the difference.
Just add some biscuits or grits, and you've got a delicious southern meal.
Precooked shrimp recipes may not seem like you can get an elegant result, but you will change your mind when you serve your guests this garlic butter shrimp pasta.
A few quality ingredients like nice butter and garlic will make this dish taste like you are dining out at a fine restaurant.
A sprinkle of some high-quality cheese, like parmesan or asiago, and you have got a meal that will impress you.
This quick and easy meal can be served right away and only takes about 30 minutes to pull together.
Have a party coming over and trying to impress your guests? Wow, them with the delicious flavors in this shrimp taco recipe.
The cabbage slaw in the recipe adds tons of flavor and balances out the softer texture of the shrimp.
The shrimp in this shrimp taco recipe is seasoned perfectly with a nice blend of spices and come out crispy and flavorful.
If you don't have cabbage and need an ingredient substitute, try sprinkling the tacos with thinly sliced veggies like carrots and iceberg lettuce to get that crunch.
As the name promises, you can resist the urge to pay for delivery when you can make this better-than-takeout shrimp fried rice right at home.
If you are trying to use leftovers and looking for cooked frozen shrimp recipes, shrimp fried rice is a great way to solve your problems.
This recipe is super flexible, and you can use almost any vegetable you have on hand. This recipe is also a great way to use leftover rice.
The secret ingredient to making this dish taste authentic is the fresh ground ginger.
If you don't have a ginger root, the packaged variety works perfectly, too.
Looking for frozen cooked shrimp recipes for a sweet and savory meal? This pineapple shrimp stir fry combines the sweetness of pineapple with classic stir fry flavors for a rounded experience in each bite.
It is not exactly a secret ingredient as it is in the name, but the pineapple chunks and the pineapple juice in the sauce make this recipe so scrumptious.
Your frozen cooked shrimp will heat up in no time in the pan and will also cook thoroughly as they bask in this bright sauce.
With a seasoning mixture reminiscent of blackened or Cajun-style shrimp, the flavors in this recipe for juicy baked shrimp really deliver.
Baking the shrimp frozen is a great method to let the shrimp keep a lot of their moisture. This recipe is worry-free, and the shrimp comes out nice and golden brown.
These baked shrimp are flavorful enough to stand on their own as an entrée. You can also refrigerate them to add to a salad or a wrap for tomorrow's lunch.
Looking to get some use out of your air fryer? This simple recipe for air fryer frozen shrimp will get you some juicy cooked shrimp quickly and easily.
An air fryer is a great tool for making your dinner process as simple as possible. These shrimp will cook evenly while you can focus on other dishes.
For the recipes using cooked shrimp, you can adjust to include this air fryer frozen shrimp recipe and then add the cooked shrimp from there.
Looking for the simplest cooked frozen shrimp recipes? You cannot go wrong with the timeless classic of shrimp cocktail.
Your frozen shrimp will taste amazing with this specialty cocktail sauce. It is so much better than anything you can buy in a jar.
The secret ingredient of Worcestershire sauce gives the sauce a savory undercurrent that pairs perfectly with the sweetness of the shrimp.
This restaurant-style shrimp cocktail is the perfect side dish or appetizer for your next dinner party.
You can make this shrimp cocktail recipe ahead of time and keep it in the fridge overnight.
This shrimp soup is a great idea if you are looking for precooked shrimp recipes that don't require a lot of ingredients.
You can bring this recipe together quickly with things you will probably have on hand or in your pantry.
This recipe comes together so quickly and easily. The combination of beef and chicken broth makes for a deliciously rich flavor.
Looking to elevate this dish even more? Try adding a touch of sesame oil or Hoisin sauce.
You can also add noodles or rice to the soup to thicken it and make it even more filling.
Hungry kids asking for carrying out? Trick them into eating a home-cooked meal with this delicious and deceptively simple shrimp and broccoli recipe.
Serve the shrimp and broccoli over white rice that will absorb its delicious, savory sauce.
You can also serve this dish with brown rice and add additional veggies like bell pepper to make it even heartier.
The secret ingredient of the chili garlic sauce adds a nice level of heat to this dish, which you can tinker with depending on your preferences.
Want the perfect frozen shrimp recipe for when you are under the weather? This coconut shrimp curry will do the trick.
This yummy curry is the perfect comfort meal, and you can adjust the spice level depending on how you want it if you have a curry mixture available.
If you need your sinuses cleared, we recommend kicking up the spice.
This recipe calls for cardamom seeds, but jarred cardamom from the spice rack will give you plenty of favor, as well.
Serve this curry like a soup or place it on top of rice for an even more filling meal.
Bored of the usual fixing for your weekly taco night? Try out this juicy Mexican shrimp recipe.
This recipe also includes instructions for the accompaniments to the shrimp, including rice and beans. You have got a complete meal in one go with this awesome recipe.
The seasonings on this Mexican shrimp are so flavorful, and the shrimp come out with a beautiful bright color that will make your plate pop.
Pair this Mexican shrimp with some tortillas, sour cream, and guacamole, and you will have one of the yummiest tacos ever. Or serve over rice for an incredible at-home burrito bowl.
Need recipes using cooked shrimp that come together in 15 minutes? It seems unbelievable, but this lemon garlic shrimp recipe promises to do just that.
This citrusy and flavorful dish can be served hot or cold as an appetizer or an entrée.
Serve the lemon garlic shrimp with a dipping sauce, like an aioli or cocktail sauce, for a truly knockout hors d'oeuvre at your next party.
Or serve this dish right away paired with some veggies or a healthy grain, like couscous, for a balanced and delicious dinner.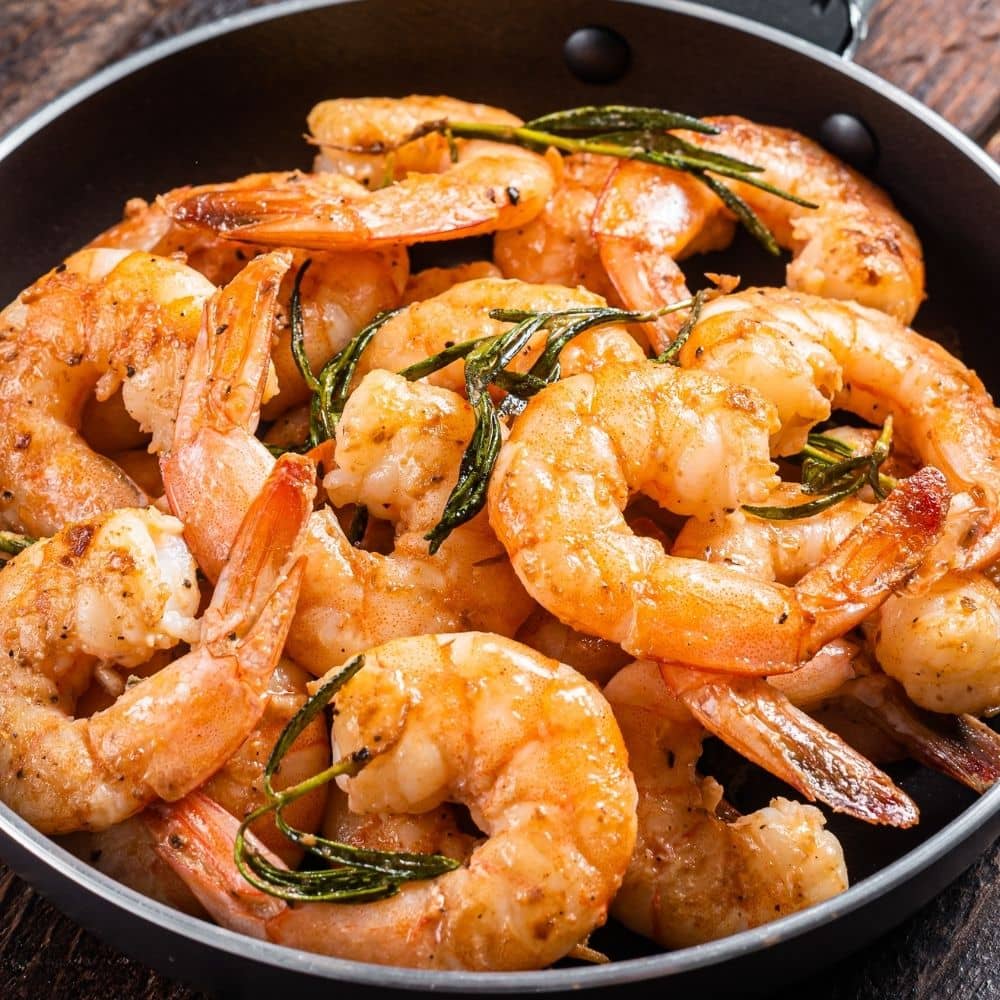 18 Easy Frozen Shrimp Recipes
Ingredients
3 to 4 garlic cloves, minced
1/4 c butter, cubed
1/4 c olive oil
1 lb uncooked shrimp (31-40 per pound), peeled and deveined
1/4 c lemon juice
1/2 tsp pepper
1/4 tsp dried oregano
1/2 c grated Parmesan cheese
1/4 c dry bread crumbs
1/4 c minced fresh parsley
Hot cooked angel hair pasta
Instructions
Heat a large, ovenproof skillet (cast iron works great!) on medium and add butter and oil.
Sauté garlic in butter and oil until fragrant, about 1-2 minutes. If garlic is browning too quickly, reduce heat slightly.
Return to medium heat and add the shrimp to the pan and distribute evenly.
Pour in lemon juice and stir gently to cover shrimp, add prepper and oregano and stir.
Continue cooking shrimp in pan until they turn completely pink.
Remove pan from heat and top with bread crumbs, cheese, and parsley if using.
Turn on oven broiler and broil on high for 2-3 minutes until breadcrumb topping is golden brown. Pan should be about 6 inches from the top of the oven.
Serve over pasta and sprinkle with additional cheese and fresh parsley. Enjoy!