Pasta; as someone of Irish, German, and Hungarian descent, dishes with noodles always remind me of home. I grew up eating all sorts of pasta-based dishes, and now that I've purchased an Instant Pot, it's been fun recreating recipes from childhood for pasta in a pressure cooker.
Instant Pot recipes have started to take over my weekly cooking regiment because of how simple they are. I've put together a list of my twenty-Six favorite easy Instant Pot pasta recipes. These meals are perfect for cozy family dinners or can be bumped up to feed a crowd.
As always, I've also included a few ideas to experiment with and some great wine pairings for these Instant Pot pasta dishes. Enjoy!
Ten-minute spaghetti, what's not to love? I felt I had to include this recipe because I love well-seasoned beef.
You'll be able to feed six mouths these tender noodles with creamy sauce. The recipe here is great comfort food, especially topped with parmesan cheese.
However, I'm a big fan of spice and heat, so I like to add an extra teaspoon of garlic powder, a ½ teaspoon of crushed red pepper, and a ⅓ cup of vodka.
If it gets too hot, I add some mozzarella, and voila! 10 Minute Instant Pot Vodka Spaghetti.
I enjoy eating this with the Kung Fu Girl Riesling, as it's meant to pair with spicy foods.
This is another easy recipe for five to six people. After 25 minutes in the Instant Pot, the tempting smell of beef stroganoff will waft out and make your mouth water.
While I'm not a vegetarian, I have made a meatless version of this by adding extra mushrooms or blocks of tofu, and it's even quicker!
Saute for about 5 to 7 minutes, occasionally stirring before you add the other ingredients.
So you won't miss out on that beefy flavor, I'd suggest adding a packet of Yves Veggie Cuisine Beef Veggie Tenders to the tofu and mushrooms.
I don't think an Instant Pot recipe list for pasta would be complete without Chicken Parmesan.
This dish only takes 13 minutes to cook, and it's one of my favorites to split between my boyfriend and me for dinner.
I like to add extra greens when I make this, so I throw in a cup of spinach and a ½ cup of arugula when adding the marinara sauce.
I like bolder and darker wines for chicken parts, like a dry Cannonball Merlot or Bourbon Barrel Cabernet.
Okay, okay; I wanted to follow up on the previous Chicken Parmesan Pasta with another one. And this one is a great option for the last minute (and I do mean last minute!) Instant Pot pasta dish because it only takes 4-5 minutes.
I've prepared this for lunch, too, when I'm busy and want something more filling than a sandwich.
While you can use any noodle you want, I like to use my spaetzle noodles.
Mac 'n' Cheese; heaven for me, hell for the lactose intolerant. This Instant Pot recipe helps you create that amazing, smooth yet thick sauce you're always looking for.
I like this sauce because it also has a dash of honey dijon mustard. I've always run into a bit of trouble with cheese clumping when I melt it, but this recipe has the perfect ratio to keep it creamy.
For an even more flavorful time, I like to add a teaspoon of garlic and herbs.
While I included a meatless suggestion further up the list, this recipe is a great vegetarian pasta, and all the better because it's quick in the Instant Pot.
The second step is the most important; make sure you add enough oil and stir well while the onions and other ingredients saute.
That way, your noodles won't clump together or get stuck to the bottom of the pot and overcook. For this pasta, I'd suggest an oaky Chardonnay.
a. I like to whip out a Garlic Noodle recipe when I've got friends coming over, and I want to feel fancy.
They look gourmet while tasting great, and in the Instant Pot, they only take 6 minutes! No stirring in-between or anything like that.
When I can't find oyster sauce for this recipe, I usually use sesame oil or Worcestershire sauce.
Another thing I like to add for flavor is a slice or two of ham; if you layer it like a ramen bowl, it looks so cute!
Baked Ziti is a go-to for me when I order delivery or go out to a restaurant, and I'm not in the mood to gamble on a meal.
I'm happy to report that this recipe expertly recreates the comfy goodness of ziti while only taking half the time in your Instant Pot.
While I tend to go spicy, I prefer baked ziti to be a bit sweet. I add an extra teaspoon of spice, ½ brown sugar, and ½ sweet paprika. With all the other baking ingredients, it's yummy!
More Pasta Recipes You'll Love
I'm probably going to unleash a deep anger from our readers by saying this, but I don't like bacon.
However, this Instant Pot Carbonara is the best way to get me to eat it. I often prepare this for double-date movie nights we host, or if you have an 8-quart pot like me, I double the recipe, so we've got plenty for board game nights.
My friends and I have always enjoyed either a tart Sauvignon Blanc or peppery Malbec alongside Carbonara Pasta.
Just as good as the 10-minute spaghetti at the top, this Instant Pot recipe is vegan and serves five.
To tick all the dietary boxes, I tried this recipe with gluten-free pasta, too. I also used a pre-cooked package of lentils.
I just added an extra 4 mins to the Instant Pot for gluten-free noodles, cooking the spaghetti for 13 minutes instead of 9 minutes, and they were nice and tender.
These Swedish Meatballs are finger-licking good, and you'll have them after only 8 minutes in the Instant Pot.
I make this recipe often, too, because once all of the ingredients are whisked together, you need to cook them.
Friendly and straightforward, no stirring or attendance needed. I also typically throw in 1 teaspoon of chili powder and one dark brown sugar for a sweet and spicy kick.
This is my boyfriend's favorite recipe on this list, so take that for what it's worth. Because he enjoys a bit more zippiness, I add an extra 2 teaspoons of hot sauce.
For the cheese, I sometimes do 1 cup of cheddar and 1 cup of mozzarella, rather than 2 of cheddar.
All in all, this recipe cooks in 5 minutes, and because it yields 6 servings, this is a typical meal I prepare at the beginning of the week, so we have lunch throughout the next few days.
Unlike the other recipes on this list, I've only made these Creamy Beef Shells once.
I found this online and threw it together last as an extra dish for a party. That said, my guests found it delicious!
This creamy Instant Pot recipe takes about 30 minutes and serves 8 people. For some panache, I'd suggest adding kale or spinach and 1 teaspoon of cracked black pepper.
Hop in with this dish that boasts rich Creole flavors! I've made this a few times, and instead, I've shredded the chicken, then added a ½ cup of diced catfish and some shrimp.
Then, I topped it off with a few diced mint leaves and a dash of lime juice.
It's hard to describe how well it blends with the softness of the alfredo, but these flavors bring some unexpected class to this pasta.
Another popular weeknight meal for my dinner table, this Instant Pot Taco Pasta is a great option for leftovers.
I've doubled the recipe and had enough for a week's worth of lunches, and yes, this is so good I'm willing to eat it for a week straight!
I'm a fan of black beans for cooking and baking, so I always add a cup to this pasta and some sour cream.
It's Alfredo time yet again, this time with broccoli! This Instant Pot meal is undeniably great with chicken, but I have to admit I sometimes prefer the vegetarian version, adding diced portobello mushrooms instead.
However, if I make this with chicken, I cut the original recipe suggestions and brine the chicken breasts first.
It adds time to your meal prep, but the added saltiness blends well with the creamy sauce.
Alright, one more Chicken Alfredo recipe. Similar to the quick Chicken Parmesan Pasta above, this recipe also takes only a few minutes.
I've made this several in the mornings, and then both my boyfriend and I have had our meals for lunch that day.
This is also an easy recipe to add vegetarian substitutes to. I've done tofu, mushrooms, and I've exchanged the chicken broth for vegetable stock or water and vegetable bouillon cubes.
Now this recipe is perfect if you're lactose intolerant. Whenever I've made this recipe, I have used 2 tablespoons of avocado oil spread rather than vegan butter. I usually add 2 extra tablespoons to give this Tuscan Chicken Pasta some buttery goodness.
I love having this for dinner with a nice glass of Shiraz; my favorite choice? A bottle of Yalumba Organic Shiraz from South Australia.
I've not met a single person that doesn't love goulash, and it's always a big hit with my family.
This was nearly identical to the recipe I already had but included faster cook times for the Instant Pot.
The most enjoyable thing about it? You can feed it to a LOT of people.
I've made goulash for Fourth of July cook-outs and Christmas parties; with the simplicity of the Instant Pot, it's nice to know I won't be stressing as much come holiday time.
I know, I know, I already listed this recipe above, but this Tuscan Chicken calls for dairy and uses a few different ingredients, so it felt wrong to leave it out. And, because I'm such a green fiend, I always add extra spinach to this dish.
This is another recipe I like to pair with Kung Fu Girl Riesling. If you want to go red, I try to look for wines with Cabernet Franc as the main grape.
This is another one of my boyfriend's favorite recipes. I suppose he likes when sandwiches come in pasta form…anywho!
Because this dish is supposed to be like a burger, I also stir in shredded pieces of pretzel bread or moist croutons once I've added the cheese.
While my man will usually enjoy this with a beer, I again like to pair it with wine.
My favorite wines for burgers are always Chardonnays, and with this Macaroni, I go for the La Hermana from Liquid Farms.
The LAST Tuscan Chicken recipe, I swear! I wanted to tack on this Instant Pot meal near the end because it has an extra boost of creaminess.
When I've prepared Tuscan Chicken Pasta this way, I've added some dill herbs and a bit of pickle juice.
It sounds weird, and it doesn't fit the vibe, I know, but if you're feeling adventurous, then give it a shot. I promise it's good!
Similar to chicken noodle soup, this Instant Pot Chicken and Noodles recipe is something I like to make when it's cold out or if I'm feeling a tad under the weather.
It's not demanding, and I can prepare it in the morning while I'm still in my pajamas.
Personally, what makes this dish for me during autumn is adding some diced eggplant and yellow squash, then topping them with a drizzle of olive oil and thyme.
Instant Pot Pesto Chicken is a lovely pasta if you're looking for something other than spaghetti or chicken parmesan.
Instead of shredded parmesan, I've preferred more sour cheeses like goat cheese or crumbly feta on top of these noodles.
Since pesto is Italian, it would be silly not to pair this with Italian wine. My recommendation is a bottle of Argiolas, namely the Vermentino di Sardegna.
The dryness and hints of apricot and grapefruit are ideal flavors for this sauce.
I think this list of recipes exposes how much I love tomato sauces. This sauce is a bit more unique than your standard spaghetti because it calls for cream cheese.
I'm a massive fan of hot wings and buffalo sauce, so I've often included Frank's red hot sauce in this Cream Cheese Spaghetti.
Popping in a tablespoon of barbecue sauce once proved to be a great addition as well.
This is another pasta that I've brought out for board game nights or D&D sessions.
While this Instant Pot Pasta is great on its own, I've gotten into the habit of scooping all of it into a big bowl and serving it with a bunch of tortilla scoop chips.
For lots of people, this is a fun way to enjoy it. And, while I know I said I was going to suggest wine pairings, I think this is great with an IPA.
I figured it would probably be a good idea to show you how to prepare barebones pasta in your instant pot. I will often treat this type of meal prep like I do with my rice cooker. Just make several batches to use throughout the week.
The instructions below for cooking pasta in an Instant Pot call for penne pasta because they pack the best into a pressure cooker.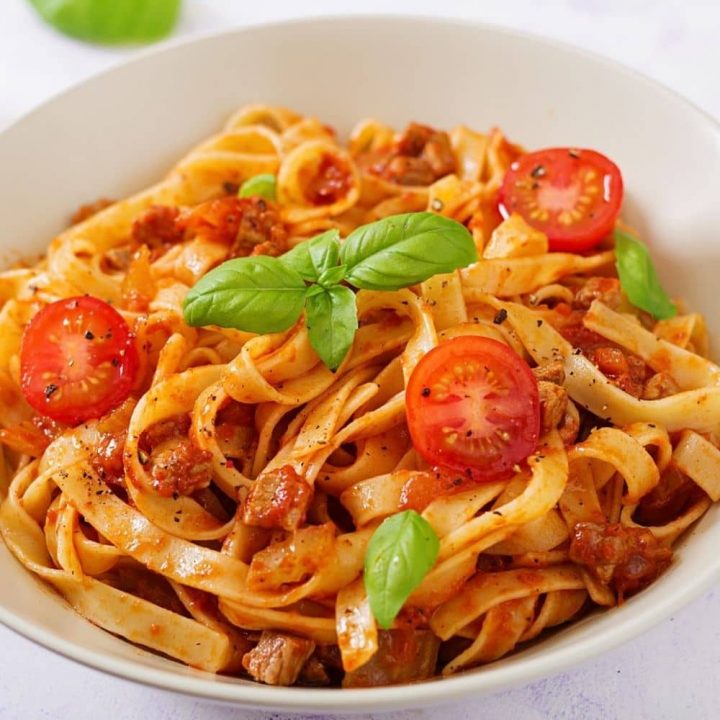 26 Best Instant Pot Pasta Recipes
Ingredients
• penne pasta
• water
• salt
Instructions
Add 1 lb of penne pasta, 4 cups water, and 2 teaspoons of salt to your instant pot. Set it to, "pressure cook," on high for 5 minutes.
Once it's done, follow the quick-release cycle (you can find this in your IP guide, or online easily).
I've always quickly stirred in a tablespoon of olive oil, or white wine, to get the noodles up from the bottom and prevent any from sticking.
And you're done! Now you've got around 4 to 5 servings of noodles at your fingertips.