After recently buying an air fryer, I can confirm that they are indeed worth the hype. Imagine cooking anything 2x faster than you would be able to in the oven. Plus, you don't need to wait for more than a few minutes for the air fryer to heat up versus waiting 10-30 minutes for a standard oven.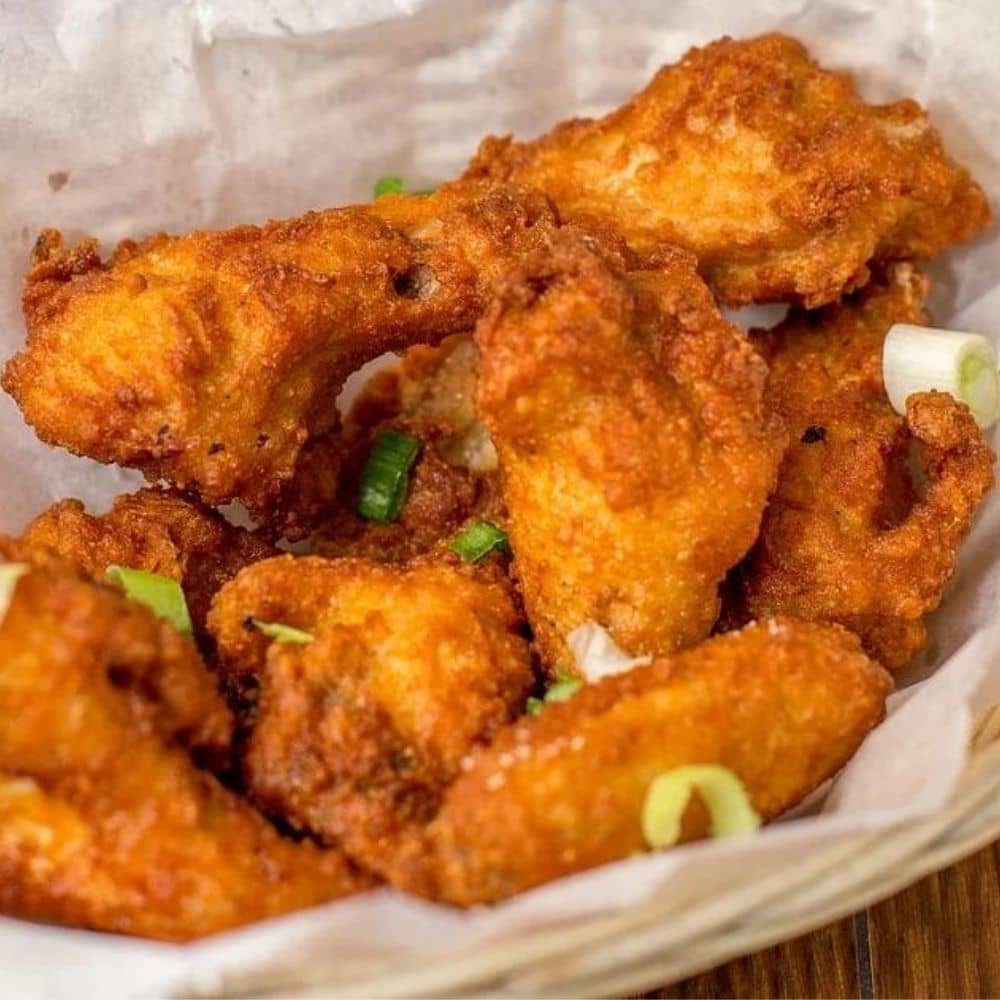 These magical gadgets can be used to cook anything from cookies to biscuits and even vegetable fries!
While they usually arrive with a booklet full of Ninja air fryer recipes for some inspiration, you'll be wanting some additional fun ways to cook in it. Below you'll find 30 recipes that you can recreate anytime you want a quick, tasty meal.
It's truly unique just how many ways you can use Ninja air fryers! Give your new (or used) air fryer some love by cooking with it as much as possible. Enjoy the below dishes!
Looking for a way to make buffalo wings but with less oil?
Try this recipe that features a hot honey buffalo sauce for a twist on the standard buffalo wings. Hot, sweet sauce covers crispy, mouthwatering wings that you'll wish you had made more of!
You may be surprised to find out that paprika is used alongside salt and pepper to season these tasty morsels.
Instead of using sweet paprika, try smoked or hot paprika for an extra hit of flavor.
I'm always amazed at just how many food items you can make in the air fryer!
If you've wanted a way to avoid getting burned by popping bacon grease, this is the perfect alternative.
This recipe teaches you how to cook perfectly crisp bacon pieces in your Ninja Foodi.
The recipe is easy and only requires, surprise, bacon! Mix it up by making turkey bacon or using applewood smoked bacon for extra flavor. No more watching the bacon with a close eye to ensure it doesn't burn in the pan!
Eating healthy doesn't have to be boring or complicated! Use your air fryer for this yummy take on roasted cauliflower.
Old Bay seasoning is used to add a delicious taste to these cauliflower pieces. It's a readily available spice mix that most people already have in their pantry.
You can also use a homemade blend or even another pre-mixed blend that works for your tastes.
Tip: Cut cauliflower chunks into similar-sized pieces to avoid pieces being undercooked or overcooked.
Did you know you can cook savory pies in your air fryer too?!
You will need a springform pan to recreate this dish, so ensure you have this pan before proceeding. You'll be left with cheesy, delicious slices of taco-flavored pie.
Yes, you will even be using taco shells in the pie for crispiness and the flavor.
If you forgot to purchase these at the store, you could use tortilla chips instead. The flavor will be very similar, and the texture will be identical.
Butter burgers are nostalgic and oh-so-tasty! Did I mention how quick these are to make? Plus, they're only four ingredients!
Pimento cheese is added to make these low-carb burgers cheesy and gooey. Not everyone loves this kind of cheese, and that's okay. You can use your favorite cheese.
Tip: If the cheesy burger patty is not satisfying as-is, consider using lettuce leaves to wrap the burgers in. This will keep the recipe low carb and add some bulkiness to help keep you full.
This is truly one of the most convenient Ninja Foodi Air Fryer recipes. You'll be adding corn on the cob and seasonings into an air fryer for a yummy side dish.
This allows you to avoid waiting for the water to boil or heating the grill for a few corn cobs.
Salt and pepper are used as the only seasoning for these quick corn on the cobs.
Instead of using the powdered version of each, grind some peppercorns and sea salt or Himalayan salt to take the recipe up a notch!
Meatloaf is a tried-and-true recipe that everyone loves. With its juicy, beefy interior and sweet sauce covered outside, who can say no?
This version of meatloaf uses a packet of onion mix as a way to easily season the beef.
You'll find this recipe has a few surprise ingredients – ketchup, dry mustard, and brown sugar used to create the sauce on top. Instead of using these, try your favorite BBQ sauce. It will still provide a yummy, sweet taste while also adding in some smokiness.
You guessed it, another bacon air fryer recipe! You can never have too many methods for making crispy bacon, in my opinion. Plus, adding bacon to any recipe makes it so much tastier.
Again, this recipe only requires bacon which is a not-so-hidden ingredient. If you're vegan, you can cook plant-based bacon instead. Or, grab some thinly sliced carrots, season them, and eat your vegan version of bacon!
Tip: No oil is needed for cooking bacon in this recipe. The natural oil from the bacon slices will keep it from sticking.
What's better than a plate full of potatoes? How about crispy potatoes that are made in your handy air fryer?
These yummy air fryer potatoes are seasoned to perfection and made to work with nearly any main dish.
You may not expect avocado oil to be used in this dish. However, it helps with the crispiness and adds some healthy fats to this side dish. Any oil you have on hand, like olive oil, will be an excellent substitute as avocado oil can be pricey.
Have trouble getting your kids to eat more veggies like broccoli? Not after this recipe, you won't! This broccoli recipe cooks quickly and comes out super tasty.
Garlic powder helps add the yummy flavor to this green veggie. You can swap it out for onion powder if you're not in the mood for a garlic taste. Or, use some lemon pepper to shake things up.
Tip: Adding some cheese on top, like shredded parmesan or cheddar, makes this dish even tastier.
Don't worry; there are plenty of recipes you can make that are gluten-free as well. Like this zucchini fry side dish!
Using an air fryer on this side dish also allows you to better control the amount of oil that is being used.
You'll need gluten-free flour as part of the breading on the outside of the zucchini fries. If you can't find any at your local store, almond flour works well in its place and is usually gluten-free as well.
Don't have a gluten intolerance? Feel free to use standard flour or flour of your choice.
You can end your hunt for the best salmon recipe right here. Buttery, herby, seasoned salmon filets are the final product when you follow this recipe. Eat them with your favorite side, like the broccoli or zucchini fries above.
Have you ever used natural ancient sea salt before? It's the surprise seasoning in this dish that adds a salty flavor. If you have standard sea salt, Himalayan salt, or even smoked salt, you can use that instead.
Tip: Squeeze a small amount of fresh lemon juice on the cooked salmon for some brightness in the dish.
Ready for a way to use up some of those potatoes that have been sitting in an unopened bag in your cupboard?
This yummy version of baked potatoes requires three ingredients and leaves the flavor neutral so you can add your own toppings.
Olive oil is the star of this dish as it ensures your potatoes don't stick to the inside of the air fryer.
Of course, cooking spray can also be used for this reason. Any oil will work, though you'll want to avoid strongly flavored oils like sesame oil.
Say hello to the juiciest beef roast ever! This is truly one of the yummiest main dish ideas on the list.
Chuck roast is cooked with a delicious gravy seasoning for a new weeknight favorite that your family will beg for.
Brown gravy mix is the secret sauce (literally!) in this meat dish. It's such a versatile ingredient that can be incorporated into many meat-based recipes.
Turkey gravy or chicken gravy mix can also be used for a similar but lighter taste.
Seeking a different way to make biscuits that don't require a cast-iron skillet or the oven?
Check out the instructions listed in this version for a quick way to fluffy air fryer biscuits. The step-by-step directions ensure you won't create biscuits that are overcooked or undercooked.
The only ingredient needed for this recipe? You guessed it- a roll of biscuit dough! Of course, you can swap this out with homemade biscuit dough if you have extra time.
Tip: Use the cooked biscuits to make tasty breakfast sandwiches for the fam.
We are jumping on the bandwagon of air fryer vegetables – because they are so much tastier when cooked in this machine.
This recipe doesn't offer a way to eat cabbage slices; you'll be making cabbage steaks. If you have a vegan buddy you want to impress, this recipe is amazing to cook for them!
Garlic salt is needed to help season the cabbage steak. For a fresher flavor and more pungent garlic taste, consider using minced garlic and salt. Additional fresh herbs like rosemary and thyme can be added as well for a fancier dish.
This recipe for air fryer chicken fajitas will have you running to your air fryer to try it out asap!
You'll have restaurant-quality fajitas in the comfort of your home in no time. Chicken, bell peppers, and sweet onions combine in a medley of favorite fajita ingredients for the perfect dinner dish.
You'll be using a fajita seasoning mix to flavor up this tasty meal. It's much easier than putting together your spice mix and quicker as well.
Instead of fajita mix, you can keep the seasoning simple by using salt, pepper, cumin, flour, and a small amount of chili powder.
I bet you didn't know that most rice is naturally gluten-free!
There's no need to cut this tasty recipe out of your life if you have gluten intolerance. Rice, veggies, chicken, and soy sauce create this ultimate fried rice recipe that you can whip up for weeknight dinners.
Celery is used as one of the veggies in the chicken fried rice. If you prefer, you can use edamame as a swap. It will provide more protein and meshes well with the other meal ingredients.
Are you stuck wondering what other tasty vegetables you can turn into crispy air fryer fries? Give carrot fries a try after making zucchini fries.
They offer a similar sweetness to what you'd find in sweet potato fries, and they're just as yummy.
The hidden ingredient is crushed red pepper. You'll find this seasoning adds a good amount of heat to the fries. A small amount of cayenne pepper powder is a great alternative.
Tip: Mix yogurt and ranch seasoning for a tasty cooling dip.
Surely you expected sweet potato fries to be on the list of ninja Foodi air fry oven recipes. How can you not make this tasty side in an air fryer?
The seasoning on these sweet potato fries is kept to a few spices allowing you to eat them with your favorite dip.
Sweet potatoes are the not-so-secret ingredient in the dish. Create a different version by using purple sweet potatoes instead.
These potatoes have a very similar taste to standard sweet potatoes but offer a lovely bright purple color.
Whole 30 foodies rejoice! This air fryer chicken nuggets recipe fits into your meal plan and tastes even better than what you could find at a local fast-food joint.
A crispy coating and an amazing seasoning mixture make this version of chicken nuggets out of this world.
Chicken thighs are surprisingly used to create these nuggets. This allows the meat to stay juicy after being cooked in the air fryer. If you want a leaner version, chicken breast can also be used.
I am all-in with these homemade onion rings! You'll never want to grab these from a restaurant ever again after making this recipe. A crunchy exterior is filled with soft, sweet onion for a delightful version of a favorite side.
You'll be using the hidden ingredient-panko crumbs to help make these rings extra crispy on the outside.
Not only do these crumbs provide crispiness to the onion rings, but they also add a unique flavor. If you only have regular breadcrumbs on hand, you can use these as a substitute.
Making these buttery, sweet cinnamon bread twists at home is much easier than you'd think. Plus, they're a total game-changer. Now, you don't have to wonder what to serve during your next movie night or date night-in.
What makes the outside of these cinnamon bread twists so tasty? It's the sugar mixture that's added to the exterior.
You can add more caramelly flavor to the bread twists by swapping granulated sugar for brown sugar.
Tip: Add pumpkin pie spice seasoning instead of cinnamon for a more fall-focused taste.
Do you need a delicious recipe to go along with your air fryer bacon? Here's a simple one you can try out! With only three ingredients (yes, three!), you'll have this side dish ready in no time.
Of course, you'll be using Brussel sprouts and bacon, but you may be surprised to find out red onions are also included.
These add a nice bite and slight spiciness to the meal. For those craving a sweeter taste, use yellow or sweet onions.
You can never have enough sweet potato fry recipes, especially when they're quick to whip up in your air fryer.
Expect a sweet, simple, herby flavor with these sweet potatoes that will leave your tastebuds happy.
Fresh parsley is used as a garnish to add a pop of green color to these fries. This might seem like an odd substitution, but you can use parmesan cheese instead. There's nothing better than cheesy fries to eat on the side of a juicy burger.
Here's another excellent way to cook biscuits from frozen that will make your family think you spent hours creating them from scratch! The ideal temperature to cook these bad boys is 350°F.
This leaves you with fluffy, crispy on the outside buttermilk biscuits.
The surprise is that you'll also only need one ingredient for this recipe – biscuit dough!
Many varieties of frozen biscuits are available now, ranging from honey butter to flakey and even sweet. When you've had too many buttermilk biscuits, try one of these other varieties instead.
How satisfying is it to eat a blooming onion that is crispy on the outside without using a ton of oil? Now, you can avoid figuring out what to do with a pan full of used oil. Panko crumbs help create this delicious version of a blooming onion.
Milk is the unexpected hero that helps the panko crumbs stick to the onion. If you want to avoid dairy, you can use another dairy-free alternative like almond milk or oat milk.
Make sure that your nut milk option is unsweetened and unflavored for the optimal taste.
There's one thing that everyone can agree on – Chick Fil chicken sandwiches are amazing.
They're just the right amount of crispy and flavorful to make a mouthwatering experience. Add this tasty air-fried chicken to your bread or bun of choice to complete the sandwich.
This chicken is so good because of the pickle juice it's soaked in before breading is added. Swap out pickle juice for saltwater if you've run out of pickle juice.
Tip: You can add a few pieces of bacon or cheese for an extra flavor boost.
So, what can you cook in an air fryer? Well, you can make this cheesy flatbread. It's similar to a personal pan pizza (without the sauce), and it's simple, so you can add toppings like pepperoni if you'd like.
Dried Italian seasoning is the surprise ingredient in this flatbread meal. It helps add some flavoring to the pizza dough used as a base for the other ingredients. Of course, you can replace this with marinara or pizza sauce if you want to turn it into a personal pizza.
I know what you're thinking, are these cookies taste even though they're a healthier alternative?
Yes – they're so good friends ask for these at all of our get-togethers. With four ingredients, it's hard to beat this recipe in taste and ease.
You'll need to use a sugar alternative to keep these cookies sugar-free. Sukrin is the hidden sweetener in this tasty recipe. If you prefer Stevia or Truvia, swap the Sukrin out in a 1:1 ratio.
Tip: The cookies will harden as they cool; do not overbake them as they will turn very hard when cooling.
30 Best Ninja Air Fryer Recipes
These seasoned potatoes are crispy, lemony, and slightly spicy for the ultimate side dish.
Ingredients
1 pound. baby potatoes halved
1 tablespoon. extra-virgin olive oil
1 teaspoon. garlic powder
1 teaspoon. Italian seasoning
1 teaspoon. Cajun seasoning (optional)
Kosher salt
Freshly ground black pepper
Lemon wedge, for serving
Freshly chopped parsley, for garnish
Instructions
Add your sliced potatoes, oil, seasonings (including salt and pepper) into a large bowl and toss to cover the potatoes.
Cook the potatoes in the air fryer for 10 minutes at 400°F. Flip and stir them, then add another 10 minutes to the timer. You want these potato chunks to be golden brown and crispy.
Add some fresh lemon juice and parsley on top as the finishing touches.
Notes
At this point, you should be asking yourself, what can't you make in the air fryer? With so many tasty recipes to try out, your air fryer will be in constant use. Combine the above sides and main dishes for a complete meal with likely no leftovers.