Napa cabbage, or Chinese cabbage, is a more delicate alternative to Western cabbage that tastes wonderful when prepared fresh in cool salads or cooked in soups and stir-fry dishes. Like Western cabbage, it gets sweeter when cooked and takes on the flavors of other foods well.
The leafy green and tender white stalks of napa cabbage resemble bok choy, a relative but not exactly the same.
You can find napa cabbage in most grocery stores or Asian food stores. It is sometimes called Chinese white cabbage, celery cabbage, or Peking cabbage.
Its name probably comes from the Japanese word Nappa, which means leafy green, and it is one of the most widely grown vegetables in China because it is hardy, versatile, and nutritious. This is why there are so many easy recipes with napa cabbage! You might like these other red cabbage recipes!
If you are not sure what to do with napa cabbage, read on to find the best ideas for napa cabbage recipes and dishes.
With this simple, flavorful napa cabbage recipe, you are only 3 steps away from a side dish that brings sweet, spicy, and savory to your plate.
The secret to this addictive recipe is the fresh garlic paste that is the base of the dressing. Once the vegetables are chopped, you only have to mash your garlic, put together the simple dressing, and cook the Chinese cabbage until it has just wilted.
Then, toss the cabbage with dressing and serve it alongside steak, fish, or pork chops.
The sauce of this stir-fried napa cabbage recipe will pair well with steamed rice or noodles, but it would also be a delicious complement for creamy scrambled eggs or tofu.
The hardest part of this recipe is cooking your cabbage evenly, and even that is no sweat!
Chinese napa cabbage recipes often specify that you should cook the cabbage evenly or avoid overcooking.
The most important step to even cooking is cutting your cabbage into roughly uniform pieces. Aim for medium-sized strips or chunks because small pieces will burn, and large pieces will take too long to cook.
As long as the pan is not too small and crowded, medium-sized pieces of cabbage will cook evenly and quickly.
One great thing about this recipe is its versatility. You can add green onions, carrots, mushrooms, cilantro, or any other spices or vegetables that you have. Then add a protein and enjoy!
These classic flavors of Chinese cooking will hit the spot.
The heat in this recipe comes from dried chili, but you can substitute it with fresh peppers if you prefer.
The other key ingredient here is Chinese black vinegar, which will give the dish its namesake sour taste.
This recipe comes together quickly over high heat, which keeps the cabbage crisp, so be sure to have your ingredients assembled and your sauce mixed before you start cooking.
Try this on the side of a meat or fish main course, or make an all-vegetarian meal to serve over rice.
If you're not sure how to use napa cabbage, try a salad! This crunchy, fresh take on traditional coleslaw features raw napa cabbage.
The tenderness of fresh napa cabbage makes it the only choice for this salad recipe.
Green cabbage is too tough for this dish. The crunch is amplified with toasted nuts, seeds, and uncooked ramen noodles!
This is a perfect side dish for a barbeque meal, with plenty of freshness and crispy textures to go with smoky, savory meats.
Don't forget to give your salad time to marinate and let the flavors meld.
You can do this in the fridge and bring the salad to room temperature before serving, so all the flavors come through.
Most of us think of Eastern Europe when we see cabbage rolls, but this recipe will help you put an Asian twist on this classic dish.
Napa cabbage leaves make excellent wrappers for these rolls, and because the leaves are softer than green cabbage, you can cook for less time.
This recipe includes rice to make this healthy comfort food rich and satisfying, but you can replace it with other grains or more veggies for a different spin.
The secret to using Chinese cabbage leaves is to flatten each leaf with a rolling pin. This will make the leaves more flexible and easier to use as wrappers.
If you have a get-together coming up, or you are looking for a simple recipe you can prepare for the week ahead, try this crunchy napa cabbage salad with creamy soy dressing.
The radishes and snow peas in this recipe will pack even more flavorful crunch into each bite, and the smooth, creamy dressing will satisfy and fill you up.
Add some grilled chicken or pan-seared pork for a tasty, filling lunch. If you're meal-prepping, store the dressing on the side to keep the veggies crisp.
Put a spin on a classic by adding napa cabbage to this standby comforting soup.
The tender cabbage blends with silky eggs in a warming broth for a bowl of soup that you can serve alongside a main dish or as a whole meal.
Egg drop soup is known for the swirls of cooked egg suspended in the broth, which you can make by stirring your simmering soup into a whirlpool and gently pouring eggs into the pot.
But if your ribbons are not quite there, don't worry. The cabbage strips will help create the illusion of perfect egg drops!
Napa cabbage steaks are a hearty, flavorful dish. The trick to slicing your steaks is to be sure you're making a thick-cut, about 1¼ inches per steak, and use a sharp knife.
If your knife is too dull, you will end up crushing your cabbage instead of slicing it.
These steaks bring sweet, spicy, salty flavors in every bite, and you can adjust or change up the seasoning however you see fit.
Try them with honey, dijon mustard, and white vinegar with a sprinkle of rosemary for a French flavor profile, or lime, chili powder, and cumin for a Mexican-inspired dish.
The only thing better than a warm bowl of chicken soup is letting your slow cooker do the work to make it!
This Korean chicken soup, or dak baechu guk, features an easy list of ingredients so you can get everything into the slow cooker and worry about something else while delicious things happen under the lid.
The napa cabbage keeps its delicate flavor and takes on the flavors around it all while holding up to the low and slow cook.
These summer rolls are the perfect way to use up leftovers when it's too hot to even microwave.
Once you've blanched the cabbage, there's no heat necessary to make these tasty, crunchy treats.
The celery-like flavor of napa cabbage pairs well with the carrots and cucumbers, especially with the homemade peanut sauce.
Create your sauce in a snap using peanut butter, soy sauce, and a few other ingredients you probably have in your kitchen right now.
Kimchi is a staple of Korean cuisine, and it's become popular outside of Asia for its health benefits as a fermented, probiotic food.
It's also spicy, delicious, and a great way to use extra napa cabbage that you don't want to go bad.
You can make many dishes with kimchi or serve them on the side of your meals to add flavor and texture.
These paleo-friendly cabbage rolls will satisfy everyone at your table.
From the delicious filling of ground pork, mushrooms, carrots, and ginger, to the dairy-free sauce made with almond butter, this savory dish tastes so good. You won't even miss the rice.
If you're not following Paleo, you can substitute any Paleo-friendly ingredients for their counterparts and enjoy these cabbage rolls either way. Try peanut butter instead of almond for a savory peanut sauce to top your rolls.
Fresh napa cabbage already packs quite a crunch, but this salad lives up to its name with the added crispiness of raw carrots, broccoli florets, and chow mein noodles.
The creamy, soy, and ginger dressing is the perfect complement to the crunchy freshness of this salad, and it stays light by using Greek yogurt instead of mayonnaise for the base of the dressing.
The tanginess of Greek yogurt is also a great flavor pairing with the sweetness of cabbage, carrots, and honey.
Pair this summer salad with grilled or BBQ chicken for a full plate of goodness.
Roasting cabbage, as with most vegetables, draws out the sweetness of the natural sugars and without adding water or other flavors.
The result is a unique, melting caramelization that only seems to come from a roast.
The trick here is to preheat your oven as well as your roasting pan.
This ensures that the cabbage browns well, starting when it touches the pan for the first time.
Try this on the grill, similar to grilled Romaine lettuce, at your next cookout.
If you have bacon and leafy greens in the fridge, you're almost ready to eat.
This recipe helps you bring those ingredients together in a few minutes for a tasty side dish or a salty, crunchy element of your main entree.
The secret is to cook the white parts of the bok choy and cabbage in the bacon fat but save the greens for the last minute.
You want the leaves to be just wilted so they can hold onto their texture.
The sauce adds sweetness and spicy to the saltiness of the bacon, but you can try out different combinations to get what you want.
A creamy sauce without the sweet elements would also pair well with the salty bacon and crisp veggies.
If you're craving Chinese noodles, but your favorite takeout spot is closed, try these hearty, savory napa cabbage noodles.
Starchy, chewy glass noodles (opt for potato starch if you can find them) and a delightful sauce make a great combination with the crunchy sauteed Chinese napa cabbage.
In just 30 minutes, you can have a healthy, filling noodle dish in your bowl.
The secret to these dynamite flavors is the Sichuan peppercorns, which infuse the oil with the signature taste of your favorite Chinese dishes.
This quick-cooking dish packs a powerful punch of flavor that you can tailor to your exact taste as you try it out again and again.
A great pairing for steamed rice, hot and sour stir-fried napa cabbage also goes well as a flavorful side to meat or fish entrees.
This recipe calls for the white stems of the cabbage only. Save the leaves for wraps or salads, as they will release too much water for the stir-fry.
Just reading about this salad will make you feel cool on a hot day. Imagine the sweet corn, crisp cabbage, and crunchy cucumbers after a bite of something spicy or fresh off the grill, and you'll be bringing this salad to your next barbeque.
This recipe keeps it simple with just five ingredients and minimal prep time, but you can add more veggies or experiment with flavors as your heart and tastebuds desire.
Use egg-free mayo for a vegan dish, or go with your favorite dressing. Fresh vegetables and herbs are the keys to this irresistible salad.
One reason napa cabbage is so popular is that it grows well in cold climates, so when your CSA or local grocery is running low on the spring and summer leafy greens, look out for hearty Chinese napa cabbage instead.
The cabbage replaces Romaine lettuce in this version of a Caesar salad.
Save the bottom half of the cabbage for a stir-fry and chop the leaves into even, bite-sized pieces.
The dressing of this salad is homemade and might seem intimidating, but follow these simple steps to create a restaurant-quality Caesar (or crack open your favorite bottled version and use the extra time to sear some chicken).
This stir-fry will satisfy your fried rice craving without making you wait to have leftover rice in the fridge.
The thinly sliced cabbage replaces rice or noodles in a saucy seafood dish that can easily work with chicken, beef, or tofu.
The marinade for the protein will help create a delectable pan sauce. Add more thinly chopped vegetables for a medley of texture and flavor, or stick to the ingredients list for a straightforward stir-fry that will fill your plate!
Whether you need a side dish for the cookout or a satisfying lunch, this crunchy Chinese cabbage salad is the perfect dish.
With just a handful of ingredients and a few minutes, you will have an irresistible salad for any occasion.
The buttery almonds and crunchy noodles are balanced by the tender, sweet napa cabbage. And the easy dressing ties everything together.
Pair this with a protein for a complete meal, or share it at a barbeque or picnic.
For a twist on the dressing, replace the sugar with honey and use lime instead of vinegar.
Five simple ingredients will create a light, fresh coleslaw that will taste like summer in a bowl.
If you need to use a whole head of cabbage, this crunchy coleslaw will be ready and eaten in no time.
Don't forget to salt and drain your veggies before mixing in the dressing.
This extra step helps get rid of some of the water that the vegetables would release and dilute your seasoning.
Tasty, simple, and vegan-friendly, this recipe is the perfect way to empty your leftovers and fill up your belly!
These rice rolls work great with sticky rice, but other rice or grains will make good fillings, too.
Save up some crunchy veggie scraps (think: kale stems, broccoli stalks, etc.), or use any crisp vegetable that will hold up to light sauteeing.
The key is to cut your vegetables into bite-size, uniform pieces, so every bite has soft, chewy rice and firm, crunchy veggies.
Napa cabbage leaves are perfect for these wraps because they cook quickly and soften to make an easy-to-eat roll.
The secret is to sear the rolls after they are wrapped to get a smoky flavor on the outside.
These rolls are easy to make once your ingredients are assembled, or you can prepare them the night before and sear them when you're ready to eat!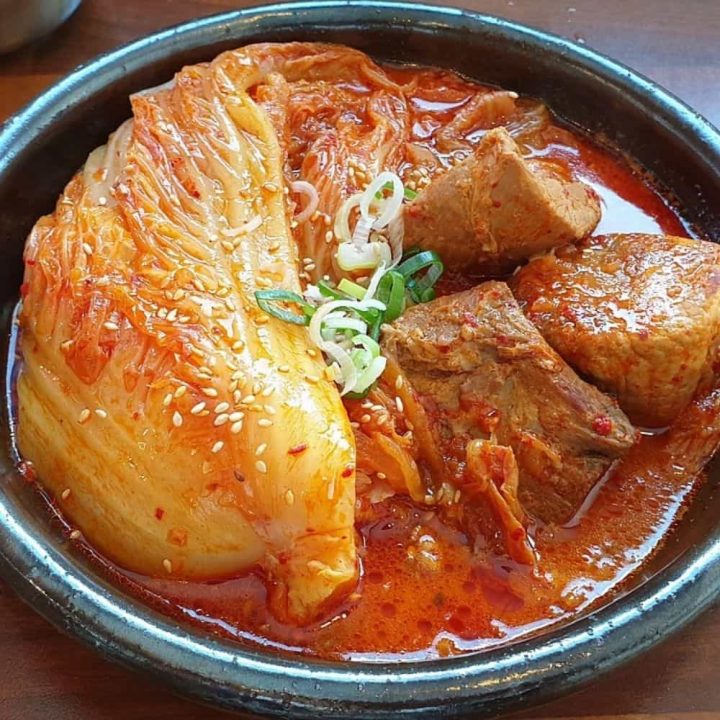 23 Best Napa Cabbage Recipes You'll Love
Instructions
Choose your favorite Napa Cabbage dish!
Prepare ingredients according to the recipe.
Be ready in 30 minutes or less!