Part of American cuisine is delicious comfort-food recipes to make for family, friends, and celebrations.
That's what Ree Drummond, aka "The Pioneer Woman," is all about. Ree hosts her reality TV show on Food Network called "The Pioneer Woman," where she shares her collection of homemade recipes, all while embracing the pioneer life.
For this post, we're going to break down this list of recipes into five categories: chicken, dessert, ground beef, soup, and Instant Pot recipes.
Each dish will feel like home, whether for parties or nights in with your family.
The Pioneer Woman's Best Chicken Recipes
Chicken can help satisfy any craving. From Italian to Chinese American, The Pioneer Woman can deliver a chicken recipe and so much more.
Check out these recipes that are all things chicken!
We'll start with one of the easiest types of meals to make: a casserole!
For this recipe, you will need a "cut-up fryer," which is one whole chicken that's been cut into pieces.
Ree recommends using thin spaghetti for this casserole to help avoid overstuffing the dish.
When removing the chicken meat from the bones, you can use any cut of the chicken you'd like; the light meat, the dark meat, or a combination of both for more flavor. A 9×13 casserole dish is recommended, but feel free to use smaller containers to freeze for later.
No grill? No problem! This oven BBQ chicken recipe is made with peach preserves combined with BBQ sauce and garlic for a delicious BBQ coating. Add in some hot sauce for extra spice!
The recipe calls for chicken thighs, but you can use drumsticks if you like.
Serve with traditional summer sides like corn on the cob or a pasta salad. This is a great recipe for a summer celebration!
Alfredo sauce is a smooth and rich sauce coating for pasta, traditionally made with cream, butter, and parmesan cheese.
You'll be making your own alfredo sauce for this dish, complete with dry white wine or low-sodium chicken broth if you prefer.
Read all the directions so you'll know exactly how to get the texture right. Serve with parsley sprinkled on top.
Looking for that satisfying feeling of cheese melting into your meal? Just ask The Pioneer Woman!
This recipe comes with pasta, marinara sauce, and ooey-gooey chunks of fresh mozzarella cheese.
The key to seeing that melty goodness is to wait just long enough for the hot marinara sauce to start softening the cheese.
You'll mix in some sauteed onions, garlic, and some pepper flakes into the marinara sauce for a boost of flavor to complement the supple mozzarella taste.
Serve with sprinkled basil on top and parmesan shavings. This pasta dish is great for guests or a busy weeknight.
Craving a classic Chinese American dish? The Pioneer Woman delivers on Chinese cravings with this delicious cashew chicken recipe.
Be sure to use unsalted cashews. You'll taste plenty of salt flavor in this recipe!
If you want to serve with pasta or rice, you totally can! Just be sure they're cooked when you're ready to assemble your plate.
You'll need traditional Chinese American ingredients for this recipe, such as soy cause, rice vinegar, sesame oil, and oyster sauce.
To cook the chicken, you can use sherry or substitute with chicken broth. Serve on its own with green onions sprinkled on top, or you can pour it on a bed of rice or pasta.
The Pioneer Woman's Best Dessert Recipes
No meal is complete without a dessert. The Pioneer Woman has no shortage of options when it comes to delicious cakes and treats.
Here are just a few to satisfy your sweet tooth.
Not so secret anymore! Bring this cake to any party or celebration, and it'll be a huge hit!
You'll still use the boxed cake mix for this chocolate cake, but instead of following the instructions on the box, you'll use this recipe, which includes traditional cake ingredients like eggs, butter, and whole milk.
You'll also add vanilla for added sweetness. Be sure to wait at least 15 minutes before removing the cake from the Bundt cake pan.
Gently place the cake on a cooling rack and wait for it to cool completely before pouring the ganache on top. Garnish with chopped walnuts instead of sprinkles if you want.
Sounds like the name of a heavy-metal rock band or something, we know.
When it comes to dessert, Devil Dogs are made with two rectangular pieces of chocolate cake and thick white cream sandwiched in between.
Devil Dogs are commonly store-bought, but with this recipe, now you can make your own!
The all-purpose flour in the frosting is designed to create a thicker, brownie-batter texture than traditional frosting.
To save time making this recipe, you can use a store-bought whipped topping or Cool Whip. Chill these tasty treats in the fridge until you're ready to serve.
Custard is traditionally made with sweetened milk, sugar, and egg yolk. Custard varies inconsistency, but it's generally similar to pudding and can be used for various desserts.
You'll need half-and-half, sugar, egg yolks, and heavy cream. The secret ingredient here is real vanilla bean.
No, not vanilla extract! Custard is usually made over a stove, so read the entire recipe to make sure you know the timing of each step.
You'll also need an ice cream maker and several hours for refrigerating and freezing. Serve this recipe on its own or with an éclair or apple crisp. Yum!
Classic cheesecake recipe? Yes! Boring? Nope! You'll need gingersnap crumbs for the crust and Greek yogurt for the cheesecake filling.
Avoid cracks in the cake by running a thin knife along the edge of the pan so the edge of the cake can contract cleanly without pulling the pan with it!
Serve with traditional toppings like fruit or all on its own. This classic cheesecake recipe is a guaranteed crowd-pleaser at any party or holiday gathering.
With all the happiness of color and sweetness in this cake, who says it has to be for kids?
This confetti cake is a traditional homemade cake, plus sprinkles! You'll need an egg and an egg white for this recipe for an even lighter texture.
The frosting is made by creating buttermilk and adding cream cheese, but make sure they're at room temperature before starting.
You can create any desired thickness for the frosting; milk to thin it out or powdered sugar to thicken it.
You'll want to add in the sprinkles gently, using a spatula instead of a mixer. Top it all off with even more sprinkles for extra happiness!
The Pioneer Woman Recipes with Ground Beef
Another super versatile meat is ground beef, and The Pioneer Woman has options for any occasion.
Let's take a look at some of Ree's best beef recipes!
These burgers have a tropical taste to them, or as Ree, herself puts it, "a loose interpretation of a Hawaiian-style burger." And what's a burger without a signature sauce?
This one has mayo, teriyaki, honey, and cayenne pepper for heat.
You can use a grill pan to create those lovely grill marks on the pineapple and bell pepper slices, but any pan will work just fine.
The patties are cooked with teriyaki sauce, and the provolone slices are placed on each burger patty as it's cooking.
The sauce is spread on the patties after being grilled. Serve with remaining sauce and a steak knife—it's thick!
You'll never go back to plain ol' tater tots after trying them this way! You'll need about 25 minutes to bake the tater tots, but read the instructions on the package for a clear idea of how to bake.
For the sauce, you'll combine mayo, ketchup, and mustard for the ultimate cheeseburger flavor.
For the toppings, you can create any combination you want! Cook the ground beef while the tater tots are baking, layer the tater tots with the ground beef and cheese, then place them back in the oven to melt the cheese.
Pull the baking sheet out of the oven after the cheese has melted and layer! This recipe is great as an appetizer, or you can serve it as a complete meal for the whole family!
Shepherd's pie is a ground meat pie typically topped with mashed potato. It comes in many varieties, but generally, there's a beef and vegetable layer on the bottom and mashed potatoes on top.
Make this recipe even quicker by using leftover mashed potatoes from a previous meal.
Top the mashed potatoes with sharp cheddar cheese, or you can leave them plain.
Serve with a side of roasted veggies or dinner rolls or on its own for a warm and hearty meal.
Wanna take your meatloaf game to the next level? Use bacon! The sauce for this recipe includes ketchup, brown sugar, dry mustard, and tabasco sauce.
You'll use the sauce to spread over the meatloaf before and after baking.
Instead of traditional breadcrumbs, you'll use slices of bread with whole milk to create that classic meatloaf texture.
Softer bread blends better into the ground beef. For this recipe, The Pioneer Woman recommends white sandwich bread.
Remember: do not overmix! The more you stir the meatloaf mixture, the tougher the meat will come out after baking.
Serve with a potato side, roasted carrots, broccoli, green beans, or Brussels Sprouts.
Think of a large, thick tortilla chip, perfect for creating a flat taco.
When making the dough, you will need time to allow the dough to rise, either for 1-2 hours or in the fridge overnight.
Create the dough from any sandwich bread you'd like, as long as there's a smooth texture—no nuts or seeds!
For the meat, you can use pork or chicken instead of beef, but the seasonings blend beautifully with the ground beef.
Once they're assembled and ready to eat, like tacos, grab it and dig in; it will be messy! Messy but delicious.
The Pioneer Woman Soup Recipes
Now, soups! You'll need a food processor, blender, or immersion blender to help puree the ingredients into a smooth, creamy texture. Just be sure to let the soup cool a little first. Soups come in all colors, textures, and flavors. Here are just a few!
Butternut squash as a soup creates a sweet, nutty flavor similar to pumpkin.
This soup tastes amazing as is, but if you want to mix it up a little, this recipe has three additional ways to create this soup: Indian spiced, chipotle lime, or apple bacon.
Roast the squash for forty minutes before making the soup. For the creamy consistency, you'll need heavy cream or coconut milk for a healthy alternative. This is the perfect taste for a crisp autumn evening.
Warm yourself up with this irresistible soup. All you have to do is brown the meat, add the remaining ingredients, and simmer!
Stir in the tomato paste for added texture. Add any veggies you want. Green beans, mushrooms, even corn!
Serve with parmesan sprinkled on top and with a side of toasted bread.
This is the perfect soup to feed both your soul and your appetite.
The versatility of potatoes allows you to create about anything, including rich, creamy soup!
You'll need flour and milk to thicken the texture and Cajun spice for an extra kick.
This recipe requires lots of peeling and dicing, so it's best to have the veggies prepped in advance.
Top with the same toppings you traditionally add to a baked potato: parsley, grated cheese, sour cream, or crisp bacon bits.
Chicken soup with an Italian flavor couldn't taste any better if we tried. For this recipe, you'll need Ditalini pasta, which is short, tube-like noodles.
The oregano mixture is made with oregano and olive oil for that classic Italian taste. The jalapeño helps add even more heat and flavor.
Do not overcook the pasta when boiling it in water; it will continue cooking later when you're making the soup. Sprinkle parmesan cheese and enjoy!
Making soup in a slow cooker couldn't be any easier, right? And broccoli cheddar is a classic!
You'll need two cans of cream of celery soup and Velveeta for all the fantastic creaminess.
For added nutrition, you can substitute half the broccoli for frozen cauliflower. Add two cans of green chiles with the cheese for an extra kick. Top with crumbled saltines and cheese. Too much cheese? Never!
The Pioneer Woman Instant Pot Recipes
The Pioneer Woman knows how to save time in the kitchen! With these Instant Pot recipes, you still get the same incredible taste of classic American dishes, with only a fraction of the time needed to prepare them.
Be sure to read the directions and prep all the ingredients before getting started.
This recipe is based on the classic mashed potatoes recipe from The Pioneer Woman, but it's quick, easy, and just as incredible!
You'll need the same traditional ingredients for mashed potatoes, plus cream cheese.
Mashed potatoes are a fun, taste-as-you-go recipe where you can add as much seasoning as you want.
When you're ready to serve, transfer the mashed potatoes to a serving dish. Top with pepper and a slice of butter.
This classic American dish is also stove-top and slow-cooker friendly! This chili recipe is seasoned with chili powder, cumin, oregano, salt, and cayenne pepper.
You'll also need masa harina—a maize dough used for making corn tortillas, tamales, and other Latin American dishes.
The masa harina will help thicken the chili and add some corn flavor.
Enjoy the chili as-is, or add more ingredients! Common additions to chili are yellow onions, bell peppers, diced tomatoes, and jalapeño peppers.
Serve with grated cheddar cheese, sour cream, lime wedges, crushed tortilla chips, Fritos, or a diced avocado.
This recipe is the perfect lunch for a warm summer day!
The meat is combined with ketchup, vinegar, molasses, brown sugar, salt & pepper, and hot sauce, so good!
After shredding the meat with a fork, adjust the seasoning with more salt, pepper, and hot sauce to your liking.
You can make the sandwich with just the meat or add a layer of coleslaw and pickles. Serve with chips or your favorite sandwich side.
Ancho is a large, aromatic chili pepper with a smokier taste than other kinds of pepper, commonly used in Mexican dishes and seasoning blends.
The stand-out ingredients of this recipe are ancho chili powder and pepper jack cheese.
The best time to cook the grits is after the meat and veggies have been cooked in the Instant Pot.
Once they're ready, add the milk and cheese to the grits for extra creaminess.
Serve the stew on a bed of grits, and garnish with chopped cilantro.
Looking for a classic American dish to create in half the time?
The Pioneer Woman's pot roast is cooked with red wine for an unforgettable flavor.
Rosemary and thyme is the perfect combo for seasoning the meat and veggies.
Be sure to prep the produce before starting. Sauté the meat by itself, then the veggies by themselves, then cook everything together.
Serve with mashed potatoes for the ultimate dinner the whole family will enjoy!
Conclusion
Ready to embrace the country life with The Pioneer Woman? These recipes are a great place to start!
Nearly every recipe comes with step-by-step photos to help walk you through the process of creating it in the comfort of your own home.
Which recipe do you want to try?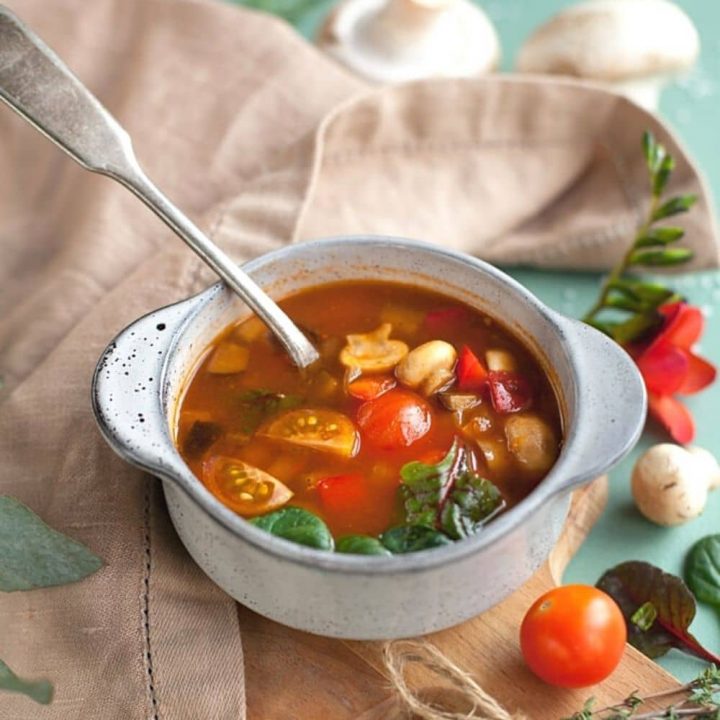 The 25 Best Recipes from "The Pioneer Woman"
Ingredients
The Pioneer Woman Recipes with Ground Beef
Instructions
Choose your favorite dish!
Prepare ingredients according to the recipe.
Be ready in 30 minutes or less!