Have you been searching for the next best banana dessert recipe on the web? Well, look no further because you've just found 27 of these banana recipes that are going to send shock waves down the office.
Allow us to awaken your taste buds and take you on a new banana dessert baking journey. Baking is no fresh concept, but it sure is time-consuming. Carrying multiple trays, pans, and bowls it can get to be quite the mess as well.
If you bake nearly as much as we do, you're sure to understand the ins and outs (and time-consuming instructions) that most desserts take. To create the best, you have to beat the best! And we'd like to think we've found the ones to do just that.
Follow us through these 27 effortless recipes to start baking the best banana dessert recipes more efficiently than ever before.
Banana pudding desserts get variation after variation on the internet, and then before you know it, the classic is missing and never to return!
Check out this only classic banana dessert recipe to take it back to the basics with good ol' Paula Deen herself.
Your family and friends will never know your secret ingredient was an instant box of deliciousness to create the best dang pudding around.
If you search for a cake to bake in one hour or less, you can stop your search.
This easy-peasy banana cake recipe lets you work your magic before the timer goes off.
Your kids will be amazed when you tell them about your secret ingredient!
They may make the yuck face at the sound of buttermilk, but it'll be sure to take the cake in your household!
This banana dessert recipe is one to be reckoned with. Instead of using way too ripe bananas like you usually would in most recipes, this one calls for a nice, bright sunshine color yellow.
Make sure you have some orange juice nearby because you're going to need it!
You'll make the topping and filling separately, but they'll be sure to come together to make quite the pair near the finish line.
If you are anywhere close to a crazy chocolate fanatic like us, this recipe is sure to have your mouth watering in no time flat!
Just come check out this quick and simple banana dessert recipe to fulfill your chocolatey banana dreams today!
Sour cream may sound weird to add to your list of ingredients, but we assure you that this is just part of the ooey-gooey goodness to come.
Cake?! Why not have it for breakfast or dessert ala mode!? This banana crumb cake recipe will most definitely have your family and friends in sugary shambles in no time.
Get your eggies and your banners ready for the best crumbly cake of your entire lifetime!
In just 40 minutes or less, you will have an amazing, award-winning cake baked and ready for consumption like no one's business.
With a total time of a mere 15 minutes, this is the perfect recipe to write home about.
Chuck in just a teeny serving of your favorite dark rum and get your boozy buzz on for the evening ahead.
Bananas foster isn't a recipe that you will be willing to pass on, so be sure to write this one down and save it for the next rainy day!
People. If you like your brownies as much as we do, we have a super special secret for you. There are SO many different kinds to choose from!
Luckily, banana brownies are some of the best out there, and they are especially easy recipes. We've got the perfect one just for you.
Make sure your bananas are nice and brown (riper) to create the most amazing brownie recipe in town.
Yes, you read that right. Let us show you how to turn boring old bananas into delicious donuts. Too good to be true?
You can choose to make your frosting thick or thin, whatever floats your banana boat. We won't judge.
When you're finished with the rest, opt for throwing on some super cute banana chips to garnish, or leave them plain, since they'll be flying off the pan pretty quick!
How about having some fun in the sun and then coming in to grab a nice cold banana pop? Sounds great, right?
Make them fancy by switching them up with colorful, pretty sprinkles, or top them off with cute colored sugar decorations of your choice.
This super-simple banana dessert recipe is one of those that will have your kids running into the kitchen before they all melt away!
It's healthy. It's delicious. And guess what, it's as easy as cake to make!
No, really. In just a quick 90 seconds, you'll have yourself the most delicious serving of protein that you could ever imagine.
This banana recipe is gluten-free and deliciously yummy. We know for sure that you'll want to pop one of these magnificent mug desserts in the microwave right away for a quick and easy treat.
This quick and easy dessert is soft, flavorful, and ready to eat on the fly. Check out these dairy-free muffins to be sure to get your taste buds going haywire.
If you have got a handful of way too-ripe bananas, worry no more about what to do! We've got a recipe for you.
With this, see how your mushy bananas can turn into tasty treats in practically no time at all.
Get ready to taste a buttery rum-flavored sauce when you decide you'd like to indulge in bananas foster.
This delicious banana dessert is best served up with a heaping scoop of cold and creamy vanilla ice cream from your favorite brand.
It's a bit fancy to feast at restaurants but super simple to make at home as well! Enjoy the process and the product with this bananas foster recipe.
Can you banana-believe it? A ONE INGREDIENT dessert dish. You read that right!
Yes, and that's done with just one of our favorite ingredients, bananas! This recipe requires only bananas and nothing else. How's that for easy?
All you will have to do is just peel, chop, and chuck them in the freezer! Then toss those delicious frozen bananas into the nearest blender to make yourself a creamy soft-serve treat.
Hey, you cookie monsters! We've found a way to use up all of those overripe bananas. Check out this banana dessert recipe to get baking when your next cookie craving comes.
These are great quick and easy treats to snack on for morning brunch or even to throw in your kid's lunches for school!
Just be sure to wait until they're ripe to get yourself that perfect sweet-tooth taste!
Break out your best bag of brown sugar to create a fabulous frosting for the topping on your next batch of the baddest banana blondies.
Just be sure to brown your butter to be able to create that perfect yummy goodness.
Mash up your bananas and then spread the tasty topping at the end for a beautiful blondie masterpiece you will be sure to be pleasing all the crowds with.
This copycat recipe is layered with rich and delicious pudding, wafers, and bananas. Boy, oh boy, we guarantee that you'll be ready for a second serving before you even finish the first!
It may sound too sweet to be accurate, but we promise it's as light as a feather.
Break out your favorite flavor of graham crackers and get ready to create a banana dessert you will surely dream about.
Be sure to satisfy your frosty frozen cravings with the best banana blondies to die for.
There is just something about bananas-anything that is just so yummy and comforting and wonderful.
Blondies are an awesome version of brownies that are just ready to be baked when you are ready.
Make sure to add the right amount of your favorite flour to give your beautiful banana blondies the perfect tasty texture.
Check out this copycat recipe to create one of the easiest and quickest beautiful banana dessert recipes on the internet!
Go ahead and then dip your delightful frozen bananas into dark or milky delicious chocolate. Um, can you say yum?
This banana dessert recipe gives you the option to chuck those bad boys back into the freezer to take out slices as you salivate for some.
Got yourself some bananas and don't know what to do with them? Want to bake a cake but don't have any eggs? Look what we have discovered!
This recipe is so easy it's simply unbelievable. No eggs required, no butter needed, and no problems to be had.
This is a perfect dessert for when you have got loads of bananas just waiting in the freezer for their moment to shine!
Wait, sour cream? In banana bread, no way! You may be thinking we're hitting a crazy streak, but we promise we've found the best banana bread recipe on the web.
Oh yes. Yes indeed. Get ready for the moistest banana dessert you have ever had the privilege of tasting!
With just two bowls and a whisk, you'll be sure to have less clean-up and more time for indulging.
This dessert goes by many names, but its name will be the furthest thing from your mind once you taste it.
Start layering this banana-filled treat with your favorite oreo crust and wonderful whipped topping. Have we got your mouth watering yet?
You can even cheat (yes, really!) and use the banana pudding from a box! We won't judge!
Try out this too-good-to-be-true dessert today.
In this thick and creamy delightful dessert, you'll be sure to be left feeling complete with a combination like no other that's about to strike your taste buds.
Did we mention there's rum involved? Cheesecake and rum are a match made in baking heaven.
Boozy banana desserts are good any time of the year, and this bananas foster cheesecake takes your dessert baking capabilities to all sorts of new levels.
Do those overripe bananas on your kitchen counter make you feel down? Cheer up and start baking with these banging banana bars!
Be sure to measure your flour to a T, and watch out! Do not over mix your batter!
You can even opt to swap out your regular flour for a gluten-free option if you choose! We're not sure if it can get any better than this.
Have you been wondering if there are any handheld desserts out there that are just perfect for you and your family?
Well, have we got the one for you. This banana dessert is sure to blow your mind with a deliciously tasty buttercream frosting.
Take your handheld baking to an all-new level with these cute, quick, and easy cupcakes! You won't want to return to normal baking after this.
Think you can never find the right recipe for your beautiful bundt cake pan? Look no further for the next best banana dessert recipe around.
In just under an hour, you will be looking at the best darn bundt cake in the whole town.
A super important step to not forget is to freeze the cake IN the pan! So make sure to read all of the directions before you begin.
Try out creating your next ice cream flavor at home by incorporating just two simple ingredients!
Yes, two! All you are going to need for this super easy and quick recipe is some bananas and a few tablespoons of non-dairy milk to make the perfect ice cream that's ready to dig into at your convenience.
What're you waiting for? Get your favorite blender ready, and get going on your dessert!
Have you been scouring the web for the perfect brunch cake to make for friends and family? Well, we've got you covered.
If you have never thought about including both bananas and coffee in your cake, well, my friend, you've been doing it all wrong.
Make room for this banana brunch or have it instead for dessert, and you'll be sure to wow both family and friends all around town.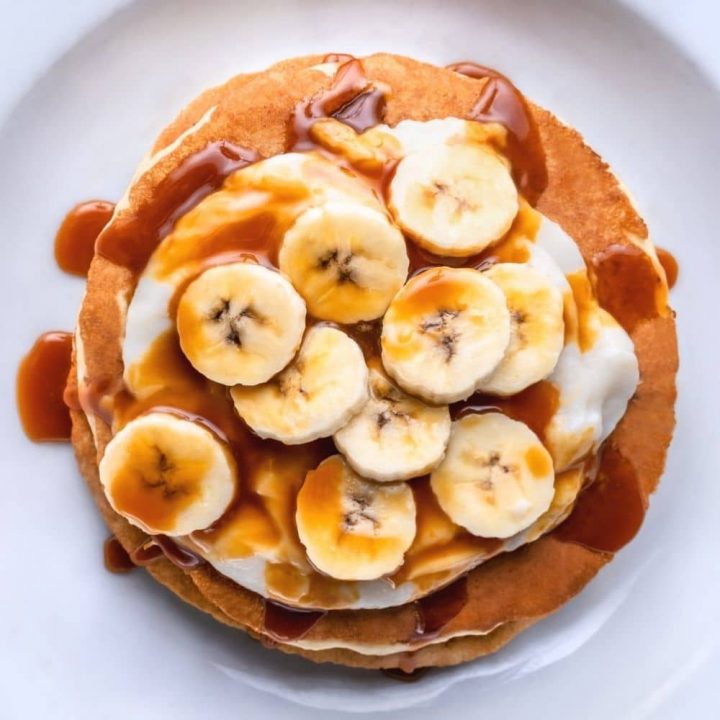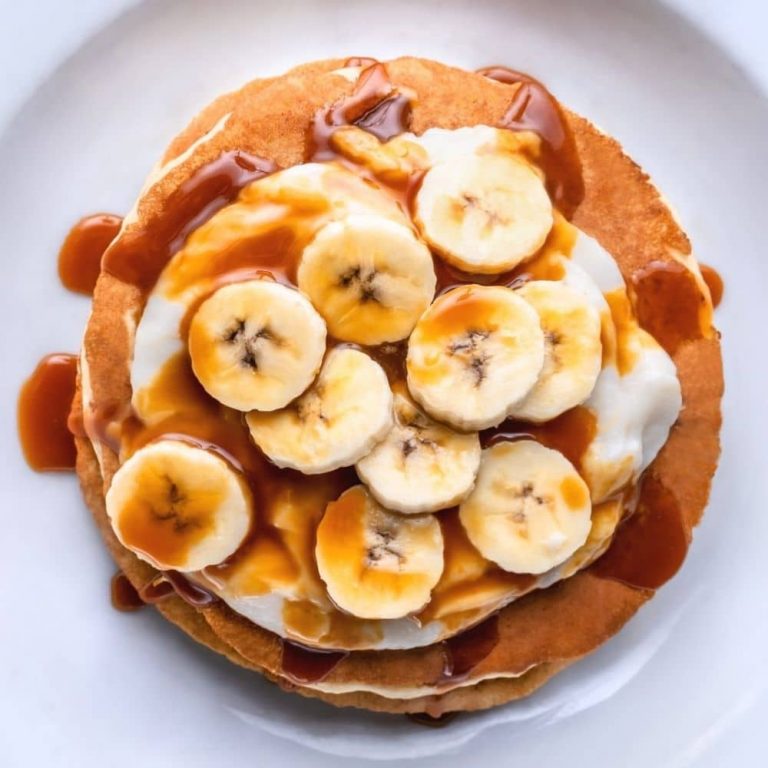 27 Easy Banana Desserts to Impress Guests
Ingredients
1 ½ c all-purpose flour
1 tsp baking powder
1 tsp baking soda
½ tsp salt
3 large bananas, mashed
¾ c white sugar
1 large egg
⅓ c butter, melted
Instructions
Step: Fire up your oven to an easy 350 degrees. (175 degrees C). Slather a thin coating of your nearest non-stick, or opt for easy-to-use paper liners. (Our personal favorite). Slowly sift the following ingredients together:
- Baking powder
- Baking soda
- Flour
- Salt
Set that aside.

Step: Carefully combine the following ingredients into a decently sized bowl:
- Sugar
- Egg
- Melted butter
- Bananas
Fold in your fabulous flour mixture and mix that until silky smooth. Swiftly scoop that beautiful mixture into your muffin pans.

Step: Bake that banana goodness in your hot and ready oven for approximately 10-15 magical minutes. (If they're the cute mini kind). If you're opting for the larger-sized muffins, try baking them for a bit longer at approximately 25-30 minutes instead. When your muffins are ready, you'll be able to tell as they will spring back when you give them a light tap.