These delicious beef and bean enchiladas appear regularly on my dinner table. My family loves them. The filling is delicious, and I love that they come together in no time, and I can have dinner at the table without breaking a sweat.
A lot of beef enchilada recipes call for whole beans in the filling, but I like using refried beans instead. I think they give the filling the soft texture my family likes.
Store-bought enchilada sauce makes them even easier to make, and they are topped with melted cheddar. I guarantee if you take this enchilada bake to your table, your family will love you for it. Beef enchilada recipes are amazing, and this one with beans in them is the best.
Take a look at these other Mexican-style bakes:
Freezing?
If you wish to freeze any leftovers, place them in an airtight container and freeze for up to 4 months.
To reheat, thaw the leftovers in the fridge overnight and microwave until hot. You can also reheat them in a 350 F oven for 15 minutes or until they are hot and bubbly again.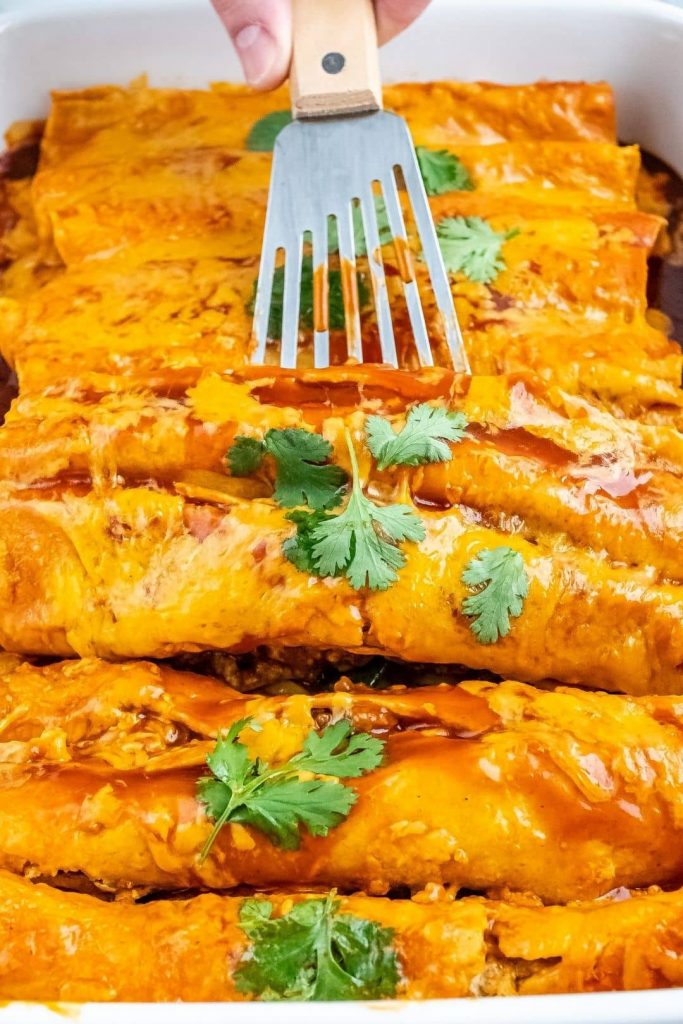 Storage
Fridge: place any leftovers in an airtight container and into the refrigerator for up to 4 days. Reheat in the microwave or the oven as mentioned above.
Freezer: place the leftovers in an airtight container and freeze for up to 4 months. Remember always to label the leftovers with the date, so you know how old they are once placed in the freezer.
Cooking Tips
Buy the best enchilada sauce you can find. The taste of the sauce comes through in this dish, so choose a good one.
Shred your cheese! Pre-shredded cheese will never have the texture or the great melting properties of freshly grated cheese.
Let the enchiladas cool off for at least 5 minutes before serving, or they might fall apart.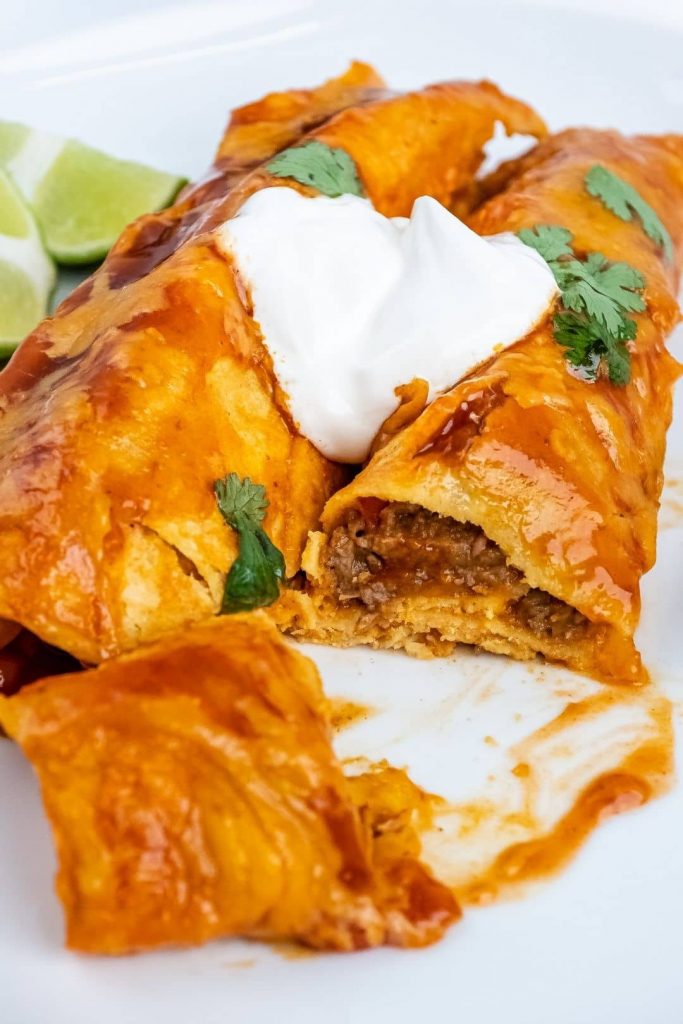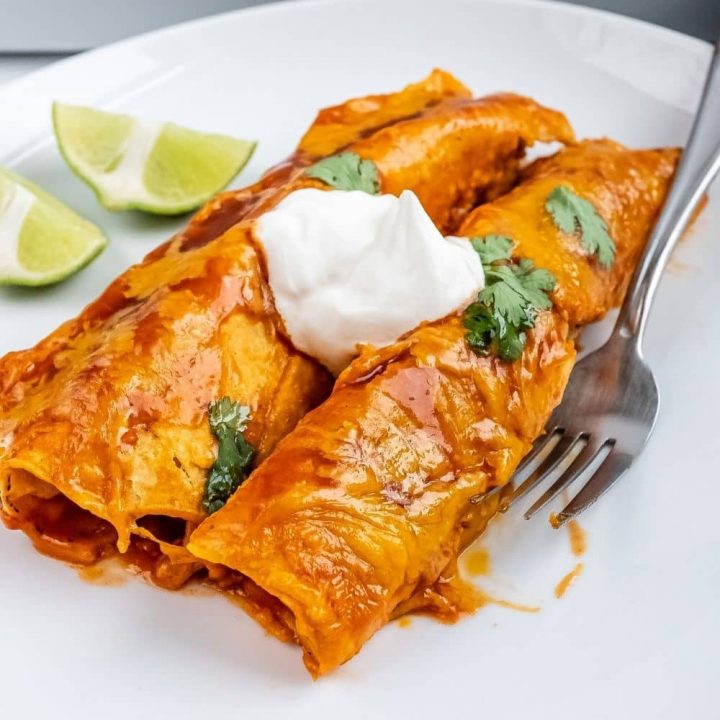 Beef and Bean Enchiladas Recipe
Make your family happy with this easy Beef and Bean Enchilada recipe
Ingredients
¼ cup onion, finely chopped
¼ cup red bell pepper, finely chopped
1 garlic clove, minced
1 ½ lb lean ground beef
1- 16 oz can refried beans
1 package taco seasoning
½ teaspoon cumin
½ teaspoon oregano
Salt and pepper to taste
1- 28 oz can enchilada sauce
12- 6 inch corn tortillas
2 ½ cups shredded cheddar cheese
Instructions
Preheat the oven to 350 F. In a large skillet over medium-high heat, cook the ground beef with the onions, bell peppers and garlic, until brown
Mix in the refried beans, taco seasoning, cumin, oregano, salt, and pepper and cook until everything is well combined and heated through.
Wrap the tortillas in a damp paper towel and microwave for 1 - 1 ½ minutes or until warm. Warm up the enchilada sauce as well in a small saucepan. Add ½ cup of enchilada sauce to the bottom of a 9 x 13-inch baking dish. Have your enchilada-making station ready with your tortillas, meat mixture, and shredded cheese on hand. Start by brushing a tortilla on both sides with enchilada sauce
Place about ⅓ cup of meat/bean mixture in the middle of the tortilla and spread
Sprinkle a little cheddar cheese on top of the meat/bean mixture
Roll it up and place it in the baking dish, seam side down. Continue doing this with the rest of the tortillas. Pour the remaining sauce over the enchiladas and top with the remaining cheddar cheese. Bake for 20 minutes or until the cheese is melted and everything is heated through.
Nutrition Information:
Amount Per Serving:
Calories:

615.5
Total Fat:

27.5g
Carbohydrates:

49g
Protein:

46g