If you are a tex-mex food lover like me, keep reading. If the thought of a creamy chicken bake with loads of melted cheese makes you smile, this recipe is for you. Sour cream chicken enchiladas are not exactly like the rolled-up enchiladas you are used to eating.
This sour cream chicken enchiladas recipe is a bit different. It's like a cross between enchiladas and lasagna. Chicken is not rolled into tortillas. The corn tortillas are used between chicken, sauce, and cheese layers, just like a lasagna.
It's way easier to make and tastes divine. It's so convenient to make and ready in just a few minutes.
Want more recipes like this one? Take a look at my favorite Mexican-style meals:
Make-Ahead Method
If you wish to make this casserole ahead of time, you can assemble the enchilada bake up to a couple of days in advance.
Just make sure to wrap it in plastic wrap and refrigerate for no longer than two days. Take it out of the fridge and add 10 minutes to the baking time if you are placing the cold casserole in the oven.
Can You Reheat Enchiladas?
Yes, you can. If you have any leftovers, place them in an airtight container and refrigerate them for up to 4 days.
To reheat, place any leftovers in a microwave-safe dish and reheat for two minutes on high. If they are not hot enough, add 30 seconds at a time until they reach the desired temperature. You can also reheat them in a 350 F oven for 15 minutes.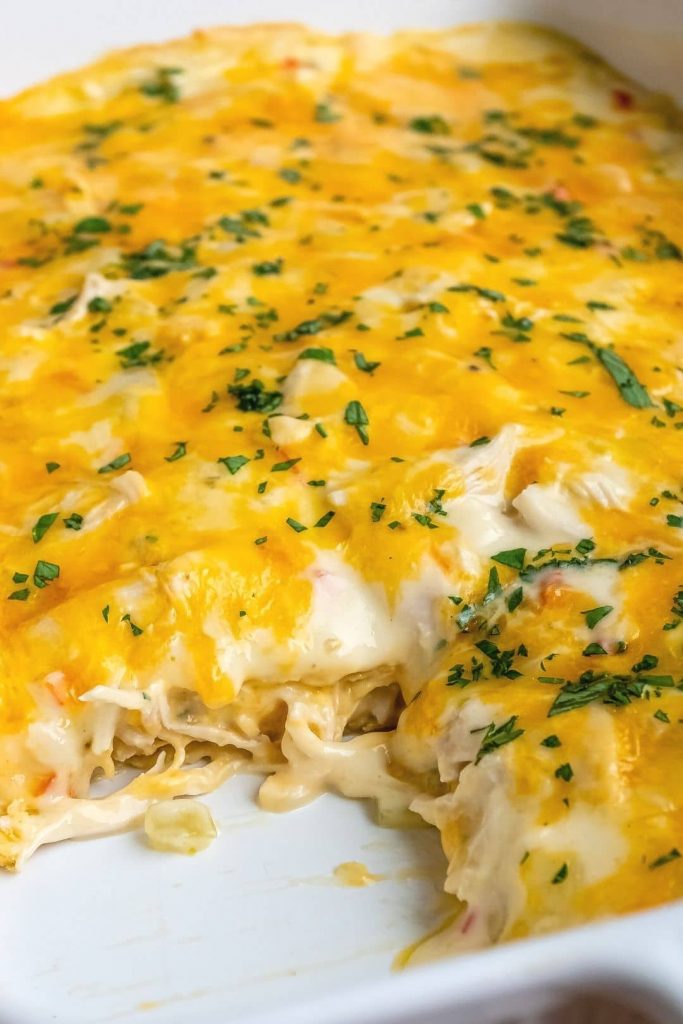 Cooking Tips
Let the enchiladas cool off for at least 5 minutes before cutting into them. They come out of the oven very soft and gooey, and you might make a mess.
Shred your cheese if you want really delicious and perfectly melted cheese. Pre-shredded cheese does not melt as great as freshly shredded cheese does.
If you want a little more color and flavor on your enchiladas, instead of adding one cup of sour cream, try adding ½ cup instead, plus ½ cup of green enchilada sauce.
Sour Cream Chicken Enchiladas
Sour cream enchiladas are made lasagna-style for a quick and easy meal!
Ingredients
¼ cup onion, chopped
¼ cup red bell pepper, chopped
1 garlic clove, minced
2 teaspoons olive oil
4 cups chicken, cooked and shredded
1 can cream of chicken soup
1 cup sour cream
⅔ cups of milk
1- 4 oz can diced green chiles
½ teaspoon cumin
½ teaspoon oregano
Salt and pepper to taste
8 extra large corn tortillas
2 cups shredded cheddar cheese
Instructions
Preheat the oven to 350 F. In a small skillet, heat the olive oil and saute the onion, bell pepper, and garlic.
In a large bowl, combine the sauteed veggies, cream of chicken soup, sour cream, milk, green chiles, cumin, oregano, salt, and pepper
Layer 4 tortillas in the bottom of a 9 x 13 inch baking dish
Sprinkle half the chicken on top of the tortillas
Pour in half of the sauce on top of the chicken
Add half of the cheese evenly over the sauce. Repeat the layers, and bake for 30 mins or until the cheese on top is melted and everything is heated through
Nutrition Information:
Amount Per Serving:
Calories:

460
Total Fat:

25g
Carbohydrates:

25g
Protein:

35g