Chayote squash is a popular, fruit-like tuber that adds a delicately sweet flavor to any dish. It can work as an addition to a larger dish or you can find chayote recipes where the gourd takes centre stage.
When it comes to cooking chayote, there are tons of options. This squash cook quickly and it is safe to eat raw.
You can enjoy chayote squash pickled, roasted, baked, stir-fried, or served ceviche-style with lemon juice and vinegar.
You will also find chayote in recipes from all over the world. These 15 chayote squash recipes will give you a taste of this dynamic vegetable.
This rich and flavorful recipe for garlic chayote squash is a stellar side dish for almost any entrée. These flexible flavors will go with just about anything!
Pair this light and simple vegetable side dish with grilled meat or fish, or lay it out on a table with bread, dips and cheeses for a tapas-style dinner.
This recipe is quick and simple and is so easy to make for any diet. Kick up the garlic to your liking to make this recipe pop even more.
Spice things up with this hearty, stew-like recipe for chayote squash with tomato and green chiles.
A sprinkle of Monterey jack cheese makes this recipe as satisfying as chilli.
Though it's not so much a secret ingredient as it is listed in the recipe's name, the green chiles in this recipe do so much to amplify the sweet flavors in the chayote.
This recipe would go great alongside enchiladas or fajitas, or would even pair nicely with a grilled steak dinner.
Think of it as an amped-up chimichurri sauce.
On the hunt for unique baked chayote squash recipes? If you are interested in varying the flavor profile of your chayote, try out this recipe with delicious South Indian flavors.
Kashmiri chilli and cumin are the secret ingredients in this roasted chayote recipe that give it its powerful and memorable flavor.
Your dinner guests will be hard-pressed to remember any other dish that was so unique and satisfying at the same time.
This recipe works great as a dish on its own or uses the chayote as a taco filling.
Make your chayote into the main course with this incredible hearty recipe for grilled stuffed chayote Relleno. This recipe will remind you of stuffed peppers but with many great twists.
Ground beef and brown rice (or quinoa) amp up this otherwise light squash and turn it into a hefty main dish.
When using quinoa, remember to rinse it thoroughly before cooking.
Cumin is the secret ingredient that gives this recipe a unique flavor and a nice level of spice. Kick it up even with the addition of cayenne pepper.
Want the best chayote recipes for a vegan eater? Whether as a main dish or a side, this recipe for chayote with dried green chile will please meat-eaters and veg-heads alike.
The dried green chile adds plenty of heat while the rest of the seasoning in this recipe blends to create a lovely aroma.
Add this chayote with dried green chile to a flatbread or tortillas as a filling, or serve it alongside veggie kebabs at your next outdoor grill fest.
This easy and delicious recipe for baked chayote squash might just compete with the mac and cheese at your next big dinner or cookout.
With heavy cream, rich Kerrygold butter, and the bright flavors of cheddar and parmesan cheese, this dish tastes more like an indulgent comfort food dish than a veggie-filled side.
But with light chayote squash as its base, this recipe is still nutritious and much lower carb than a starch like potatoes or pasta.
A sprinkle of breadcrumbs to finish it off adds a lovely crunch.
Want to roast your chayote squash with some elevated flavors?
If you want your chayote squash recipe to grab some attention, try this roasted chayote squash with herbs.
The herbs in question, rosemary and thyme, are the key, secret ingredients to make this recipe stand out from a typical roasted veggie recipe.
You can also improvise and substitute ingredients like parsley, marjoram, tarragon or dill.
Choose whichever green herb speaks to your palette or the one that fits with the meal.
There are plenty of chayote dishes that use the squash in cubes or slices, but did you know you can blend chayote for a satisfying and refreshing chayote soup?
This chayote soup recipe is so simple and with a few key ingredients, like dried coriander and chicken broth, becomes so flavorful, especially when cooked slowly.
This chayote soup recipe is a great option if you need to freeze your chayote as you do not need to worry too much about texture when it's all being liquefied.
Are you looking for raw chayote recipes to make use of this vegetable's refreshing qualities?
You have to try this crisp and lightly-sweet chayote salad with Mexican flavors.
You can eat chayote raw so you do not need to use any heat for this recipe, which makes it great for those summer days when your kitchen is hot enough as is.
Mix your chayote with onions, seasonings, and a simple dressing that you can doctor up with ingredients substitutes to your liking, like lemon juice instead of vinegar.
Just because chayote is a squash does not mean you have to always serve it and eat it in a typical, simple squash recipe.
Instead, whip up this heavenly creamy chayote gratin which has rich and elegant flavors.
This dish can easily be a main dish or would work well as a side dish.
What really makes this recipe stand out is the secret ingredient of gruyere cheese. The addition of thyme and shallots also adds tons of unique flavor.
You might think of au gratin recipes as pretty one-note and predictable, but this Caribbean-inspired chayote au gratin recipe will absolutely change your tune.
With ham, mango sauce, parsley and thyme, this extra-flavorful chayote au gratin is unlike any cheesy au gratin dish you might be familiar with.
This recipe calls for grated asiago cheese, but you can also substitute ingredients like Parmesan or another flavorful, hard cheese.
You might need to go to a specialty store to find the Noubess hot and spicy mango sauce, but it is so worth it for this recipe.
A lot of chayote dishes stem from Mexico and Latin America where the squash originated, but as the chayote squash has spread and grown in popularity around the world, so too have its uses.
A prime example of that is this delicious Chinese stir-fry chayote recipe.
You may not be used to seeing chayote on the menu at your local Chinese restaurant, but this recipe will still satisfy your stir-fry craving. Be sure to serve over rice to collect all of the delicious sauce from this wonderful dish.
This recipe for Vietnamese chayote squash with beef, also known as Su Su Xao Thit Bo, is a phenomenal main course and actually cooks up quite quickly with relatively simple ingredients.
A thin cut of steak or beef helps this recipe to cook quickly and as always, the better the quality of beef, the better this dish will taste.
You can also use chicken as an ingredients substitute, just make sure you are cooking to the correct temperature for the different meats.
The addition of fish sauce creates a lovely aroma and adds so much flavor to the dish.
Have a hankering for that authentic street food taste? Try this authentic chayote stir-fry recipe that you can make easily at home.
A few key ingredients of dried shrimp, oyster sauce, and white pepper, are the secret weapons to give this dish its authentic and powerful taste.
You can find white pepper in most spice aisles, and if you aren't able to find Oyster sauce in the condiments section, try looking in the Asian foods section or head over to your local Asian grocer!
Serve the chayote with glass noodles, or you can use an ingredients substitute like vermicelli or rice noodles.
Trying to pack plenty of veggies into your chayote recipe? You have to use this recipe for cheesy tomatillo enchiladas with chayote.
With plenty of sauce, cheese, and rice, picky eaters who evade vegetables may not even notice how secretly nutritious this dish really is.
Use Monterey jack cheese for a mild topping, or try pepper jack to add a little extra spice to the meal.
If your Mexican spice blend of choice is not adding to the heat, you can also add a pinch of cayenne or top the dish off with your favorite hot sauce.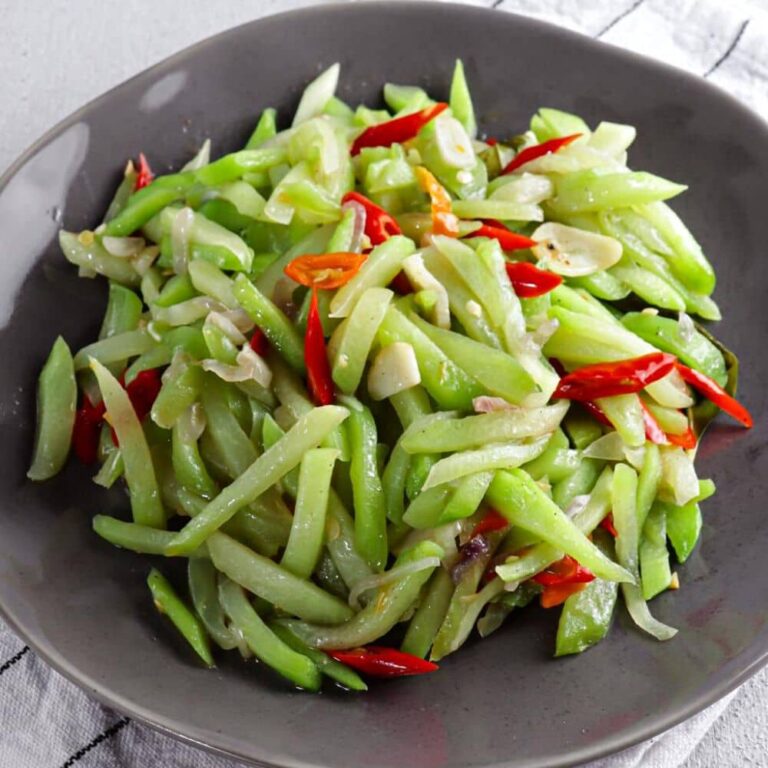 15 Best Chayote Squash Recipes
Ingredients
1 tbsp olive oil
1 clove garlic, minced
1 chayote squash, cut into 1/2-inch strips
½ tsp salt
ground black pepper to taste
½ tsp white sugar
¼ tsp red pepper flakes (Optional)
1 tbsp red wine vinegar
Instructions
Heat olive oil in a pan over medium-high heat.
Once the oil is heated, add garlic and cook until fragrant, stirring constantly to avoid burning.
Add squash to pan and sprinkle with salt, pepper, and sugar. Stir together with garlic and cook until chayote softens slightly about 2 to 3 minutes.
Add vinegar to the pan and cook another 2 to 3 minutes or until the squash is even softer, but still has some firmness to it – reduce heat if chayote appears mushy.
Taste, adding sugar and other seasonings to your preferences. Remove from heat and enjoy!