I bet you didn't know you could cook potatoes in the crockpot without adding any liquid. I didn't think this was possible until I tried it. Liquid-free crockpot potatoes or slow cooker potatoes are a thing! I was very skeptical and thought they wouldn't cook or that they would burn, but they cooked perfectly.
The cheese melted just right, and the flavor of the whole dish was amazing because it didn't have any liquid to water it down.
I have tried many crockpot potato recipes but never quite like this one, and as always, the best part of using your crockpot is that you don't have to watch over it. Meals cook themselves!
I wish I had at least 3 crackpots, that way I could make Chicken Tortilla Soup Crockpot, and Sweet Baby Ray's Crockpot Chicken Recipe, and make a whole meal at once!
Can You Put Raw Potatoes In a Slow Cooker?
Contrary to what I thought, yes, you can, and yes, they cook perfectly without any liquid!
The foil makes the potatoes cook evenly by better distributing the heat and creating a boundary between the potatoes and the pot, preventing them from burning. Oh, and it makes cleaning very easy!
How To Make Loaded Slow-cooker Potatoes?
Line the pot of your slow cooker with foil and spray the bottom and sides with cooking spray.
Place half of the potatoes, bacon, green onions, shredded cheese, and seasonings in the pot.
Add a second layer with the remaining potatoes, bacon, green onions, shredded cheese, and the rest of the spices. Add salt and pepper.
Cook on low for 3 ½ hours, or until the potatoes are tender and the cheese is melted.
if you like a little spice in your food, I'm sure you will love this Bombay Potatoes Recipe.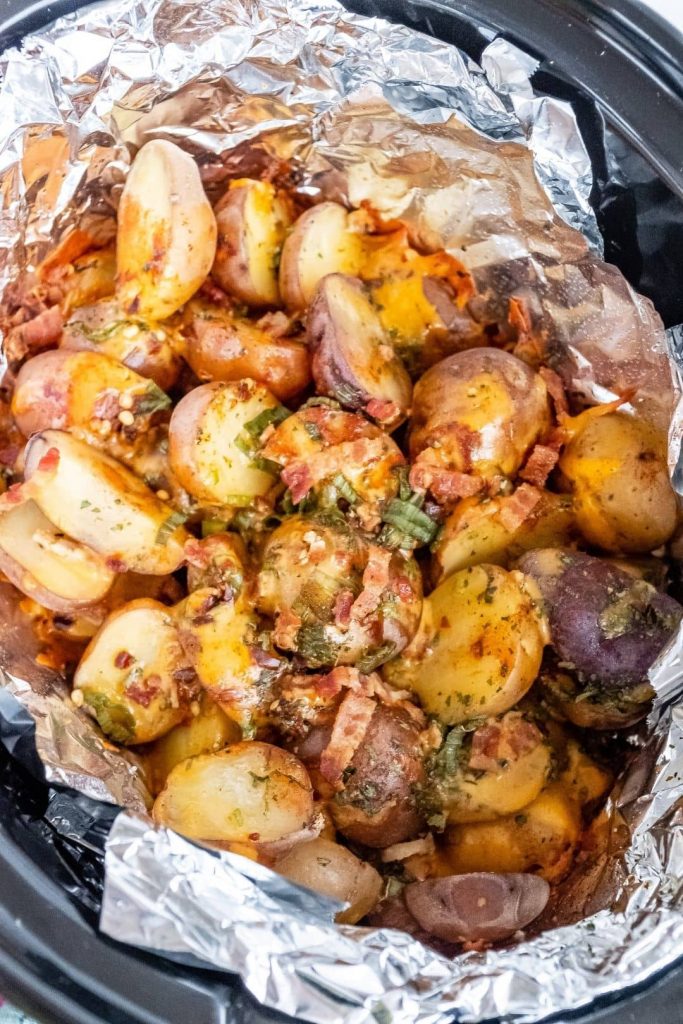 Cooking Tips
Don't forget to spray the foil with cooking spray to prevent the melted cheese from sticking to it. And take the whole thing out instead of scooping out the potatoes to prevent the foil from tearing. Easier cleanup!
Do not use pre-shredded cheese. It doesn't melt quite right. Pre-shredded cheeses have added other ingredients that prevent them from sticking, thus making them not melt properly.
Before serving, you can add a drizzle of sour cream and extra green onions.
Crock Pot Potatoes Recipe
Since you don't have to add water to the crockpot, the flavor of these potatoes is amazing!
Ingredients
2 lb baby potato medley, halved or quartered if they are too large
Cooking spray
2 cups sharp Cheddar cheese, freshly shredded
2 garlic cloves, minced
8 slices of bacon, cooked and chopped
½ cup sliced green onions
2 teaspoons paprika
1 tablespoon dried parsley
Salt and pepper to taste
Instructions
Line the pot of your slow cooker with aluminum foil and spray it with cooking spray. Place half the potatoes, bacon, green onions, garlic, cheese, and half the spices in the bottom of the pot.
Add a second layer with the rest of the potatoes, bacon, green onions, cheese, and seasonings. Cook on low for 3 ½ hours or until the potatoes are tender and the cheese is melted
Nutrition Information:
Amount Per Serving:
Calories:

262
Total Fat:

16.4g
Carbohydrates:

15g
Protein:

15g