On the hunt for some healthy and fabulous juicing recipes? We've got you covered with 18 of the best recipes from around the web. From sweet tropical flavors to bright and bold green juices, there's a flavor here for every palate that you are sure to love! Juicing for health is all the rage and with good reason.
Consuming fresh juice daily has been credited by countless people with weight loss, pain relief, and energy-boosting benefits!
Whether your goal is to lose weight, feel more energy, or help facilitate healing in your body, these nutrition-packed juice recipes will deliver and have you coming back for more.
Having a few healthy juice recipes on hand is an easy way to incorporate more fruits and vegetables into your diet and this one is a great start!
The kale is high in Vitamin A, which is great for eye health, as well as vitamins, C and K. Cucumbers provide hydrating benefits and the apples provide fiber and sweetness.
The real star of this juice, however, is the ginger! It adds a kick that makes this juice zing that also aids digestion. This green juice is a great choice for beginners who want to focus on improving gut health.
Want to start your day right? This simple but tasty concoction is one of the best juicing recipes that's free from caffeine and yet delivers an energizing boost that's sure to rival your morning cup of coffee!
Consuming carrot juice is linked to multiple health benefits such as eye and cholesterol health. When combined with lemons, ginger, and oranges, this recipe is an energy and immune-boosting powerhouse of vitamins C, A, and K.
Ginger adds a spicy kick and lemons add a tang that makes this juice refreshing first thing in the morning.
Got bloating and digestive issues? Some say drinking celery juice regularly is the answer. Celery is high in sodium and antioxidants, plus it has anti-inflammatory properties which may make it a good choice to include in post-workout juices.
While more studies need to be done to confirm the benefits of drinking pure celery juice, most scientists agree that consuming celery is good for you.
It's also one of the most simple juicing recipes to make- just wash and juice! Make sure that you buy organic when possible and juice with lime to improve the taste!
Cucumbers are 90% water which makes them a great additive in juicer recipes designed for replenishing hydration and lost trace minerals.
Cucumbers are known for their low-calorie high antioxidant properties that benefit the cardiovascular system, blood sugar levels, and blood pressure.
This refreshing drink would be perfect on a hot summer day. The mint leaves add a surprising element with a cooling effect and the lemons add Vitamin C and that thirst-quenching tartness we all love.
Use the freshest ingredient possible and chill the cucumbers before making for the best results.
If your skin is needing a little help, this fruit juice recipe is a must! Watermelon, strawberries, apple, and cucumber combine to make a luscious beverage that will promote that youthful glow.
A touch of lime adds a little something extra for the taste buds! Perfect for summer because of its hydrating qualities, it's also a favorite with kids, and you don't even need a juicer to make it.
Simply blend in a blender and strain through a fine-mesh sieve to enjoy! This juice is best served chilled over ice.
Beets should always be included in your collection of juicer recipes. Drinking fresh beet juice provides a wealth of nutrients for your body as well as several health benefits like reduced inflammation and lowered blood pressure.
This recipe is pleasant and easy on the digestive system with blood-purifying ingredients.
The secret ingredient of parsley makes it a powerful antioxidant elixir that helps prevent oxidative stress to your liver and mineral deficiencies in the body.
You can also swap out parsley for other herbs like basil and mint for a fun flavor twist! Refrigerate ingredients before juicing to improve flavor or serve over ice.
A simple but powerful immune booster, oranges, carrots, and ginger make this recipe a good infusion for every day.
Ginger is commonly used as an immune system activator in herbal medicine and with 7 oranges and 4 carrots, the concentration of antioxidants is sure to ward off seasonal sickness and keep your immune system healthy and strong.
This juice can be stored in the fridge in bottles for up to a day, so why not make a double batch each time?
Pineapple is the main event in this juice! It adds a yummy tropical flair and some special enzymes that are key to good digestive health.
While more research is needed, pineapple's enzymes, bromelain, have shown some promise as being anti-inflammatory.
This one is a hit with kids and if you want to pack in even more nutrition, you can add 2-3 handfuls of fresh spinach.
It will be green, but still taste amazing. Add ice and garnish with mint to level up this delicious juice!
Good juice recipes are all about taste and benefits. The secret ingredient in this elixir is turmeric, making it a fantastic juice for those who want its pain-relieving perks.
The spice is commonly used in Asian and Indian dishes and adds an exotic flavor. Most people do not like the taste on its own, but when blended with carrot, apple, and ginger, the flavor is mellowed and the benefits remain.
To make without a juicer, simply combine the ingredients in a high-powered blender and strain through a fine-mesh sieve for a clearer juice. Don't forget the ice!
People often take up juicing to cleanse and detox their bodies. This blend makes a naturally sweet green juice that is pleasant to the palate but still serves its intended purpose.
Juicing for health is a great way to get lots of vitamins and minerals into the bloodstream quickly because the fruits and veggies are already broken down into an easily digestible beverage.
Spinach helps to alkalize the body and is rich in iron and vitamin C.
Nothing beats the flavor of fresh strawberries and this simple juice will be a treat! Be sure to use fresh, in-season berries for maximum flavor.
You can use either lemon or lime to add zest and make sure not to skip the ice with this one.
And here's a secret ingredient tip: add a pinch of salt to bring the berry flavor out even more! If you prefer, you can strain the seeds out before serving using a fine colander.
Want to take your juicing to the next level? This juice recipe from Goodnature has got you covered!
Bosc pears give a touch of cinnamon/nutmeg flavor to this juice which has a surprisingly pleasant taste! Carrot and apple sweeten the deal while the lemon brightens with its tartness.
Rich in vitamins A, C, & K, plus potassium, it's a great choice for those wanting to nourish their bodies and fight inflammation. So the next time you see Bosc pears at the market, give them a try!
Did you know you can make apple juice at home? It's easy and, often, much healthier for you! You'll need quite a few apples for this recipe, so buy in bulk!
Homemade apple juice can be as simple as juicing just the apples, or you can get creative by adding spices like cinnamon and sweeteners like sugar.
You can also mix up different varieties of apples to make a unique blend of apple juice to enjoy! A family favorite, this one will be a winner!
Another great cleansing vitamin-rich juice and king of juice recipe for the juicer, the Best Ever Kale Juice is also a good pick for pregnancy. Kale, fuji apples, lemon, and cucumber will also help provide extra hydration and trace minerals to mom and baby.
Here's a great Pro tip- line your pulp collector with a plastic baggie before juicing and clean up will be a breeze!
Be sure to wash all ingredients beforehand and refrigerate up to 2 hours before juicing if you want your juice to be cold.
This sweet nectar-like mango juice is perfect for a hot summer day. It's a favorite with kids and adults alike.
When made in the blender it will be thick and will need to be strained for a thinner juice and it is suggested NOT to thin it with water because you will lose the concentration of flavor.
You also can substitute Ataulfo mangos for normal mangos if you wish, and try coconut water instead of plain water for a variation! Serve over ice.
Looking for a thicker juice to enjoy as a snack? This fresh peach juice is popular in Chilean cuisine and it's another favorite with children because it is so sweet and full of flavor!
While sugar is added to increase sweetness and offset the water added, it's still healthier than store-bought juice. It's full of healthy antioxidants and good digestive enzymes, and its main ingredient shines for heart health.
Make sure that your peaches are fully ripe and cooled before making this recipe for success every time. Drink fresh, as this juice does not store well. A great substitution for peaches is their cousin fruit, the nectarine. Swap or combine to vary taste!
If you are not a fan of prune juice, why not try fresh plum juice instead? With all the same benefits, but a more delicate and brighter taste, this juice is sure to win you over!
Not only does it help with constipation, but plums are known to help regulate blood sugar and promote heart health. The lemon helps to add a bit of tartness while helping the juice to last a little longer against oxidation.
Add other ingredients like carrots, beets, and more and you have a wonderful beverage to enjoy during the peak of harvest.
Another awesome detox juice, this recipe is packed with 3 full cups of spinach. Thanks to the pineapple though, you'll barely taste it!
Apples and lemons balance the taste of this nutritious juice blend. Spinach is a good addition to juice recipes due to its mild taste and iron content, but feel free to switch out various greens in this recipe to see which ones you like best.
Kale, parsley, and swiss chard would work well in this juice too.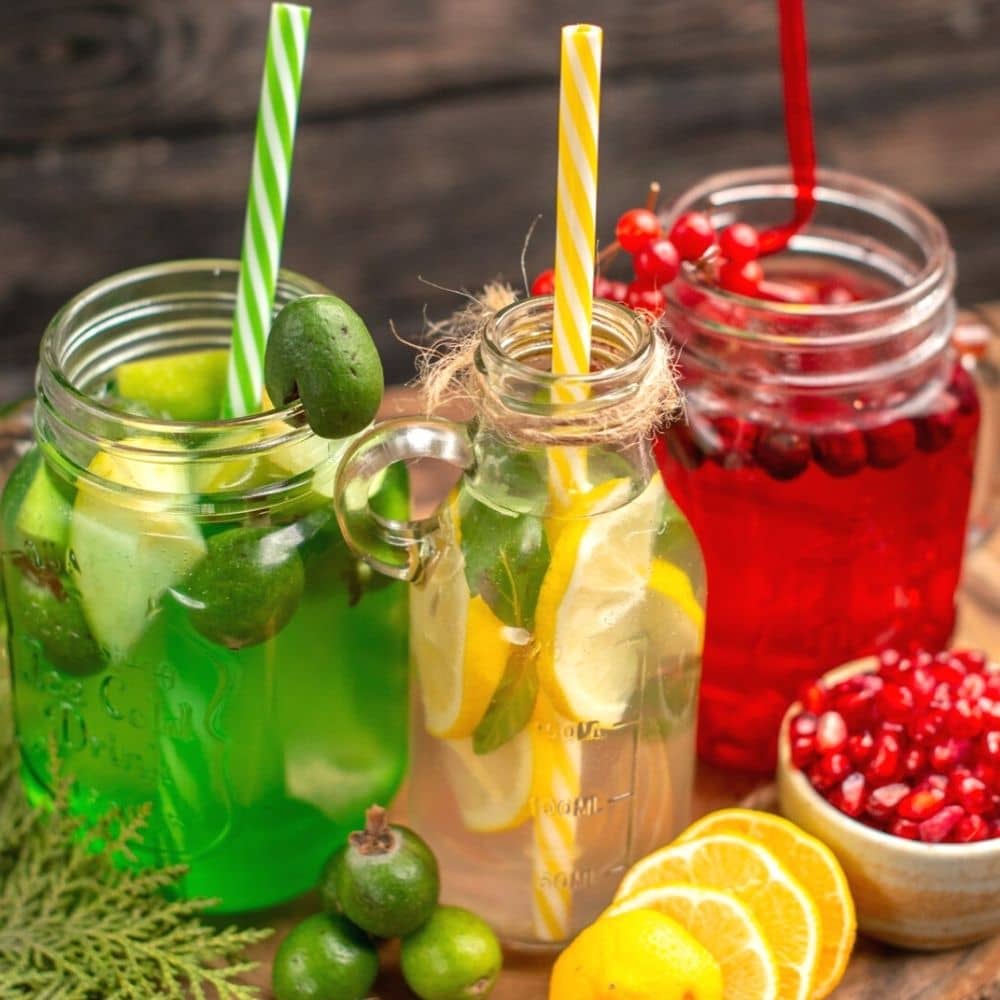 18 Best Juicing Recipes
Yield:
1 serving (8 to 10 ounces)
Ingredients
1 c dark, leafy greens
1 medium-sized granny smith apple
1-2 large lemons
2 large Romaine Lettuce Leaves
½ large cucumber
1 tbsp of chia seeds
Ice
Instructions
Wash, pat dry, and prepare ingredients by peeling or cutting.
Juice ingredients in the following order: lemons, apples, romaine lettuce, cucumber, and finally, greens. Use the appropriate settings as per your juicer's instruction manual for each ingredient.
Add chia seeds to juice and stir. Allow the juice to rest for 5 minutes.
Pour the juice over ice and serve. Enjoy!