If you like simple yet flavorful dishes that are not drowning in sauce, this is for you. A one-pot meal that comes together very fast and is guaranteed to please even the pickiest eaters. No mushy, saucy bites in this one.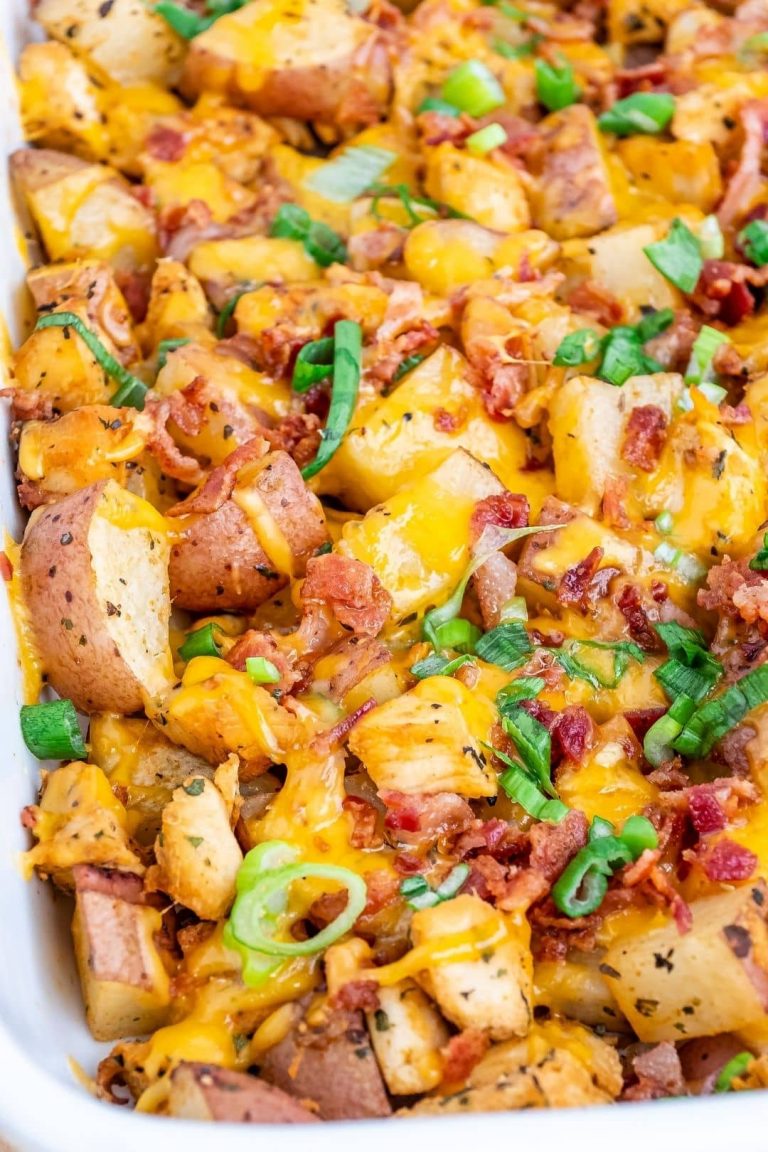 Chicken potato casserole has clean and simple flavors, similar to those you get from a baked potato. You can call it chicken potato casserole, but it is a chicken bacon potato casserole because the bacon flavor comes through.
I like to use high-quality smoked bacon to achieve the most amazing dish. Cayenne pepper gives it a bit of a kick, and green onions a delightful freshness.
How To Make Chicken Potato Casserole?
Preheat the oven to 375 F. Spray the bottom and sides of a 9 x 13-inch casserole dish with cooking spray
In a medium-sized bowl, place the cubed potatoes, diced cooked chicken, minced garlic, olive oil, paprika, parsley, oregano, cayenne pepper, salt, and pepper. Stir everything until well combined.
Place the potato/chicken mixture into the casserole dish and bake for 45-50 mins, or until the potatoes are tender.
Remove from the oven and top with the shredded cheese, sliced green onions, and chopped bacon.
Return to the oven and bake for an additional 5-10 mins, or until the cheese is melted.
Got Leftovers?
Place any leftovers in an airtight container and into the fridge for up to 4 days. To reheat, you can use the microwave, the oven, or you can do it in a skillet on the stovetop.
If you want to use the oven, I would recommend adding a tablespoon of chicken stock for every 2 cups of leftovers, placing them in an oven-safe dish, cover with foil, and baking at 350 F for about 15 minutes or until they are heated through.
Cooking Tips
Try to make the potato cubes roughly the same size to cook evenly.
If you can, mix them a couple of times mid-cooking, so the chicken and potatoes brown evenly.
Do not use pre-shredded cheese. It doesn't melt appropriately because of the added ingredients to prevent it from sticking.
Here are some other potato casserole recipes you might enjoy:
Loaded Chicken and Potato Casserole
Total Time:
1 hour
15 minutes
Chicken potato casserole has clean and simple flavors, similar to those you get from a baked potato
Ingredients
Cooking spray
2 chicken breasts, cooked and cubed
6 medium red potatoes, cubed (skin on)
1 garlic clove, minced
3 tablespoons olive oil
1 tablespoon paprika
1 tablespoon dried parsley
1 teaspoon dried oregano
1 teaspoon cayenne pepper
8 strips of bacon, cooked and chopped
2 cups shredded sharp cheddar cheese
½ cup green onions, sliced
Salt and pepper to taste
Instructions
Preheat the oven to 375 F and spray the bottom and sides of a 9 x 13-inch casserole dish with cooking spray. In a medium-sized bowl, mix the potatoes, chicken, garlic, olive oil, paprika, oregano, parsley, cayenne pepper, salt and pepper
Place the potato/chicken mix into the baking dish and bake for 45-50 minutes or until the potatoes are cooked and tender.
Once the potatoes are cooked, remove them from the oven and top with bacon, cheese, and green onions. Return to the oven and cook for an additional 5- 10 mins or until the cheese is melted
Nutrition Information:
Amount Per Serving:
Calories:

332
Total Fat:

19g
Carbohydrates:

21g
Protein:

22g