Mackinac Island is a small island located in Michigan's Upper Peninsula. It is best known for its fudge and If you're a fan of fudge, you'll love this Mackinac Island Fudge recipe. The simplest fudge recipe you will ever try!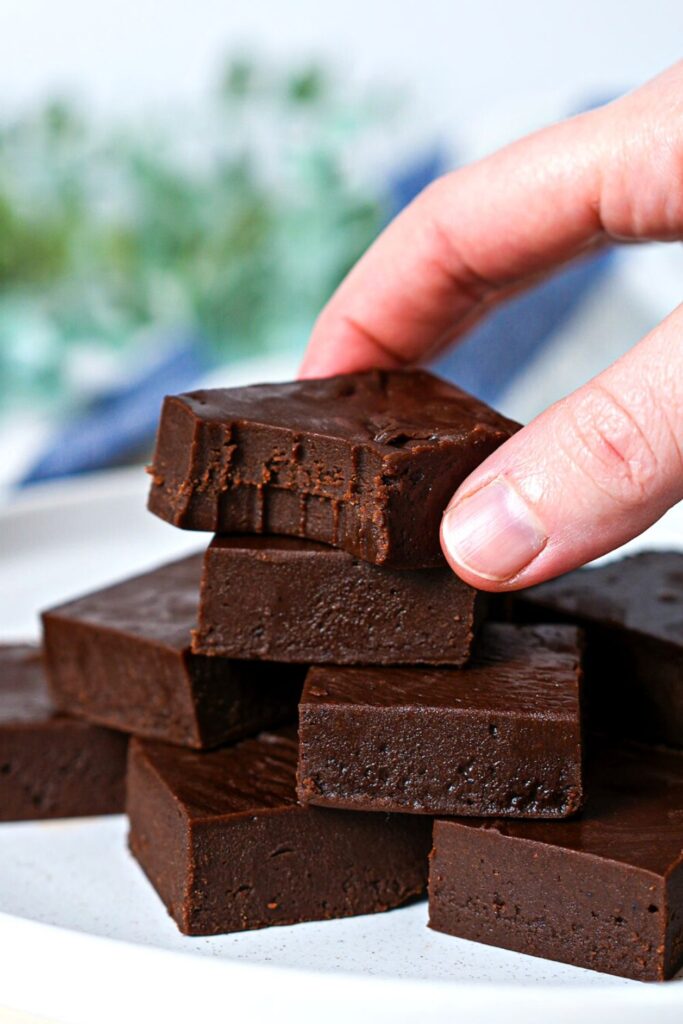 Best Mackinac Island Fudge Recipe
Mackinac Island Fudge is made with just a few simple ingredients like cocoa powder, butter, milk, and sugars, and the recipe variations are endless!
This is the best fudge recipe. Amazingly delicious and very easy to make. Just heat, stir, and set! I think it is so popular, because it is fail-proof, and no candy thermometer is required.
Within 15 minutes, you can have a rich and chocolaty dark fudge that will tempt your taste buds all day. The best part about these Mackinac Island Fudge treats is that they're also amazing gifts for friends or family members who love chocolate. It makes for a great holiday treat as well.
Ingredients you'll need:
Mackinac Island Fudge is made with only the finest ingredients and they are simple and easy to find.
Butter: The best butter for this fudge recipe is unsalted. The Butter will give you a rich flavor and smooth texture, it also helps it stay soft at room temperature.
Milk: Whole milk is the best type of milk to use for fudge because it contains more fat than other types of milk, which gives the fudge a smooth, creamy texture.
Sugars: White sugar is the traditional choice for making fudge, but we are also adding brown sugar, which gives the candy a richer flavor and darker color, and confectioners sugar that produces a smooth, creamy result.
Cocoa Powder: Cocoa powder is an easy way to add chocolate flavor to your fudge recipe without adding chocolate chips. Make sure to use the best quality cocoa powder out there.
Vanilla Extract: Vanilla extract is a key ingredient in fudge that gives the candy its characteristic flavor. Without vanilla extract, fudge would be bland and uninteresting. When choosing a vanilla extract for your fudge, it is important to choose a high-quality product as this will result in a richer, more flavorful fudge.
Salt: Adding salt to this fudge recipe is important because it helps to balance the sweetness of the sugar and chocolate. In this Mackinac Island Fudge recipe, we use just a pinch which is the perfect amount.
How to make Mackinac island fudge?
Mackinac island fudge is a delicious treat that can be enjoyed all year round. Making your own Mackinac island fudge at home is very easy and only takes minutes from start to finish.
Add the milk, butter, and sugars (white and brown) into a heavy pan and boil for 6 minutes, stirring constantly. This will ensure that the fudge is smooth and creamy. Once cooked, remove from heat and add vanilla extract along with confectioners sugar and cocoa powder for an extraordinary chocolatey flavor!
Once the fudge is slightly cool, pour it into a baking pan lined with parchment paper, let it cool completely, and use your spatula to help roll up the mixture into a log form. Wrap the log in plastic wrap and place it in the freezer for 20 mins. Then slice the log and cut each slice into delicious squares!
How long does Mackinac island fudge last?
Keep it in an airtight container in the fridge and it will last one week, but this fudge is so delicious that it's unlikely it will last that long!
Tips for the BEST Fudge:
Use good quality pure vanilla extract and full cream butter for the best-tasting fudge recipe.
Make sure you have all the ingredients and tools you need before you start cooking.
Stir the milk, butter, and sugar mixture constantly or it may stick to the bottom of the pan and burn.
When adding the vanilla extract, cocoa powder, and confectioners sugar, be sure to mix the ingredients thoroughly with a whisk – this will prevent any lumps from forming (you can use an electric whisk if you prefer).
When you put parchment paper in the pan, make sure there is some overhang. That way you can easily remove the fudge.
How To Store:
If you're lucky enough to have some of this delicious fudge left over, you may be wondering how to store it so that it stays fresh. Mackinac island fudge can be stored in the fridge for up to one week or in the freezer for up to three months.
When storing Mackinac island fudge in the fridge, be sure to wrap it tightly in plastic wrap or place it in an airtight container. If you choose to freeze your Mackinac island fudge, be sure to wrap it tightly in plastic wrap and then place it in a freezer-safe container. By following these simple storage tips, you can enjoy your Mackinac island fudge for weeks to come!
Mackinac Island Fudge
Yield: 16-20 depending on size of slices/pieces

Prep Time: 15 minutes

Resting time: 30 minutes

Total Time: 45 minutes

This is the best fudge recipe. Amazingly delicious and very easy to make. Just heat, stir, and set!
Ingredients
8 tablespoons unsalted butter (one stick)
½ cup whole milk
½ cup granulated white sugar
½ cup brown sugar, firmly packed
Pinch of salt
1 teaspoon vanilla extract
½ cup unsweetened cocoa powder
2 cups confectioners' sugar
Instructions
Line an 8 x 8-inch square pan with parchment paper and set aside. Mix together the butter, milk, salt, and brown and white sugars in a heavy saucepan and bring to a boil over medium heat. Boil and stir continuously for 6 minutes.



Then remove the mixture from the heat and stir in vanilla, cocoa powder, and confectioner's sugar. Stir until well combined and the fudge is smooth and shiny.



Pour the mixture into your 8 x 8-inch prepared pan and let cool completely.
Once the fudge is cool to the touch, with a spatula roll it into log form, wrap it in clingfilm, and place it in the freezer for 20 minutes.



Once completely set, cut the fudge into small squares and enjoy!


Nutrition Information:

Amount Per Serving: Calories: 171Total Fat: 7,2gCholesterol: 16mgSodium: 58mgCarbohydrates: 27gProtein: 0,9g