The Philadelphia cheesecake recipe is a classic. Creamy, delicious, and very versatile, this easy Philadelphia cheesecake recipe requires just a few common ingredients that come together in just 3 steps. It is kitchen-tested and family-approved.
Ingredients you'll need:
There are so few ingredients that you may be surprised by how perfect and flavorful the recipe comes out. This Philadelphia 3-step cheesecake will quickly become your go-to recipe for cheesecake and as a bonus, it requires very little cleanup.
Cream cheese: Room temperature Philadelphia brand cream cheese is best for this recipe but any brand of regular cream cheese will work.
Sugar: this recipe calls for ½ cup of regular white sugar.
Eggs: 2 whole eggs are added to the mixture after the cream cheese and sugar are blended.
Vanilla: use ½ teaspoon of good-quality vanilla extract. The cheaper brands sometimes have a very strong alcoholic flavor.
Honey Maid Graham Pie Crust: a six-ounce graham pie crust is used for this cheesecake. Any other size may not make the pie as full.
How to make Philadelphia Cheesecake?
This recipe is very simple and quick to make. The Philadelphia 3-step cheesecake comes together as easily as this:
First, mix your softened cream cheese with the sugar and vanilla. Once that is smooth, add the eggs and mix again. Once it is smooth again, pour the mixture into your crust and bake at 350 degrees for 40 minutes. To allow the cake to set, put it in the refrigerator for at least 3 hours.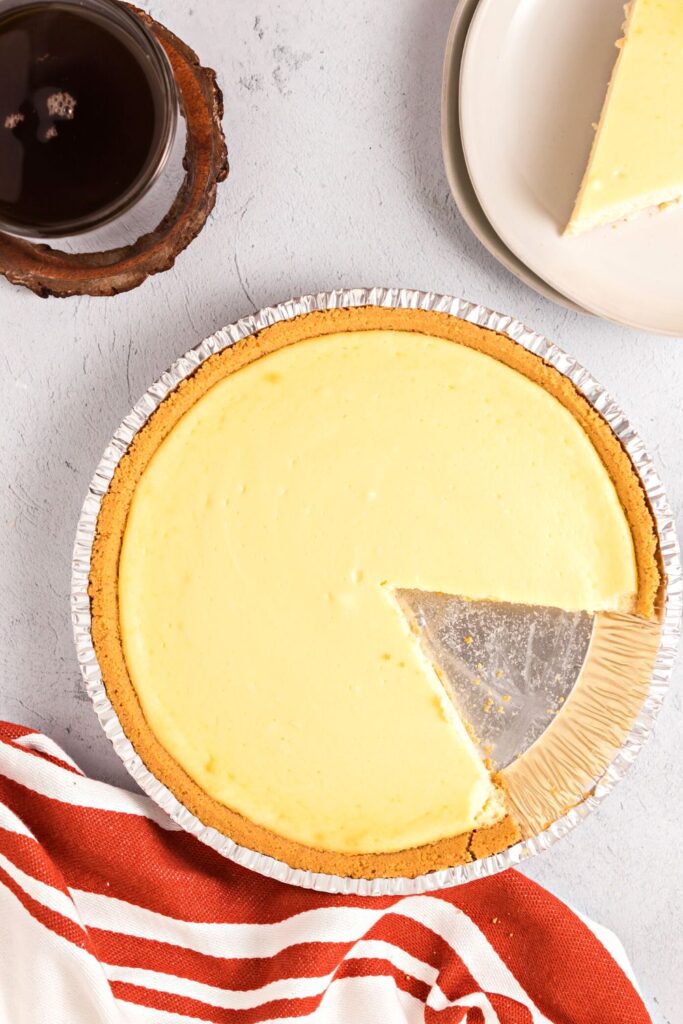 Variations and substitutions:
The easiest variation to make to this Philadelphia cheesecake recipe is to add a yummy topping. You can add cherries, blueberries, strawberries, or even whipped cream. You'll want to add these after the pie is baked and cooled so they don't sink to the bottom.
Tips for the BEST Philadelphia Cheesecake
Make sure that you use softened, room-temperature cream cheese. Using softened cream cheese makes the sugar, vanilla, and eggs blend in perfectly.
Make sure you blend the cream cheese, sugar, and vanilla until smooth so your pie doesn't come out with umps.
Make sure to refrigerate it for at least 3 hours to ensure it is set.
Use a clean knife with each cut to get clean pieces out.
Make Ahead and Storage Tips
You can easily make this Philadelphia cheesecake recipe 2-3 days in advance of whenever you are needing it. You will want to store it in the refrigerator until serving.
The pie crust comes with a lid, use it to cover the cheesecake before you place it in the fridge. The cheesecake should be good to eat for up to 4 days as long as you have kept it stored and covered in the refrigerator.
If you loved this recipe, here are a few more cheesecake recipes I'm sure you'll enjoy:
Philadelphia Cheesecake
Total Time:
3 hours
50 minutes
This classic cheesecake recipe will blow you away with how easy, foolproof, and delicious it is!
Ingredients
2 (8-ounce) packages of Philadelphia cream cheese, softened
1/2 cup sugar
1/2 teaspoon vanilla extract
2 eggs
1 (6-ounce) Honey Maid Graham Pie Crust
1 (6-ounce) jar of cherries for topping (optional)
Instructions
Preheat the oven to 325 F.
Combine the sugar, cream cheese, and vanilla in a bowl. Using a mixer, blend them until smooth.



Add the eggs and again using the mixer, mix until smooth.



Pour the mixture into the graham cracker crust and smooth the top.



Bake for 40 minutes.
Remove from the oven and cool slightly.



Refrigerate for at least 3 hours prior to serving.
Nutrition Information:
Amount Per Serving:
Calories:

340
Total Fat:

14gg
Carbohydrates:

37.8gg
Protein:

5.8gg