You might think of sardines as a standalone snack or as an ingredient in other dishes. But this list is proof that a sardine recipe can be an entire meal all its own.
Try out one of the 18 canned sardine recipes and you will see for yourself what a range this little fish can have.
These recipes with sardines span from light finger food to hearty weeknight dinners.
What to cook with fresh sardines? Check out the recipes for grilled and roasted sardines below. Whether canned or fresh, you will find a delicious recipe in this list.
If you are in need of healthy sardine recipes for the summer, this light and refreshing Mediterranean sardine pasta will hit the spot.
Paired with lemon, capers and chilli flakes, the salty flavor of the sardines gets a nice boost and the pasta absorbs all of that umami goodness.
This sardine pasta recipe can be served cold and is a great choice if you are looking for an elevated pasta salad recipe.
Serve with cracked black pepper and parmesan for even more zest.
Sick of the same old tuna sandwich? We don't blame you. Kick things up with this delicious and elegant sardine salad sandwich recipe.
The secret ingredients that give this sardine salad a kick are Dijon mustard and a squeeze of lemon juice.
These tart flavors help to tone down the fishiness of the sardines and help add moisture that gets soaked into the bread.
Serve with nice crunchy lettuce and your favorite bread. This sardine salad is so flavorful you won't need more fixings than that.
Instead of buying tinned pate, put your tinned sardines to use with this clever sardine pate recipe.
Sun-dried tomato is the secret ingredient that gives this sardine pate a delicately sweet flavor.
The recipe also calls for hot sauce or Sriracha, so you can substitute any hot sauce you prefer that pairs well with the flavors.
This sardine pate will be a hit as a crudité or appetizer for a dinner party or your next big event. Guests will be amazed that they are eating sardine!
Sardines do not just have to be served cold or mixed into pasta. Many cultures and groups around the world eat sardines as the main event, not an appetizer.
You will want to try out this sardine entrée.
This sardine curry is one of the best sardine recipes for canned sardines in tomato sauce.
Coconut milk and turmeric are the secret ingredients that give this curry warmth and heartiness.
The coconut milk also helps to balance out the spiciness if you are using an extra spicy curry powder.
Looking for an elegant lunch idea or just sick of your same old deli meat sandwich? Make this simple sardine salad to keep in the fridge when you need something more interesting.
This recipe uses a couple of secret ingredients to add even more flavor to already rich and aromatic sardines.
Avocados and capers add layers of flavor to this dish.
The recipe recommends you serve on crackers, but you can substitute the ingredients to serve on pita, toasted bread, or even bell peppers if you are going low-carb.
This island-style sardines and rice is a richly flavorful dish and is so comforting on a cold night.
You can't go wrong with a decadent sauce soaked into fluffy white rice.
If you can't find Scotch bonnet chilli peppers, you can substitute the ingredient for another chilli pepper like ancho or chipotle.
Remember to consider your spice preferences depending on the spiciness of the pepper you choose.
This recipe also uses Roma tomatoes, but you can substitute for a handful of cherry tomatoes or even replace them with canned tomatoes instead.
If there is one name you can trust with a perfected recipe, it might have to be Food Network's, Alton Brown.
Brown created this delicious yet simple sardine-avocado sandwich that you have to try.
Class it up with this tinned-sardine recipe that would be perfect for an afternoon tea or a picnic arrangement.
Lemon zest and parsley add a nice, fresh flavor to the sandwich and a tablespoon of vinegar (any will do) rounds out the flavor with some needed tartness.
A can of King Oscar's brisling sardines with hot jalapenos peppers is the essential secret ingredient to make this recipe shine.
Of course, if you do not have this specific type of sardine, you can improvise with the ingredients you have at home and add extra oil and hot peppers to the recipe.
Pickled jalapenos and a good quality sharp cheddar round out this fancy grilled cheese. If you want even more spice, consider substituting the ingredients for pepper jack cheese instead.
Have lots of tinned sardines in your pantry and want to put them to good use? Use them for this amazing mini sardine fish cake recipe.
These adorable mini sardine fish cakes will be gobbled up in no time at your next party.
These sardine fish cakes pair well with any dipping sauce and are so crunchy and delicious.
These fish cakes save well if you want to store them in the fridge and re-crisp them for a few minutes in the oven before serving.
If you are on the hunt for simple sardine recipes, these grilled sardines are the choice for you.
These sardines come together and cook up so quickly thanks to the simple ingredients in this recipe.
In fact, you probably already have all the ingredients you will need for this recipe in your pantry.
You can use normal or smoked paprika, or even use chilli powder as an ingredient substitute.
Grilling the sardines brings out a nice smoky flavor to the already so-flavorful fish.
Low-carb recipes do not have to be boring and flavorless, and this jam-packed recipe for low-carb sardines stuff avocados is proof of concept.
These stuffed avocados end up looking like a special occasion dish but they are deceptively easy to make and require such simple ingredients.
Your dinner guests will not even realize how little effort and time it took you to put together this amazing-looking dish.
Garnish with parsley and a squeeze of lemon for a truly stellar presentation.
If you just can't get enough of your tinned fish, this recipe also makes use of canned anchovies for a meal that is rich with omegas, the "good fats."
A couple of extra steps and nice quality ingredients are so worth it for this elegant and flavorful dish.
If you are able to track them down pine nuts are the secret ingredient that gives this dish a creamy, nutty flavor.
If you do not have pine nuts, use a nearby ingredients substitute like walnuts or even peanuts.
Bread crumbs and pecorino cheese also add a nice texture and flavor.
How do you cook canned sardines? Well, you can boil, sautee, or bake, but one of the best ways to cook sardines is by grilling them.
This incredible recipe for grilled sardines will make your fish taste so good with just a few small touches.
Red chilli pepper and Tobasco, or a similar hot sauce, add a much-needed kick that goes so well with the saltiness of the sardines and the smoky taste they get from grilling.
Serve this recipe over a green salad, ideally a spring mix.
The sardines are flavorful and juicy enough that you might not even need a dressing, or you can do an oil and vinegar mix.
Looking for a unique and elevated option for finger food for a party? Make these simple sardine rillettes that looks great, taste great, and will be sure to impress your guests.
This recipe is quite flexible and calls for green herbs, like chives or tarragon. You can use any fresh herb you have that you think will pair nicely with the other flavors in this dish.
Lemon or lime juice and cayenne add a bright burst of flavor to this dish, and shallots add a light sweetness without being overpowering.
If you are big into texture and sick of those mushy spreads you've been adding to your sandwiches, try this crunchy red onion and sardine salad recipe.
Along with the red onion, this recipe uses celery, parsley and tomato to add even more texture to the sardine salad.
Each bite will be full of a variety of flavors and will be both hearty and full-bodied.
Serve on toasted wheat bread or top onto some crackers as a light, healthy snack.
One of the best sardine recipes is this savory and hearty recipe for sardines in tomato sauce.
When you buy sardines that already come in tomato sauce, they are already saucy and delicious.
You do not need to do much to spruce up these juicy sardines, it is really just a matter of knowing what to serve with them.
Once you warm up your sardines and sauce, serve over rice with a yolky fried egg or poached egg on top.
Sardine salad is an amazing choice for any time of year, but especially for a summertime meal. Make this simple sardine salad ahead of time and pack it for your next picnic, beach trip, or barbecue.
This sardine salad recipe is super flexible and you can tweak it to all of your preferences.
You can substitute almost any ingredient to fit your needs or what you have available.
Add a pinch of cayenne or some red pepper flake for some spiciness, or add extra mayonnaise if you enjoy a creamy fish salad.
Want to use your sardines as the main event? This Mediterranean garlic and herb-crusted roasted sardines make an incredible entrée for a dinner party.
Dry onion flakes and French mustard are the secret ingredients that add tons of dense flavor to this recipe and amplify the flavors of the sardines.
A little bit of lemon juice and oregano and parsley also add a bouquet of flavor to the dish.
Pair this recipe with polenta or risotto for a restaurant-quality Mediterranean meal that is sure to impress.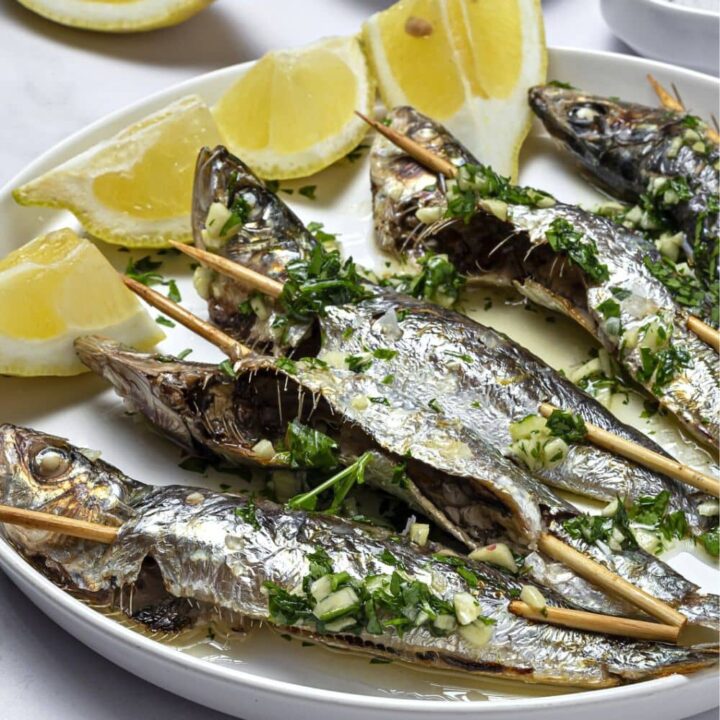 18 Best Sardine Recipes
Ingredients
8 oz dry fettuccine pasta
2 tbsps olive oil
1 medium yellow onion, chopped
3 cloves garlic, crushed
1 lemon, juiced
1 (3.75 ounce) can sardines in tomato sauce
1 pinch red pepper flakes, or to taste
¼ c freshly grated Parmesan cheese
Instructions
Lightly salt a large pot of water and bring to a boil. Add pasta, cooking for about 8-9 minutes, or until reaching "al dente" tenderness.
While pasta is boiling, on another burner heat olive oil in a skillet over medium heat.
Add onion to skillet and cook until soft and slightly translucent, about 2-3 minutes, then add garlic and cook until fragrant, another 1-2 minutes.
Add the sardines with their canned sauce and stir to combine. When the sardines are heated through, reduce to low heat. Simmer the sardine mixture until the pasta is ready.
Once pasta is done, drain and add directly to the sardine sauce skillet. Stir pasta and sauce together until completely coated. Cover skillet, remove from heat and let stand for 3-5 minutes for the pasta to absorb the flavors.
Squeeze lemon wedge over the pasta until covered in juice. Serve with red pepper flake and grated parmesan cheese.