Once in a while, I find a recipe that comes out perfectly. That was the case with this smothered chicken. The breasts come out juicy, and the sauce is to die for. It's sort of sweet, salty, and smoky. I guess this is what people call umami flavor.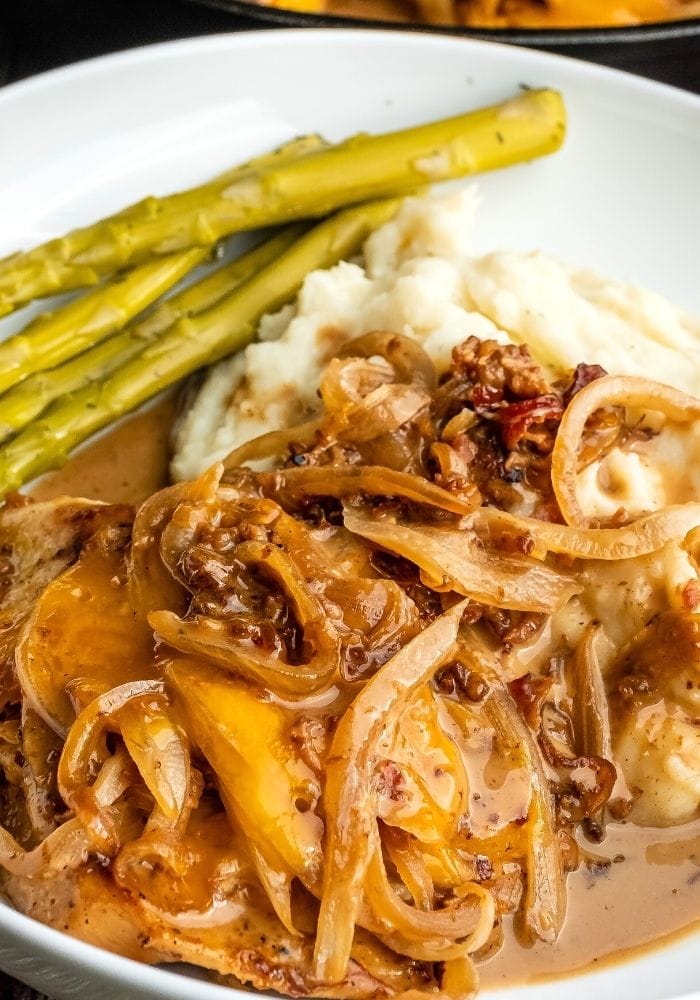 There are lots of smothered chicken breast recipes out there, but this one finger-licking is great! I found a fabulous way to make it a bit easier.
What Is Smothered Chicken Breast?
A smothered chicken breast is a dish that involves browning the chicken breasts and then deglazing the pan with liquid or cream to create a gravy in which the breasts are then simmered until tender, and the recipe involves the use of bacon for a smoky flavor.
"The full recipe with ingredients can be found in the recipe card below."
How To Make Smothered Chicken?
First, we season the chicken breasts on both sides with salt and lemon pepper. We then heat ½ tablespoon of olive oil in a medium-sized skillet until hot and brown the chicken breasts on both sides, about 3 minutes on each side.
Once the chicken breasts are browned, we transfer them to a plate.
Using the same pan, add the remaining ½ tablespoon of oil and saute the onions until transparent, about 3 minutes.
Add the real bacon bits, brown sugar, and whipping cream and heat gently until the sugar has melted and the sauce is heated through. Check the seasoning and add salt and pepper to taste.
Return the chicken breasts to the skillet, top with the onion/bacon mixture, and distribute the shredded cheddar cheese evenly among them.
Cover the skillet with the lid, reduce the heat to low, and simmer for about 10 minutes.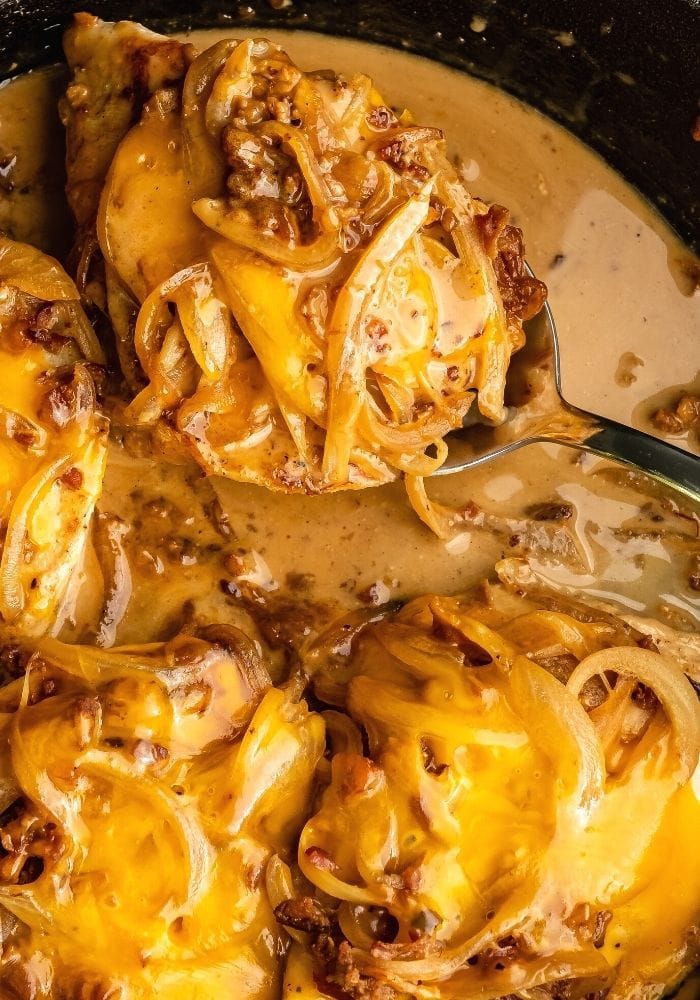 Can You Freeze Smothered Chicken?
Yes, you can. Let it cool completely before placing the chicken breasts with gravy inside an airtight container and freezing them for up to 4 months.
What Sides Go with Smothered Chicken?
It is typically served over mashed potatoes and buttered green beans. I like to serve mine with either mashed potatoes or white rice and green beans, broccoli, or asparagus.
Cooking Tips
Before browning the chicken breasts, be sure that your skillet is hot. Add the oil to a hot skillet, wait until the oil is hot, and then add the chicken breasts. If you place them in a cold skillet, they will not brown.
When sauteing the onions, be sure to scrape the bottom of the skillet for all the bits and pieces left behind when browning the chicken. They provide lots of flavor to the sauce.
Once you add the brown sugar and whipping cream, cook the sauce to a gentle simmer, not a roaring boil, or separate.
Smothered Chicken Breasts Recipe
There are lots of smothered chicken breast recipes out there, but this one is finger-licking great!
Ingredients
4 boneless, skinless chicken breasts
½ teaspoon of lemon pepper
½ teaspoon of salt
1 tablespoon of olive oil, divided
1 yellow onion, sliced
2 tablespoons of brown sugar
1- 3 oz package of real bacon bits
½ cup whipping cream
Salt and pepper to taste
½ cup shredded cheddar cheese
Instructions
Season the chicken breasts on both sides with salt and lemon pepper. Heat ½ tablespoon of the oil in a medium-sized skillet and brown the chicken breasts on both sides, about 3 minutes on each side. Transfer to a plate.
In the same skillet, add the other ½ tablespoon of oil and saute the onions until translucent. Add the real bacon bits.
Sprinkle the brown sugar over the onion/bacon mixture and add the whipping cream. Cook for a couple of minutes until the sugar has melted and the sauce is heated through. At this time check for seasoning and adjust adding salt and pepper.
Return the chicken breasts to the skillet, distribute the cheese evenly on top of the breasts, cover and cook low heat until the cheese is melted about 10 minutes