If you're looking for a nap-inducing, rave-worthy, all-out, seriously delicious Spanish-inspired dessert recipe, you can stop looking because we've got the best 20 to present to you below.
You'll be sure to impress all the guests at your next party or get-together, no matter what you decide to bring.
Stop worrying about millions of recipes online to sort through. We've already done that for you and have put together a simple list that includes the best of the best.
If you need a dessert for your next dinner party or want to wow your friends at the baby shower in the upcoming week, we've got you covered.
Sort through each one to find out which will fit your needs and desires, and get to baking in no time. Save this list, and save these 35 Easy Fun Desserts to Impress Guests. You won't need any other dessert recipes, ever!
If you want to find simply the best Spanish dessert to show off at your next get-together, you need this list in your life. It won't disappoint.
This Spanish dessert recipe will have guests gushing over the sweetness. Made with just a few simple ingredients, it's the creamiest, most perfect flan recipe on the web.
An extra awesome detail about this recipe is that it can be made several days in advance!
Who doesn't love a dessert that's ready to go when you are?
Don't be a fool, be sure to use actual, natural vanilla! Just a pinch of salt will do to balance out the flavors.
Also known as "churros con chocolate," these are quick and easy to make in the comfort of your own home.
They're light and airy while remaining just the right amount of crisp and are typically served with a pudding-like version of hot chocolate.
If you are looking for the absolute best Spanish-style dessert, these will be sure to send your taste buds into overdrive.
With a super simple ingredient list, and dough that's easy as pie, this dessert will come together in just minutes.
Traditionally from Spain itself, these Christmas cookies are the ultimate gift for the holiday season to wow your family.
With just a touch of roasted almonds and a pinch of cinnamon in each mouthful, you may even want them for more than just during the holidays!
They're quick and easy and are one of the best Spanish desserts, in our opinion.
Don't mix these up with gingerbread cookies, as those are much more complex. Stick to this super simple dessert to show off all season long.
Known more commonly as "tarta de Santiago," or (St. James cake), this is a Spanish dessert most often found in northwest Spain.
If you're going gluten-free, this may be the perfect dessert for you. With no flour and simple ingredients, it is easy to make and takes little time to bake.
You could even top this cake off with a nice imprint of Santiago's cross on the top surface, or create an image of your choosing, instead! The options are endless!
This creamy Spanish dessert is one of Europe's oldest recipes. If you've not heard of it before now, it's a simple burnt custard dessert that you're sure to write home about.
You'll be tasting orange, lemon, and even a hint of cinnamon whenever you bite into this delicious dessert.
The irresistible creamy texture and caramelized sugar topping are sure to send you over the edge.
This recipe is easy to make and effortlessly elegant that guarantees to surprise the heck out of your dinner guests.
Whatever day of the week you decide to indulge, this will for sure be your go-to summer cake recipe!
It's pretty perfect by itself, but feel free to top it off with wonderful whipped cream or fresh summer berries of your choice.
It's a simple Spanish dessert recipe to make, and it's packed with more flavor than lemons have on their own!
Moist and flavorful, ground almonds help to add to the richness of this cake recipe. You could even go crazy and add in some apples or grapes!
This recipe is fully foolproof for any newbie bakers out there, although it's perfect for all levels as well.
You may be thinking about the dreaded water bath that most cheesecakes require, but we're happy to let you in on a bit of a hint…this one doesn't need one!
Get this. The cheesecake is CRUSTLESS. And the ingredients are pretty awesome, too. Requiring just 6, you most likely already have them all on hand.
All you need is a mixing bowl and electric mixer, and you'll be digging into this Spanish dessert in no time.
This recipe is both comforting and effortless. Check out the warm cinnamon and lovely lemon flavors that mix in just perfectly with the creaminess of the rice. Finish off your already great meal with this delightful dessert that'll be waiting for you.
Rice pudding is a dessert enjoyed by many cultures across the globe but is believed to have originated in Spain.
Cinnamon isn't a super common ingredient in this recipe, but you'll have to try it out to choose if it's right for you.
This recipe is known widely and well all over Latin America. These are some of the tastiest treats to shock your guests that the whole family is sure to love.
Satisfy your sweet tooth and get baking with these cookies that you'll be sure to want to make again and again.
They even have a powdered sugar topping that is flavorful and finger-licking good. Just combine the dry ingredients, mix them with the wet ingredients, and you'll be chomping away in no time.
This recipe right here is an all-out Spanish classic. You need to get your hands on this dessert if you're going to even think about being the next best dessert baker on the block.
Grab your nearest puff pastry, smoosh some chocolatey goodness in between, and add your favorite powdered sugar to top it all off. It's that good.
You'll most likely have most of the ingredients at home already, so this makes for a super simple recipe that you'll be flocking to every time you feel like making another Spanish dessert.
If you've ever made the trip to France, you'll know that nougat can come in all sorts of different flavors. But as you travel the world, you'll find that every country has its own best version of it.
You're sure to go nuts finding all the different kinds of nuts involved, but this Spanish dessert recipe is worth the hunt.
Then, you'll be delighted to find out that you'll need three different types of sweeteners…yes, three! Sugar high, anyone?
This is sure to be a cupcake recipe like you've never seen before. Topped with chopped nuts instead of too-sweet sugary frosting, you'll be impressing your guests with the best cupcakes in town.
They're tiny, they're traditional, and they have the best lemon scent about them. Sponge cakes are typically somewhere between cupcakes and muffins (even though we kind of like all three).
Cream your eggs and sugar, then mix the rest of your ingredients to make for the best Spanish dessert recipe around.
These Spanish cookies are sure to pack a punch with the unexpected lemon flavor popping throughout your mouth.
Crumbly and amazing, they will be number one on your Christmas list to bring to your next dinner party. Amaze your guests with the best Christmas cookies on the block.
Just grab your lard and look for the next neighborly gathering! Get ready to show off because these cookies are something you won't want to miss out on.
This old-fashioned sort of Spanish dessert recipe is going to be the talk of the town when you bring it to your next bake party. Yes, really, would we steer you wrong?
Simple and significantly sweet, this rowdy raisin spice cake is going to make everyone's mouth water with its moist texture and delicious frosting on top.
You'll need two 9×13 pans because this cake is double the trouble. You've got to check out this Spanish bar cake immediately. Why wait?
I love baking these sheet cake-style desserts. Makes me think of the famous Texas desserts!
This recipe is for all those ways too excited almond lovers out there. Perfect for family get-togethers, holiday parties, or any other occasion, you'll be sure to stun them all.
Gluten-free and simple to bake, you'll be sure to put in little effort for exceptional results.
Traditionally, the cake is marked across the top with Santiago's cross, but you can use this space for anything that you please.
Stunningly beautiful and delicious, you'll be sure to inspire all the guests at your following family function to be the best dessert baker next time around.
If you've been in search of the best gluten-free cookie recipe around, we've got the perfect one for you.
This Spanish dessert recipe is super easy to make, melts magnificently inside your mouth, and has flavors that are sure to rival the Fourth of July.
Tender and crumbly at the same time, they're delightfully nutty and indeed the cookie that will be sure to have the whole town talking. Try your hand at these Spanish almond cookies. They won't disappoint.
This will surely be your all-time favorite cake recipe once you've had a taste. Entertain with ease with this maple icing topped madness.
It may be tiny, but it will surely be mightier than even the biggest and baddest cakes around.
You need a few easy ingredients to get yourself going that you'll most likely have already in your pantry.
If you're having trouble finding the best Maple syrup, toss some brown sugar in its place.
If you're missing the feeling of traveling abroad, we've got the perfect Spanish dessert to put your travel bug at bay.
Ridiculously easy, and carrying only a handful of ingredients…five. (Punny, right?) This recipe is the absolute best being that there is not a touch of dairy or gluten.
They keep for days and are sure to stun all of your nearest neighbors with the best flavors around.
Keep them even longer in your freezer if you don't end up eating them all before you get the chance!
This pastry recipe is super simple and can be paired perfectly with your breakfast coffee or tea, just before a much-needed siesta.
If you've been to Spain, you'll know that most of the little coffee shops have quite a handful of this inside, and if you've had one like that, this is the perfect recipe for you.
You can even opt for no added sugar by replacing that ingredient with xylitol if desired. (You may want to top them off with some sugar, though, to create that wow effect to stun all your guests!)
Traditional and super simple, you can't go wrong with this tried and authentic Spanish dessert recipe.
With just 7 ingredients, you'll most likely have everything you need on hand.
Full of flavor like no other and bursting with pops of cinnamon, your taste buds will be sure to thank you later.
Crumbly and amazing, these cute cookies can even be thrown directly into your freezer for longer keeping!
Think fast and stun your Christmas party when you whip up this super awesome Spanish dessert.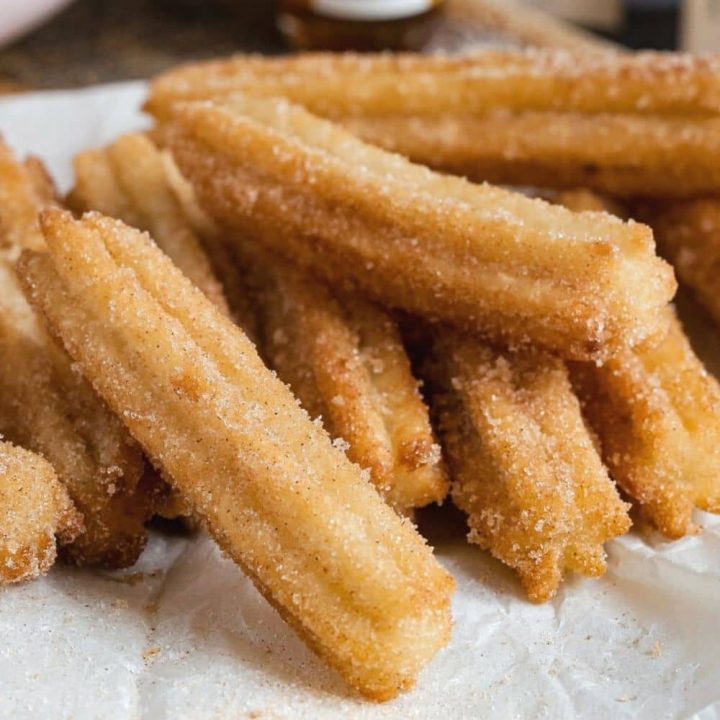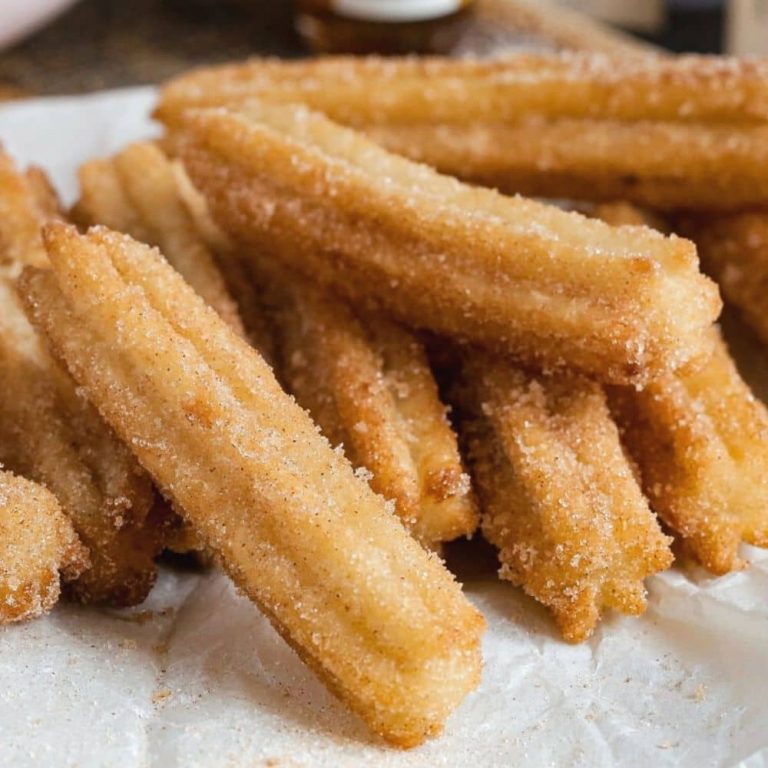 20 Easy Spanish Desserts
Ingredients
5 eggs
1 cup caster sugar
3 cups almond meal
1 TBSP finely grated lemon rind
1 TSP ground cinnamon
2 TBSP lemon juice
Icing sugar, for dusting
Instructions
Go ahead and turn your oven onto an easy 180 degrees Celsius. Next, you'll want to grease and line your nearest 20cm springform pan with the best baking paper of your choosing.

Grab your best electric mixer and whisk away at your eggs and sugar until they're both thick and pale in color. Then, add your almond meal and lemon rind, with just a touch of cinnamon. You'll want to use a metal spoon to gently fold these ingredients into one another. (Only fold until JUST combined).

Finally, pour your batter into your prepared springform pan, and make sure that the surface is nice and smooth. Bake that for a mere 45 minutes (or until a toothpick inserted comes out squeaky clean). Let your cake cool off for approximately 15 minutes, then brush lemon juice all over the top. Lastly, go ahead and transfer your beautiful cake to a wire rack nearby to continue cooling off. Dust with icing sugar, and your cake is ready to serve!