Cherry desserts are a time-tested crowd-pleaser. Cherry dessert recipes can be found anywhere, but we have rounded up 28 of our all-time favorite cherry recipes. Use one of these for your next summer barbecue or warm gathering.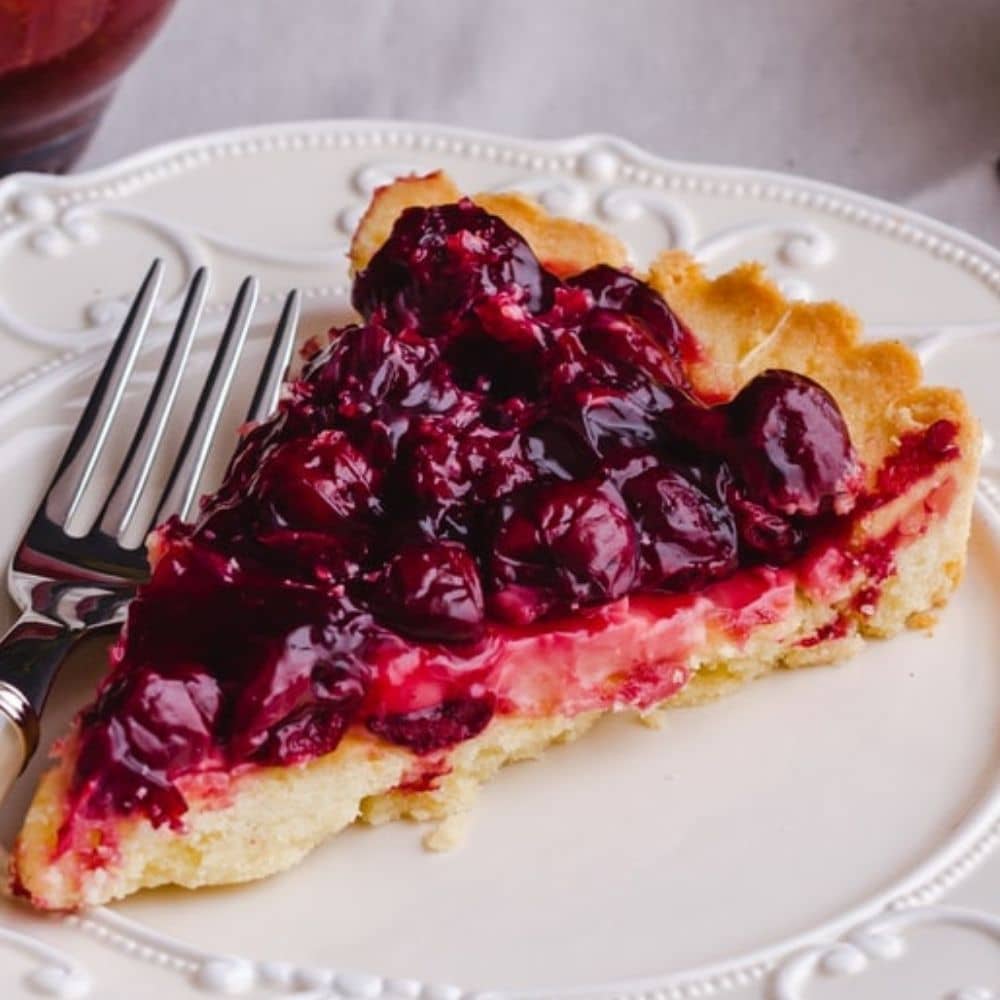 In the summer, cherries are versatile ingredient-cherry pies that transition easily to a warm chocolate dessert covered in cherries for the colder winter months.
Baking with cherries is super easy. Fresh cherries are usually best, but many of our recipes can be easily substituted with canned or frozen cherries as well. Cherry desserts don't have to be intimidating. We have plenty of easy, quick cherry recipes.
Are you in a hurry?
We've got plenty of recipes to get your dessert prepped and made in a flash! Your guests or fellow party-goers will be impressed with all of your delicious cherry desserts!
This is a super easy no-bake cherry dessert recipe! This dessert is a re-branding of an old stand-by—angel food cake! In this recipe, you take angel food cake and pair it with a cream cheese mixture.
Gentle break up the pre-made angel food cake and fold in the cream cheese mixture.
Top everything off with a can of cherry pie filling, and you've got yourself one of the easiest cherry desserts around! And you never had to turn on your oven!
Looking for a fast and easy dessert? This buttery dessert is made with a crumbly topping and sweet cherry pie filling!
This is a phenomenal recipe to use if you have a bunch of cherries to get rid of quickly.
A crumbly cookie base is covered in sweet cherry filling and topped with more crumbly goodness.
Creamy and dreamy chocolate bundt cake is topped with a layer of gooey cream cheese and swirled together with a ribbon of cherry glaze.
This gorgeous dessert will be a hit at your next holiday gathering when you need to bring something to impress!
There is just something soul-satisfying about cherry cheesecakes. It is a true American classic.
Making an entire cheesecake can be a daunting task. In this recipe, we streamlined it to make it one of the most accessible cheesecakes around.
You cake make these a few days ahead of time and are perfect for laying out on a dessert table at a party.
These cheesecakes have it all—an Oreo cookie crust topped by a cool creamy cheesecake that is finally finished with a tart cherry filling.
When most people think of dessert, warm months and cherry pie probably come to mind. But did you know that cherries are used in a ton of Christmas holiday desserts?
It's true. In this recipe, shortbread cookies are baked with chunks of sweet maraschino cookies.
The chunks of cherries are baked right into the cookies! Here you can use drained maraschino cherries right from the jar or candied ones. Whatever you have on hand!
This delectable dessert is made with a few simple ingredients you probably have on hand. Grab an angel food cake the next time you head to the grocery store.
Make sure you also pick up a container of sour cream, almonds, milk, vanilla pudding, whipped topping, and an 18-ounce container of cherry pie filling.
This recipe is essentially a deconstructed angel food cake turned into a trifle! Put this in your favorite glass serving dish and bring it to your next potluck!
As much as we love cherry pies around here, we love this cherry dessert even more.
These adorable mini pies are made with pre-made dough to cut your prep time drastically.
These cute desserts are a perfect addition to a holiday buffet table. They won't even dirty any extra dishes! This dessert is a snap to make!
Another quick and easy cherry dessert recipe! This recipe comes together in under five minutes.
This is a great recipe to get your kids involved in. It brightens up the gloomiest of days.
This recipe is made from a box of vanilla pudding, cream cheese, vanilla extract, whipped topping, pie filling, and mini marshmallows for maximum fun!
This is the exact taste you grew up on! Remember mom's (or Grandma's) homemade cherry pie?
Now you can indulge in all the great taste with less than half the effort. All you need is a package of store-bought pie crust, a muffin tin, cherry pie filling, and an egg.
You can add in sugar for sprinkling, but this part is up to you. This is a great treat to send along for after-school snacks or a child's birthday party. Everyone will love the great taste of these mini cherry pies!
These cookies look like the perfect Valentine's Day treat. They are the perfect shade of pink.
These cookies are a time saver because you don't even need to chill the dough before baking.
This recipe can be made with or without chocolate chips to satisfy what your crowd is craving.
When you can't decide between brownies and cheesecake, you should decide on this recipe.
That's right. This recipe brings the best of both worlds. Oogey chocolate brownies come together with cheerful cherry cheesecake.
These brownies will look like something straight out of the food network magazine and requires very low skill on your part!
These brownies may seem overwhelming, but I promise that this cherry-kissed dessert is easier than it looks!
Muffins are great any time of day; Breakfast, lunch, or dinner!
These muffins are crammed full of moist cherries and sprinkled with a crumbly streusel.
Serve with a hot cup of coffee to start your day or a nightcap to finish off a day of hard work.
While we made these with cherry pie filling, you can always modify this recipe to fit whatever taste you are craving! Try it today!
This perfect cherry dessert is chock-full of fresh cherries.
This super-easy cherry dessert has a sugar cookie top that is a breeze to make.
The butter from the sugar cookies will melt in your mouth as the tartness from the cherries takes over.
This cobbler would be the perfect accompaniment to a scoop of vanilla or chocolate ice cream!
Is it just me, or do you love a sweet cherry coke on a hot summer's day? Is there anything better? Yes, and it is this recipe.
This is a creamy cherry fudge recipe that tastes even better than it looked. Chocolate fudge is a layer on top of a pink cherry fudge.
Imagine popping the top off of an ice-cold cherry coca-cola and kicking back with your feet up. Ahhh. Relaxing. One bite of this fudge, and you'll be transported back to happy summer memories.
This is another super easy cherry pie recipe and another no-bake recipe as well! We love easy recipes around here!
This recipe is known under a few names; no-bake cherry cheesecake or cherry cheese pie. As long as you call it delicious is all that matters!
This easy recipe called for a graham cracker crust topped by a whipped cream cheese cheesecake center and a can of cherry pie filling. My mouth is watering just thinking about it.
We are all about easy cherry recipes around here. This cherry cake cobbler is no exception to our list.
This recipe is made with a box of cake mix and comes together in under 10 minutes, 5 minutes if you're speedy like us!
This is the perfect way to doctor up a boring box of vanilla cake mix and turn it into the featured star of the following work office party. Everyone will think you spent all day in the kitchen!
People are often intimidated by making pie at home, and I am not sure why.
You can make a crust or buy one. Whatever your comfort level, this pie is easily customizable.
After you sort out your pie crust, you assemble your filling, bake, and let cool. It is as easy as…pie. Cherry pie.
Pie can be hard to keep over time. These cherry pie bars are the perfect recipe to make days before a party because they keep soo well in the fridge or freezer.
These bars are made with a bottom layer that has a similar consistency to a pie crust but half the work of making one.
You can then make your pie filling or fill it with a can of your favorite store-bought cherry pie.
Dot, the top of your cherry pie, filling with leftover pie batter, and you've got yourself the best pie bars around!
This easy loaf cake recipe is the addition to Sunday morning brunch you didn't know you needed.
The edge of this loaf cake turns a delicious crunchy brown while the insides of the cake stay moist and full of flavor.
Your home will smell like you spent all morning baking. The moisture from the cherries helps to hold the moisture into the cake. It's perfect for breakfast or to bring in as a gift for a coworker.
If you can't tell by now, we love brownies around here. We love any combinations of chocolate, cherries, and cream cheese.
This is another easy cherry recipe that is perfect for the holidays, and the dramatic red swirl through the delicious cream cheese will wow all of your holiday guests.
I wouldn't put these out before your meal is done because these will disappear within minutes!
This recipe should have a special place in your recipe book. This fast and easy cherry dessert is soo simple.
The secret ingredient to a good crisp is the use of oats! This crisp is made from the use of oats, float, brown sugar, and cinnamon.
A can of pre-made cherry pie filling acts as your base, and then the crisp is baked on top of it.
This would be a perfect partner to a scoop of cool vanilla ice cream on a hot summer's day! Move over to apple crisp because this is going to be your new favorite!
Similar to other no-bake cheesecakes, this cherry dessert is a sure-fire way to surprise and wow your friends.
A graham cracker crust pairs with homemade cheesecake and is adorned with a layer of cherry pie filling.
This is a great treat for any time of year. Something fun you can try is experimenting with the graham cracker crust—try adding in your unique, secrete ingredient. Cinnamon is an excellent place to start!
When I think of the best shortbread I have ever had, one thought comes to mind; buttery goodness.
I think the only way to make that heavenly taste any better is to pair it with tart and sweet cherries.
This easy recipe is a perfect way to elevate your favorite shortbread recipe.
The special ingredient that sets these apart from other shortbread recipes is the use of the almond extract in addition to maraschino cherry juice. The cherry juice also adds a beautiful pink hue to these confectionery goodies!
Yep. You read that right. Three ingredients. Three ingredients to one of the tastiest recipes you've ever had.
All you need is some cherry pie filling (two cans of 21 ounces each), a box of devil's food cake mix, and some butter.
If you want to get fancy, you can add a scoop of ice cream or a scoop of the cool whip, but it's totally up to you!
You could use a box of cake mix to make this recipe, but we encourage you to make the entire cake from scratch.
It adds an extra light flavor to this dessert. This recipe also calls for the use of one of my very favorite secret ingredients in cake—sour cream!
The sour cream helps to add moisture and fat to the soft cake. You can also add a unique substitute to this recipe!
Instead of using chopped cherries, you can substitute cherry chips! The first time I saw that, I was floored!
This pie is a breeze to bring along to your next gathering. It is made from a traditional pie crust (use store-bought or your homemade recipe) and made with sweet fresh cherries. Trust me.
It is worth it to use fresh cherries instead of a can of pre-made pie filling here. It just sets it apart from soo many other recipes.
The pie is then topped off with a light, and buttery oat crumble. It is the perfect way to transition from summer into fall!
The brownie recipe used here is delicious on its own but made even better with the swirls of cherry cheesecake and pie filling.
While this recipe takes a little more time and effort than other recipes we have gone over today, the flavor here is well worth it!
I'd also recommend using good-quality chocolate to set this recipe further apart from the rest!
Are you in a hurry? Then this recipe is for you. A box of chocolate cake mix, 2 eggs, almond extract, and a can of cherry pie filling is all that stands between you and a delicious cherry-based dessert!
28 Best Cherry Desserts
Ingredients
Graham Cracker Crumbs
Margarine, Melted
Cream Cheese
White Sugar
Vanilla Extract
Almond Extract
Heavy Cream
Cherry Pie Filling
Instructions
preheat oven to 350 degrees F (175 C)
Grease a 9x9 baking dish and set it to the side
In a small bowl, combine graham cracker crumbs and melted margarine.
Mix graham crackers and margins well and press into the greased baking dish.
Bake graham cracker mixture for 5 minutes and then cool.
In a large bowl, combine cream cheese, vanilla, sugar, and almond extract. Mix well.
In a medium bowl, whip cream until stiff peaks form. Fold the whipped cream into a cream cheese mixture.
Spread cream cheese mixture over cooled crust. Spoon cherry pie filling over of mixture. Smooth with offset spatula or back of a spoon. Chill in the fridge until serving.