One of the biggest issues with cornbread is the fact that it is often very dry and crumbly. This is the best jiffy cornbread recipe that completely changes the cornbread game by making the moistest and fluffiest cornbread you've ever had. You can bring this to any gathering, or meal or just enjoy a piece on its own. You will want to make this recipe week after week because it is that good.
The best part of this recipe is how easy it is to make, you do not need a hand mixer or any special equipment. The small number of ingredients, one bowl, and everything coming together in one easy step are going to make this recipe a staple in your home.
Ingredient You'll need:
Jiffy Corn Muffin Mix; for this jiffy cornbread recipe, you need two boxes of jiffy corn muffin mix. Using muffin mix instead of cornbread mix is important because it adds a fluffiness that other corn mixes won't match.
Eggs; you will need two whole eggs.
Milk; two-thirds cup of milk is also necessary, 2%, 1%, and whole milk should all work similarly in this jiffy cornbread recipe.
Sour cream; 1 cup of regular sour cream helps to really give some extra moisture.
Vegetable oil; a half cup of vegetable oil is all you need.
Sugar; adding two tablespoons of sugar is an option but it adds a nice balance of sweetness. White sugar works best.
How to make sweet jiffy cornbread?
The secret to making this jiffy cornbread recipe sweet is the fact that you will use a muffin mix that already has some sugar added to it.
If you are looking for extra sweet cornbread, which I highly suggest, be sure you add the two tablespoons of sugar to give it that extra sweet kick you are looking for.
If you are not a fan of white sugar, You could try adding in brown sugar, coconut sugar, or a sugar alternative but those variations were not tested so identical results are not guaranteed.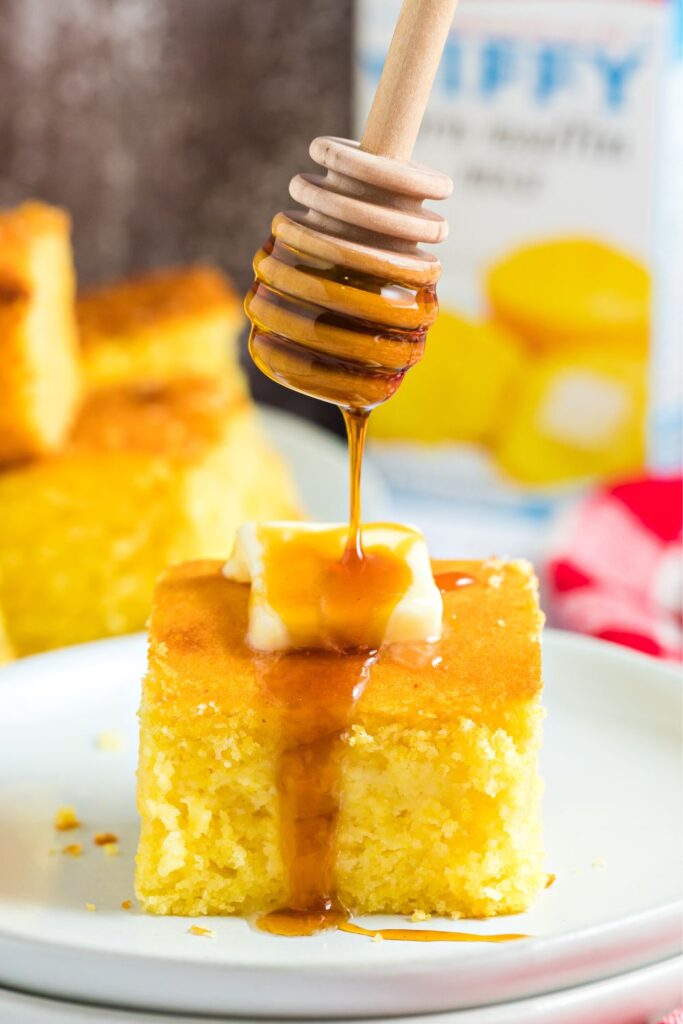 What can I substitute for milk in jiffy cornbread?
Substituting the milk for any other liquid in this jiffy cornbread recipe isn't recommended because it could change the texture of the final product.
You can use 1%, 2%, or whole milk. You could try using skim milk or fat-free, but the reduction in fat could make this cornbread less moist in the end.
How To Make Jiffy Cornbread More Moist?
The secret to making this jiffy cornbread moister is the addition of sour cream. It adds extra moisture that isn't typically there in other jiffy cornbread recipes.
This recipe is also extra moist because you use muffin mix instead of regular cornbread mix. Muffin mix produces a more moist bread than cornbread alone so be sure to not substitute it.
How to Store Jiffy Cornbread:
You can store jiffy cornbread on the counter for 3-4 days in an airtight container or bag. Freezing this jiffy cornbread is not recommended due to its high moisture content.
If you do choose to freeze it be sure to store it in an airtight container and use it within 2-3 months.
What to serve with Jiffy Cornbread?
The best Jiffy cornbread recipe is perfectly served with hearty hot dishes like Easy Chili Recipe, The BEST Beef Tips, and Gravy Recipe, as well as my all-time favorite Three Packet Slow Cooker Roast. There is just something special about having a bite of this sweet and delicious treat after a hearty and satisfying meal. If you are a fan of cornbread, I'm sure you will also enjoy my Easy Creamy Cornbread Casserole.
The BEST Jiffy Cornbread
This is the best jiffy cornbread recipe that completely changes the cornbread game by making the moistest and most fluffy cornbread you've ever had!
Ingredients
2 - 8.5 oz. boxes Jiffy Corn Muffin Mix
2 eggs
2/3 cup milk
1 cup sour cream
1/2 cup vegetable oil
2 Tbsp. sugar
Instructions
Preheat the oven to 400. F
Grease a 9 x 9-inch baking dish.
Combine all ingredients in a bowl and mix with a spoon until well combined.



Pour into the greased baking dish and place in the preheated oven.



Bake for 25-30 minutes, until a toothpick, comes out clean from the center.