It's coming up to one of the best times of the year – BBQ season! That means it's time to gather new BBQ recipes. Whether you enjoy trying new side dishes or main dishes, there are always many inventive BBQ ideas.
We've gathered some of the yummiest BBQ dishes, from BBQ pizza to fall-off-the-bone ribs. Planned a get-together on a day that turns out to be rainy?
There are even some BBQ dishes that you can make sans grill.
So, fire up your grill and get ready to craft some delicious dishes! Here are 33 of the tastiest recipes for your next backyard get-together.
BBQ chicken is a tough one to master, especially when cooking up chicken breast. It's so easy for chicken breast to get dried out. This recipe will help you create the juiciest pieces of chicken every time!
Of course, the main ingredient in this recipe is chicken breast. However, you can swap them out for chicken thighs or drumsticks. The seasoning works well with any type of protein.
You can even use this recipe with other types of protein like ribs or tofu!
Looking for a rainy-day recipe? These sticky oven BBQ ribs are one of the yummiest BBQ dinner ideas. With spice seasoning and a spice-filled sauce, you'll find these ribs quite addictive!
One of the spices included is cayenne pepper, which helps add some heat to the ribs. For a smokier flavor, try using hot paprika instead.
Other options include red pepper flakes and a few dashes of hot sauce.
Tip: If you prefer a less spicy flavor, you can leave the cayenne pepper out of the recipe.
What's better than BBQ chicken? How about chicken on top of a deliciously cheesy pizza? This recipe combines two of the tastiest recipes into one fantastic comfort food.
This pizza dish uses two kinds of cheese – mozzarella and gouda. While you'll likely want to keep the mozzarella for its gooeyness, you can swap out the gouda for another flavorful cheese.
Cheddar makes an excellent option as a replacement for gouda, and it tastes delicious with BBQ chicken.
Muenster and Monterey Jack are also great alternatives to gouda.
Looking for something beyond chicken or ribs? Have a go at these spicy, buttery, delicious shrimp. As far as BBQ food ideas, this is one of the tastiest and simplest.
The hidden ingredient in this recipe is the green onion incorporated into the buttery sauce. Chives will work just as well and offer a more subtle onion flavor.
If you use chives, you'll want to add them in at the last moment as they're much more delicate than green onions.
Pair this shrimp with a loaf of fresh bread, so you don't let any of the yummy sauce go to waste.
Instead of buying BBQ sauce, why not make a homemade version? That way, you can alter the seasoning and flavor to your preferences. This recipe will only take about 15 minutes to whip up, so you can continue with your grilling asap.
One hidden ingredient adds delicious tanginess to this BBQ sauce – the apple cider vinegar. It also adds sweetness to this sauce.
If you'd like a less tangy flavor, try using rice vinegar instead.
Tip: If you're planning on making BBQ dishes later in the week, you can make a larger batch of sauce. It will stay good in the fridge for about a week.
These grilled chicken kabobs are a fun way to create a protein-rich appetizer. Plus, the skewers make the kabobs easy to eat without getting messy.
Each skewer is filled with juicy chunks of chicken, grilled fruit, vegetables, and a delicious spice rub.
Like most kabobs, these include slices of bell pepper.
If you know some of your guests don't enjoy this veggie, they can be swapped for mushrooms.
You can keep the mushrooms whole when adding them to skewers and save a few minutes of prep time.
Here's a recipe that takes a sloppy joe and elevates it into a BBQ sandwich you can't get enough of! Ground beef is mixed with spices and sauces and then added to fluffy buns.
These sandwiches are super delicious and kid-friendly.
The not-so-hidden ingredient is ground beef. If you want a lighter sandwich, try using ground turkey or ground chicken instead.
These options will still provide an uber tasty meal. This is a great recipe that you can pack for lunches or enjoy with family and friends.
Nothing screams summer dishes like seafood, especially when that seafood is salmon! You'll be able to create a lighter BBQ dish with this grilled salmon.
Who said all BBQ has to be heavy and decadent?!
To help create crispy skin and keep the salmon from sticking to the grill, you'll use grapeseed oil. Butter or olive oil will also work just as well.
They'll add a slightly more prominent flavor than grape seed oil.
Tip: Start with the salmon skin side down first; this helps create a crunchier skin.
When you're looking to create a meal for a larger party, you'll want to create this whole roasted chicken.
This recipe uses a homemade BBQ sauce for a super tasty dish. Serve slices of the roasted chicken with your favorite sides like potato wedges or coleslaw for a complete meal.
It's necessary to use chicken broth as a base for the BBQ sauce. Beef broth or pork broth also works well as a replacement for chicken broth.
They provide a slightly richer taste when making BBQ sauce.
Still need more bbq recipe ideas? Don't fret; we've got quite a few options that you can enjoy – including barbecued burgers. These burgers are juicy, flavorful, and will be a hit at any party.
The tell-tale sign of a good BBQ is the smoky flavor in the main dish.
The sauce for these burgers incorporates liquid smoke to help achieve this taste. As a swap, smoky paprika will also do the trick.
Start with a 1:1 swap to use smoked paprika as a replacement, then adjust as needed.
Here's a recipe from the grill master himself – Bobby Flay. It gives you tips and tricks for making the best-grilled steak ever. Grab your steaks, head to the grill, and prepare your tastebuds for a yummy meal.
This recipe calls for a boneless ribeye steak as the main ingredient.
If you have another preferred steak cut – like a NY strip steak, you can use that as a replacement.
For this recipe, you'll be using simple seasoning that helps the flavor of the steak shine through.
There's nothing that can't be made better with garlic butter! Add a great cut of grilled steak to it, and you have a drool-worthy main dish. Then, all you have to worry about is throwing together a few sides.
To season the ribeye steak, you'll create a rub with seasoning and brown sugar. Instead, try mixing the spices with maple syrup.
Just remember to add the sauce on during the last few minutes of cooking, so it doesn't burn.
Tip: Wait until the grill is heated before adding the steaks. This will produce the expected grill marks.
You've already made a homemade BBQ sauce. Now it's time to make your own BBQ rub!
This recipe is perfect for any type of protein you want to throw on the grill, from chicken to sausages and vegetarian burgers.
One of the ingredients is smoked paprika. Try using spicy paprika for a fierier taste in your dish.
It still has a smoky flavor, so you won't be missing out on that taste.
Or, use double the amount of sweet paprika for a sweeter yet smoky flavor.
If there's anything better than a smoky platter of grilled steaks and ribs, it's a slow cooker recipe that doesn't require you to sit next to it all day.
This is one of the best barbecue recipes for those who would rather spend their time with guests than standing at the grill.
This recipe also requires you to create a spice mixture.
One of the secret ingredients for this recipe is black pepper.
For an even spicier recipe, swap it for cayenne powder, an ingredient that also makes an appearance in the BBQ sauce.
These aren't Ikea meatballs, but they're equally as tasty! These meatballs are filled with cheese and panko crumbs, then topped with a simple yet flavorful sauce.
Add a few toothpicks to make serving these sweet and savory meatballs a breeze.
Parmesan cheese helps add a delightful flavor to these BBQ meatballs. You can also create a delicious flavor by using other cheeses like shredded gouda.
If you have another shredded cheese on hand, you can also use that as a replacement.
With all of the yummy main dishes listed above, you'll need something equally tasty as a side dish.
These grilled and marinated vegetables are one of the easy BBQ ideas that will leave your guests wanting second helpings.
Veggies like eggplant, bell peppers, asparagus, and mushrooms are included in this recipe.
Parsley is added during the grilling process for a pop of green color and a fresh flavor.
Other fresh herbs will also work well during this step, like rosemary, green chives, and basil.
Choose the herbs that fit your taste preferences best.
You can't have a barbecue without including a side of baked beans! They're sweet, spicy, and filled with chunks of bacon. We can't think of a better side dish, can you?
Seasoning these barbecue beans is easy by adding a homemade BBQ rub.
If you're short on time, consider purchasing a premade rub mix. However, you won't be able to adjust the seasoning when purchasing an already-made version.
Tip: It's necessary to cook the bacon separately before adding it to the beans. Otherwise, there may be some bits that don't cook properly.
Sure, beans, ribs, and steak are great. But it's also good to balance out the heavier menu items with a tasty salad. Side note – you can easily create this salad after a BBQ to use up any grilled chicken you have leftover.
Adding to the scrumptious flavor of this salad is the homemade ranch that you'll be making. It includes items like buttermilk and mayonnaise.
For a lighter take on this recipe, you can purchase a packet of ranch seasoning and combine it with Greek yogurt.
Bring this dish to any of your friends' BBQs, and they'll beg for the recipe! This dish only makes two servings, so if you're bringing it to a party, you'll need to multiply the ingredients by the number of guests.
This Korean-style beef is uber tender, sweet, salty, and umami-rich.
Adding an umami flavor is easy by including soy sauce in the dish. You can get the same umami flavor by using a low sodium soy sauce, which also helps cut the salt level.
Tamari is a great swap for those who need a gluten-free option.
Once you've created the above Korean-style BBQ beef dish, you'll want to add the sauce to everything! This take on a BBQ marinade is one of the simple BBQ ideas you can use on various types of protein.
Add it to tofu, beef, ground chicken, and anything your heart desires.
Sesame oil adds a lovely light nutty flavor to this marinade. However, it can be on the pricier side.
If you already have olive oil in your kitchen, it's an easy swap.
Grilling a chicken on top of a beer can may seem like an odd choice. However, it helps keep the chicken moist and juicy as the beer evaporates into the chicken.
Plus, it adds a delicious flavor, unlike any other grilled chicken you've had before.
For an extra tasty grilled chicken, you'll be mixing a spice rub.
This rub also includes dried thyme. Fresh thyme will also work, though you'll need to remove the stems before including thyme in the mixture.
This recipe is a fun take on grilled vegetables. These veggies are grilled on a skewer and then tossed in a bowl so guests can choose their favorites.
Squash and corn help make this vegetable mélange feel extra summery.
Before you serve the veggies to your guests, you'll be drizzling tzatziki on top. Italian dressing or Greek dressing also works well with these vegetables.
They're also flavorful with a simple seasoning of salt and pepper.
Tip: Keep the veggies in bigger chunks, so they don't fall through the grill slats.
Do you usually lean toward sweet and smoky or spicy and smoky when choosing a BBQ dish?
If it's the former, you'll find this recipe right up your alley! Delicious pineapple chunks help keep this dish fresh and on the sweeter side.
Because of the natural sweetness of the pineapple, it's best to use a low-sugar BBQ sauce.
Of course, a spicy BBQ sauce will also work.
Spicy and sweet is the ultimate combo and works well with most proteins, especially chicken.
Want to know the best food to barbecue? It's turkey! Surprisingly, you can make an incredibly juicy bird on the grill with a bit of foil and some butter.
You'll be stuffing the turkey with sliced sweet onions, among other things.
This ingredient helps add a delicious flavor to the dish. For more of a bite, you can incorporate purple onions into the recipe instead.
Tip: It's important to let the turkey rest after cooking, as it will continue cooking for a few minutes after it's pulled off the grill.
One of our favorite ways to use BBQ chicken is by creating tasty tacos! These tacos feature black beans, corn, fresh onion, cilantro, and a deliciously creamy cilantro lime sauce.
You and your loved ones will be in heaven with one bite of these tacos.
You can't have tacos without a topping of fresh tomatoes. In this recipe, you'll be using cherry tomatoes for a pop of flavor.
Beefsteak tomatoes also work incredibly well, and they provide a less sweet flavor to dishes.
Have some picky eaters who will be guests at your backyard BBQ? There's no shame in going back to basic dishes.
These BBQ chicken thighs are tasty, satisfying, and will be loved by even the pickiest of eaters.
Creating juicy BBQ thighs is easy, especially when adding a deliciously tangy marinade.
White vinegar helps add acidity and tanginess to the included marinade. You can switch this up to apple cider vinegar for a sweeter flavor.
Don't skip the step which requires you to keep the chicken marinating for a few hours.
It helps create moist chicken drumsticks.
BBQing is not all about BBQ cooking; it's also about the delicious sides and salads you offer.
This recipe can't get any easier; it's only four ingredients and requires about 10 minutes to prep.
Skip the creamy coleslaw and opt for this BBQ version next time you need a quick and tasty side dish.
Adding in BBQ sauce helps keep this coleslaw flavorful.
This recipe requires Stubb's BBQ sauce for flavoring. However, you can use any variety of barbecue sauce that you please.
Let's go back to basics with this anything but basic grilled corn on the cob recipe. Instead of simply grilling the corn, you'll be charring it for an extra smoky flavor.
Once you've grilled the corn, you'll be slathering on butter and salt for extra flavor.
Instead of using butter, you can use a low-cal version, like whipped butter or a butter alternative.
This helps cut the calories slightly, so you can eat more of your other BBQ favorites without feeling guilty.
Sprinkle on some parmesan cheese for extra flavor after adding your butter or butter alternative.
Did you know that you can create BBQ brownies? We didn't until searching through grilling recipes!
These delectable brownies are baked in the oven, though a special touch makes them stand out at BBQs – the chip topping on each mini brownie.
You'll be using BBQ potato chips as the garnish for these brownies.
It adds a fun flair and boost of salty, smoky flavor. Any other type of BBQ chips will also work – like BBQ twists.
Tip: If you can't get the chip in without it breaking, you can slice a small hole in the top of the brownie.
This BBQ chicken salad is packed with healthy goodness, making it a great side dish to serve at your BBQ. Cheese, ranch, BBQ sauce, and tortilla strips help keep this salad fun and delicious.
Even those who aren't typically big fans of salad will enjoy this dish.
Forgot to grab the tortillas strips at the store? That's okay; you can crush up your favorite chips (like Doritos) and add a handful to the top of the salad.
You'll still get a crunchy topping, and you won't have to wait in line for it.
Have some summer squash lovers in the family? This recipe is simple, flavorful, and a great way to incorporate some extra veggies into the menu.
An easy seasoning helps keep the zucchini and squash from feeling too heavy.
The flavor is created in part by adding dried parsley to the squash mixture. Chopped fresh parsley is another great option. It will have a more subtle flavor and add additional freshness to the dish.
You'll typically want to use about double the amount of fresh herbs since they have a milder flavor.
Take your broccoli to the next level with this spicy, cheesy dish! It can be easy to fall into the trap of creating the same type of broccoli dish repeatedly.
This recipe helps create new flavors so you can fall in love with broccoli again. These broccoli bites are topped with freshly shaved parmesan.
If you don't have it on hand, you can use the version that comes in a canister. You'll still get the same cheesy flavor from the grated parmesan.
You can't beat salmon that's smoky and slathered in BBQ sauce. As far as recipes for barbecue go, this salmon is one of the most flavorful options.
It's sweet, tangy, spicy, and covered in fresh pineapple chunks.
The finishing touch for this dish is the sesame seeds that you'll be using as a garnish.
If you still want the nutty flavor but can't find sesame seeds, there are a few options you can use as a replacement. Poppy seeds and hemp seeds also work well.
If you make your way through this BBQ recipe list over the summer, you'll be a grill master and have quite a few new recipes under your belt! Each of these dishes is a great option for a backyard BBQ.
Whether you're hosting or simply creating a dish to bring to a friend's BBQ, you'll find plenty of tasty, fun recipes to try.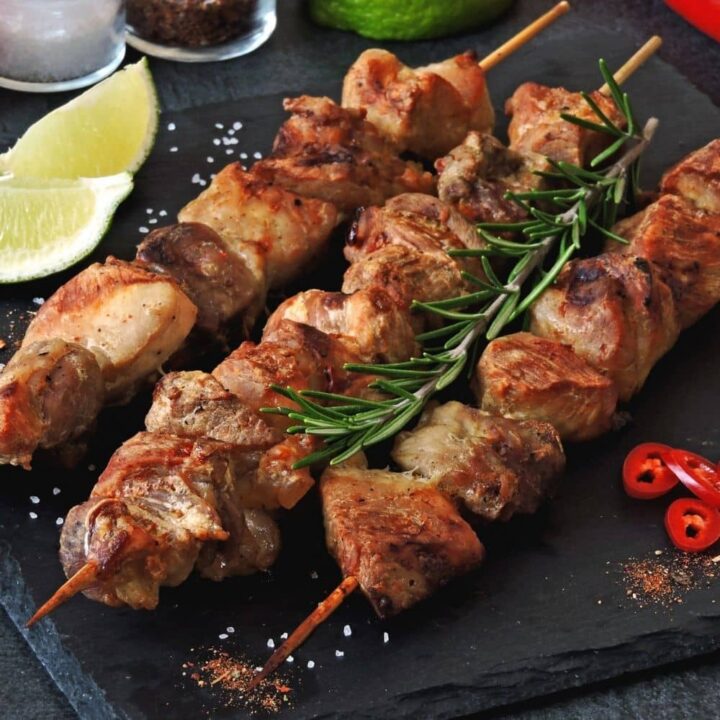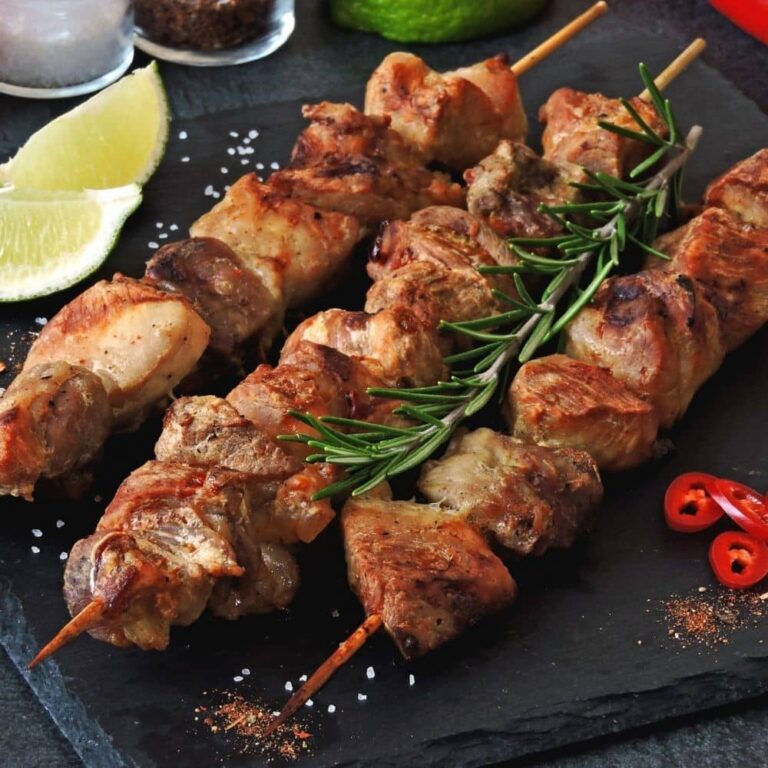 33 Best BBQ Recipes
Ingredients
1 ½ tbsps olive oil
¼ c diced onion
2 cloves garlic
5 tbsps ketchup
3 tbsps honey
3 tbsps brown sugar
2 tbsps apple cider vinegar
1 tbsp Worcestershire sauce
salt and pepper to taste
2 skinless, boneless chicken breast halves
Instructions
Heat your grill to a medium heat/temperature.
Grab a medium pan and add the olive oil. Once hot, add onions and garlic. Sauté until they soften and become aromatic.
Add remaining ingredients and cook until the sauce thickens (about three minutes). Then, remove it from the stove and set it aside to cool.
Add oil to the grill so that the chicken doesn't stick. Dip the chicken in the
homemade sauce until it's fully covered and add to the grill. Cook for 10-15 minutes, flipping halfway through. Shift the chicken into the pan and simmer with the sauce for an additional 10 minutes, flipping halfway through.