Huli Huli Chicken, AKA Hawaiian BBQ Chicken, is easy to make and very tasty. The Huli Huli marinade is like Asian-style bbq sauce! This and Sweet Hawaiian Chicken are two of my favorite dishes. If you love to barbecue, check out our Chicken Kabobs and Slow Cooker Barbecue Chicken.
What You Need for Grilled Huli Huli Chicken:
To make Hawaiian BBQ chicken you will need:
Brown sugar
Ketchup
Garlic
Ginger
Soy sauce
Sriracha
Apple cider vinegar
Boneless, skinless chicken thighs
Pineapple
Green onions
If you don't like dark meat, you can use chicken breasts, and if you are feeding this recipe to kids, avoid using Sriracha.
How Long to Marinate Chicken?
Most recipes add pineapple juice to Huli Huli marinade, but I don't use it because it makes the chicken mushy. You can marinate the chicken for 30 mins to overnight using this pineapple juice-free Huli Huli marinade recipe.
How to Make Huli Huli Chicken?
These Hawaiian chicken thighs come together in no time!
Make the marinade by combining the ketchup with brown sugar, minced garlic, ginger, soy sauce, sriracha, and apple cider vinegar.
Reserve ¼ for basting.
Place the chicken thighs in a bowl with the marinade, cover with plastic wrap, and place in the fridge for at least 30 mins.
Turn on your grill (or grill pan). Shake any excess marinade from the thighs and cook them for 6 minutes on each side or until fully cooked. Discard the leftover marinade.
Variations and Serving Ideas:
If you add pineapple juice to the marinade, use canned instead fresh. Fresh pineapple juice has enzymes that turn chicken into mush!
You can use honey instead of brown sugar
Low-sodium soy sauce is a healthier choice
If you don't have apple cider vinegar, use white or rice vinegar
You can serve Huli Huli chicken with homemade Cornbread or Corn Casserole. Mushroom Rice is another great option, as is Fried Rice.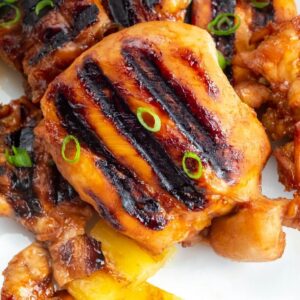 Grilled Huli Huli Chicken Recipe
If you love barbecue chicken, you'll love this Huli Huli Chicken recipe AKA Hawaiian BBQ Chicken!
Ingredients
⅓

cp

packed brown sugar

¼

cp

ketchup

¼

cp

soy sauce

1

tbsp

apple cider vinegar

2

garlic cloves, minced

1

tsp

ginger, freshly grated

2

tsp

sriracha

8

boneless, skinless chicken thighs

Pineapple slices and sliced green onions for garnish
Instructions
Make Huli Huli marinade:
In a large bowl, combine the ketchup with the brown sugar, soy sauce, apple cider vinegar, minced garlic, grated ginger, and sriracha. Mix until the sugar dissolves. Reserve ¼ of the marinade for basting.

Place the chicken thighs in the bowl with the marinade, turn until all are well coated, cover with plastic wrap, and refrigerate for 30 minutes or overnight.

Heat the grill or grill pan. Remove any excess marinade and discard it. Cook the thighs for 6 minutes on each side or until fully cooked, basting them once on each side with the reserved marinade. Serve with grilled pineapple on the side and sliced green onions on top.
Nutrition
Calories:
180
kcal
Carbohydrates:
12
g
Protein:
23
g
Fat:
4.6
g