We all know that meal prep makes our lives easier, but that doesn't mean we do it! Fortunately, planning your meals can be as easy as gathering up your leftovers, or turning on your crockpot.
Shredded chicken is a simple, healthy protein that you can use as the base for a wide variety of dishes, from Buffalo Chicken Dip to Enchilada Casserole.
These 25 recipes will give you plenty of ideas for what do to with shredded chicken, so you never have to be bored with your food.
The easiest way to have shredded chicken available for these recipes is to use rotisserie chicken. This flavorful, tender chicken can meld with many flavors, and repurposing these leftovers will keep your fridge feeling fresh.
You can also make shredded chicken on the stovetop or in your crockpot. It will take 3-4 hours in a slow cooker on high.
Then, you can remove the chicken and shred it with two forks or a pair of tongs. Always return your shredded chicken to its cooking liquid for moisture and flavor.
If you need chicken right away, you can use your Instant Pot instead. Simply add a cup of broth or water to the bottom of the pot and place your chicken on a trivet to keep it out of the liquid.
Then just set your Instant Pot for 8-10 minutes. Let it rest after cooking for 5-10 minutes before releasing the pressure. You can even use frozen chicken in the Instant Pot! Just add a couple more minutes to the cook and rest time.
Now that you know how to make it, are you wondering what to make with shredded chicken? Let's take a look at some of the best-shredded chicken recipes for lunches, dinners, and party snacks.
This tender, flavorful shredded chicken from your crockpot only needs 4 ingredients! Buffalo chicken is a classic shredded chicken recipe because the tangy sauce adds flavor and gives new life to your leftovers.
Top this buffalo chicken with ranch or blue cheese dressing, or stir in ¼ cup of dressing and 1 cup of shredded cheese to create a dip for chips and carrot or celery sticks.
Serve on rolls or buns for a spicy sandwich or over salad for a low-carb dinner.
When you're in the mood for BBQ chicken but you don't have a grill, head for your crockpot. You don't have to sweat it out or choke on the smoke to enjoy the flavors of a cookout.
It only takes 5 ingredients to make this tasty BBQ chicken, which is perfect for sandwiches or salads. You can also serve this on top of macaroni and cheese for a satisfying comfort dish.
This recipe is great for potlucks or make-ahead lunches. Serve this chicken on buns or rolls. Top your sandwich with coleslaw, or prepare a side of corn or potato salad.
Chicken enchiladas are some of the best chicken casserole recipes you can make.
You can prepare this ultimate comfort food with five simple ingredients and a handful of easy steps.
The layering in this recipe means you don't have to make any messy, time-consuming rolls. Just alternate layers of sauce, cheese, chicken, and tortilla.
Substitute flour tortillas with corn if you want a traditional flavor or a gluten-free meal.
Serve with a crunchy coleslaw to brighten up the cheesy, creamy texture.
If you're looking for a filling, low-calorie meal, try these sweet potatoes stuffed with buffalo chicken.
The sweet potatoes roast in the oven for a crispy exterior and creamy inside that complements the spiciness of the buffalo chicken.
This recipe uses classic Frank's Red Hot, leftover chicken, and a light blue cheese dressing that you can replace with ranch or any other dressing you prefer.
When you want comfort food that leaves you feeling good, try this sweet and savory meal.
With only 3 ingredients, this recipe makes a lot so you can freeze or prepare meals for the week. Use this chicken for tacos, burritos, enchiladas, nachos, and salad.
Substitute chicken thighs if the breast is too dry for your taste.
This recipe is easy because it uses packaged taco seasoning and salsa, but feel free to make your own to customize the recipe to your taste.
Serve with rice and beans, pico de gallo, or fresh coleslaw.
This soup is a filling, comforting dish you can make on the stovetop or slow cooker. You can even use your Instant Pot. It's a great use for leftover rotisserie chicken but you can use freshly shredded chicken, as well.
Packed with fresh veggies, flavorful chicken, and hearty beans in a flavorful broth, this soup is a complete meal on its own, but you may want to top it with something cool and creamy, like sour cream or sliced avocado. Or try a bolder topping, like chopped onions, sliced jalapeños, or lime wedges.
Transform your leftover chicken and vegetables with this festive dish. Using 6 simple ingredients, plus seasonings, you can have an attractive plate for a potluck or celebration.
It can be tricky to lay the dough out evenly, so use a glass or metal bowl in the center of the baking sheet to arrange the dough before you fill and bake it.
Customize the flavors with your seasonings and vegetables. Try a Mexican-inspired version with taco seasoning, enchilada sauce, black beans, and roasted veggies, or a Mediterranean dish with artichoke hearts, lemon, basil, and a drizzle of tzatziki sauce to finish.
Trust me, this is the potluck recipe everyone will be asking you about. Buffalo chicken dip is perfect for parties or casual movie nights at home.
Either way, it's an irresistible dish that you will want to eat every night. And with these easy-to-find ingredients and your crockpot to do the work, you can!
Don't forget to top the dip with extra shredded cheese and let it melt to create a tasty topping.
Serve with chips, fresh veggie sticks, or even on baked potatoes.
This easy version of comfort classic uses leftover rotisserie chicken, premade pie crusts, and frozen veggies to save you time and effort.
This recipe uses broth and a roux to make the creamy base of the filling but for an even easier pot pie, use condensed chicken soup instead.
You can also try different veggies based on your preferences, like broccoli or green beans instead of peas and carrots.
Serve with a side salad to brighten the heavier textures of the pie, or enjoy it with a cold beer!
Shredded chicken burrito bowls are an excellent meal prep recipe and one of the best Instant Pot Recipes for Beginners.
Burrito bowls offer a healthier and easier-eat version of a burrito, which is perfect if you're looking for keto shredded chicken recipes.
These will be ready in under an hour with the Instant Pot but they can also be made in the slow cooker or even on the stovetop.
You can serve these as a make-your-own burrito bowl with toppings like lettuce, pico de gallo, avocado, and your favorite cheeses. Also, try crispy tortilla strips for crunch or sliced japaleños for spice.
This crockpot dump puts a spin on simpler recipes for shredded chicken by cooking with Mexican spices for a more developed flavor. It's perfect for make-ahead meals. This versatile chicken can go in a variety of lunches or dinners and even appetizers for gatherings.
Add it to your rotation for easy weeknight dinners or Sunday afternoon meal prep.
Don't forget to add the chicken back to the juices after shredding so it can absorb flavor and moisture.
Serve alongside Mexican rice and beans, roasted veggies, or fresh salad.
With only 4 ingredients and 20 minutes, you can enjoy one of the most delicious recipes with shredded chicken: BBQ Chicken Tostadas. These crunchy, cheesy delights make a routine-busting dinner or a lively afternoon snack.
If you don't have prepared tostada shells, just crisp some corn tortillas in the oven by baking them for 3-4 minutes on each side.
Then, simply combine the chicken with your favorite BBQ sauce and place the chicken and cheese on each tortilla. Bake them in the oven until the cheese is melted.
Don't forget the crispy overflow of cheese on your baking sheet! Serve it on top of each tostada, or enjoy that delicacy before you leave the kitchen.
Bang bang chicken is a favorite recipe in the Instant Pot community, for its flavor and its convenience.
The rice and chicken cook separately in the Instant Pot for easy preparation. Once cooked, all you have to do is top with the bang bang sauce and fresh veggies. Pico de gallo or fresh coleslaw will provide great contrast and crunch.
Try it in tacos, tostadas, or salad. Or serve it in lettuce wraps for a summer lunch.
If you're looking for delicious, easy Instant Pot meals, take a look at our Instant Pot Recipes for Beginners for more ideas.
Use this Copycat Recipe for Bonefish Grill's bang bang sauce on tofu, fish, shrimp, or veggies
Shredded rotisserie chicken, mushrooms, wine, and cream create chicken marsala flavors in an easy casserole. Now there's no need to go through the work of dredging, frying, and sautéing like in a traditional chicken marsala.
The creamy, rich mushroom gravy brings everything together. If you're not in the mood to make the gravy from scratch, use a condensed mushroom soup instead.
You can also substitute the marsala wine if you don't have any at home. You can use sherry vinegar, grape juice, pinot noir, or even vanilla extract.
Serve with salad or roasted veggies on the side and enjoy your easy meal!
Healthy shredded chicken recipes do not have to be boring.
This chopped salad keeps things interesting with a pad thai flavor profile. It's loaded with fresh veggies like cabbage, carrots, peppers, and bean sprouts, with peanut butter and sesame oil dressing for a creamy, savory, spicy finish.
Even though it's a full, complex bowl, this Thai chicken salad comes together with simple ingredients: packaged coleslaw mix, cooked chicken, and fresh veggies.
This salad is great for make-ahead lunches (just keep the dressing separate), or replace the coleslaw vegetables with rice noodles or ramen for a filling dinner.
Chicken flautas are one of the best recipes using shredded chicken because you can make a big batch for sharing, saving, or snacking. Baked flautas are easier and healthier than frying.
They are delicious for dinner and also great for delicious snacks or quick lunches. These are also perfect for game days or potlucks.
Replace the tortillas with corn, whole wheat, or low-carb. You can make your own tortillas, as well!
Serve with salsa, sour cream, and guacamole for dipping or topping.
If you're looking for an easy, hands-off way to shred chicken, let your slow cooker do the work. Just a handful of ingredients and a few minutes of prep, and your slow cooker will handle the rest.
Use forks or tongs to shred the chicken to the size you prefer. Be sure to return shredded chicken to the broth so it can absorb some of the moisture and flavor it lost while cooking.
Keeping a bowl of shredded chicken on hand is great for easy dinners and effortless lunches throughout the week.
This mayo-less recipe relies on the avocado to create the creamy richness of traditional chicken salad. If you're bored of those milder, sweeter flavors, try this Venezuelan version.
The lime, garlic, and cilantro flavors come through strongly with the avocado base, like guacamole with the added texture and flavor of shredded chicken. Bell pepper adds a bright, fresh crunch and jalapeño gives a dash of heat to this healthy, flavorful chicken salad.
Perfect over a salad or in a wrap, this avocado chicken salad can also be served traditionally: in a warm corn arepa.
For more recipes like this, check out our Best Avocado Recipes.
This easy recipe makes a versatile shredded chicken that you can use in a variety of dishes. Just dump in the ingredients and let your crockpot work its magic.
Use this chicken for quick lunches, easy dinners, and crowd-pleasing snacks like flautas, tostadas, or baked crescent rings.
If you don't want to leave your crockpot in charge, make this in the Instant Pot by cooking for 8-10 minutes on high pressure, then releasing naturally for 10-15 minutes. Either way, once you have shredded your chicken, let it sit in the cooking liquid to keep it moist and flavorful.
Topping casserole with potato chips or fried onion snacks is an American tradition. This casserole brings a modern twist with Doritos for the top crunchy layer.
In under 40 minutes, you can make this creamy, crunchy casserole with just 10 ingredients that you can customize as you prefer.
Try adding black beans for an earthy flavor or chipotle peppers for a smoky heat. You can also use less cream cheese to lighten the dish.
This casserole will be the talk of the table at any party, or you can enjoy it at home!
A decadent, over-the-top grilled cheese is perfect for a late afternoon lunch or a satisfying midnight snack. This BBQ chicken grilled cheese will send you back to bed with sweet dreams.
Garlic butter transforms the sourdough or French bread into crunchy, savory perfection.
This recipe calls for Havarti but your favorite, melty cheese will work, as well. Add a side of coleslaw or oven fries for an indulgent dinner at home.
This spicy, savory chicken is a staple of Mexican cooking and this recipe makes it easy for you to find out why. It's great for cold days or when you're feeling under the weather. The seasoned tomato sauce will warm you from the inside out.
Chicken tinga tastes great in tacos and burritos, and it's also delicious in tostadas or over rice.
This recipe makes a lot, so you can serve this chicken tinga in a variety of shredded chicken meals. Don't miss out on an outstanding torta with lettuce, tomato, and avocado on a roll!
Make this for meals throughout the week or freeze the leftovers for a sick day.
Chicken tetrazzini casserole is a great dish for a crowd, or for any time you want great leftovers.
This recipe uses condensed soup for a creamy sauce that will hold up to baking in the oven with the vegetables and chicken.
You can choose soup of any flavor you prefer and add seasonings to customize your sauce.
Use fettuccine noodles or substitute with macaroni or penne to hold more sauce or wide egg noodles for a different feel. You could even use tortellini!
Try adding veggies for more color and texture. Frozen or hearty vegetables will need a few more minutes of cooking time.
Serve with a fresh salad or a side of roasted vegetables for a complete dinner.
Nothing hits the spot like a tangy, spicy buffalo chicken sandwich. This hands-off recipe is a great way to save time.
With only 3 simple ingredients and your slow cooker, you can have a delicious meal waiting for you at the end of a long day.
While it is great in a sandwich, this buffalo chicken is also perfect for filling wraps or topping salads.
If you're craving pub food or looking for a dish that will impress at your next party, try serving this buffalo chicken in stuffed potato skins!
Chicken noodle soup is the ultimate shredded chicken comfort food, and this casserole will bring you the flavors and comfort of chicken noodle soup in a hearty dish for a family dinner. Use leftover rotisserie chicken or pre-cooked shredded chicken and this casserole will be done in 15 minutes! Much faster than cooking the soup all day.
Choose whatever veggies make your favorite chicken soup: peas and carrots, broccoli, green onions, or bok choy. I love to add chipotle peppers for a spicy kick. Add garlic bread or soft dinner rolls on the side for a dinner everyone will love!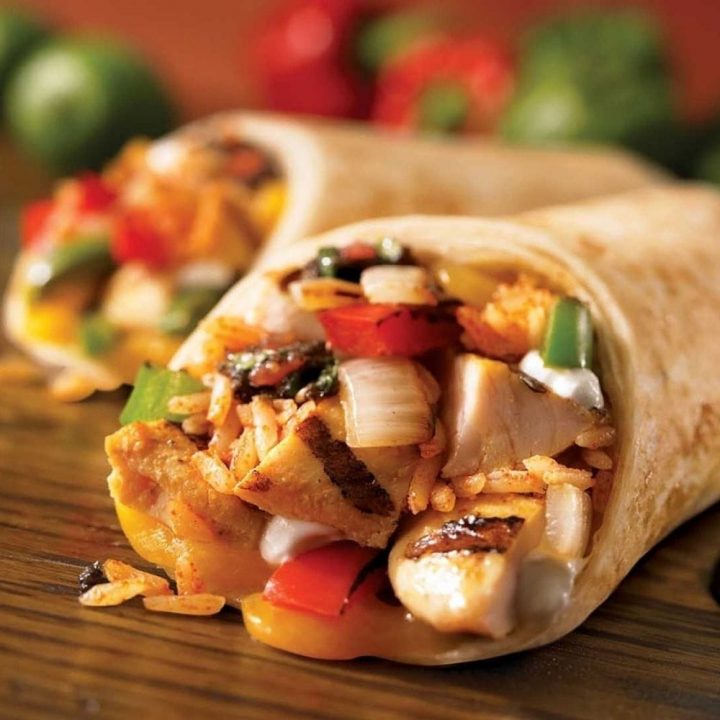 25 Easy Shredded Chicken Recipes
Instructions
Choose your favorite Shredded Chicken dish!
Prepare ingredients according to the recipe.
Be ready in 30 minutes or less!