Have you wanted to use egg noodles in a recipe but aren't sure what to do with them? They are incredibly versatile and can be used with many different flavors. They're not only great in casseroles but also soups, bakes, and even just with butter.
The best part? The noodles themselves have a nice, subtle flavor, so they work well with any type of cuisine like Asian, American, and even Italian. Plus, they cook quickly and are quite yummy.
We've gathered the 24 easiest recipes with egg noodles for you to check out. Take a look below and try them all out!
This easy dinner idea takes about 45 minutes and tastes delicious! It will make you feel like you're eating at mom's house again.
You'll be combining the ingredients in a baking dish and topping with panko crumbs for a crispy crust. This is the ultimate dish for when you want something tasty and rich.
Enjoy as-is or toast up some garlic bread for extra oomph. Either way, you'll have a dish that your whole family will love.
Not sure what to do with beef tips and want a recipe that's creamy and delicious? Give this recipe a whirl. You'll have a recipe your kids will be begging for.
Cream of mushroom soup and red wine, milk, and onion soup combine to form one tasty dish.
Have kids that don't like eating vegetables? This recipe makes it easy to add corn, peas, and green beans in and still maintain the yummy flavor.
Craving enchiladas and pasta together? We've got you covered! This tasty recipe mixes the two, so you don't have to choose which one to make.
Once everything is combined, make sure you bake uncovered. This will ensure the cheese on top turns into a yummy, crunchy, gooey topping. You won't believe how rich and delicious the final dish is.
If you're looking to add some extra veggies on the side, check out our best cabbage recipes. You won't be disappointed.
Have you ever heard of cabbage noodles before? This is a great savory egg noodle recipe that incorporates cabbage, kielbasa, frozen peas, egg noodles, and seasoning together to create a lunch/dinner masterpiece.
You'll sauté the onion, then add the garlic and cabbage in. Once the vegetables are soft, the remaining ingredients will be heated in the pan.
The full recipe takes about 40 minutes and packs a ton of flavor. Here's a quick tip – swap out the kielbasa for your favorite sausage. You can even use brats instead.
A yummy crockpot recipe for chicken noodle soup? You bet we found one!
Chicken noodle soup is such a simple, nostalgic soup. Adding in the ease of cooking in the crockpot makes this a recipe winner.
Now, when you're feeling under the weather or just craving this soup, you can whip it up easily.
This recipe is super easy to customize. Swap out the vegetables, add extra vegetables, or even add dumplings in. This is the perfect, healthy, cold-weather soup.
There's nothing better than homemade noodles. This recipe only needs five ingredients that you'll most likely have in your pantry.
You'll need to combine the ingredients, including flour, water, olive oil, eggs, and salt, in a bread mixer. The longest part will be waiting for the dough to rise and waiting for the dough to dry (once cut). Add your favorite sauce, and voila!
Impress your family and friends by telling them these were made by scratch. They'll be asking for your recipe!
Wondering what to make with egg noodles? How about fried cabbage noodles?
You might be thinking this dish is completely fried – don't worry, it's just pan-fried. It includes yummy, crispy pancetta for extra decadence and saltiness to perfectly balance out the cabbage included.
The best part of this recipe is that it will all be cooking in one pan. Cook the pancetta until crispy, then cook the onions until soft. Add in cabbage, noodles, and seasoning, and you have a delectable meal!
Want a chicken noodle soup but spiced up? Give this alternative version a try.
It is similar to the last chicken noodle soup recipe; however, you'll be adding in fresh thyme and rosemary for an extra herby flavor. Yum! Franks Red Sauce adds some additional heat and tang to the soup.
Plus, you'll be including additional vegetables and even some red pepper flakes. Both the heat and fresh herbs make this the best soup you'll ever try. Prepare your tastebuds for a rollercoaster of delectable flavors.
Who can resist a big serving of beef stroganoff? Not us! It's a yummy way to use egg noodles that offers creaminess along with a rich taste.
Sour cream is what creates the rich flavor in this dish. The cream of mushroom soup adds in a nice mushroom taste while creating the base for the sauce. You'll be left with a mushroom and beef flavor that is to die for.
Beef stroganoff is an excellent stand-alone dish. Wondering what to serve with beef stroganoff? You can try a fresh green salad to brighten up the meal.
Growing up with Hungarian friends, this is often a dish that was talked about with fond memories. Everyone you make this dish for will adore the flavor profile and the sweet heat from the Hungarian paprika.
Adding in both chicken breast and chicken thighs allows this dish to stay moist and juicy. Add to that the tanginess from the sour cream, and you have one spectacular dish.
You'll be adding everything into a skillet and making a delicious sauce to coat the chicken and noodles. Add some roasted vegetables to the side for a complete meal.
OTHER RECIPES YOU MIGHT ENJOY
Not sure what to do with egg noodles? Try this recipe out as a weeknight dinner or even to pack for lunches.
This instant pot potpie cooks in seven minutes. Yep, you read that right! The pressure cooker setting allows you to get this dish thrown together in a few minutes so you can avoid being hangry.
The result is a creamy, rich casserole that is begging to be eaten. It's also super easy to freeze for later if you make too large of a pot.
Swedish meatballs are so beloved that they offer them in Ikea. They are tangy and covered in gravy; who could blame anyone for the popularity? They're delicious!
This quick recipe is also made in the instant pot. This way, you can throw all of the ingredients together and have a fully cooked meal in eight minutes.
Sour cream is the game-changer in this recipe – it adds a slight sourness and creaminess. If you don't have a pressure cooker, you can use a crockpot instead. It will just take a bit longer for the meal to cook.
This is another fantastic recipe with egg noodles. Any recipe that includes gravy is always a keeper!
This dish offers tender beef chuck with egg noodles covered in delectable gravy. It's cooked in a pressure cooker, so you know what that means! The meat will be juicy and falling apart.
Can you say yum? If you don't want to waste any of that gravy – you can serve this dish over rice or potatoes. I know, rice and noodles? You'll be pleasantly surprised if you give it a try.
Have you ever tried tuna noodle casserole before? If not, this is your sign to add this casserole to your menu this week. If you've already tried tuna noodle casserole, you know how tasty it is!
Breadcrumbs and cheddar cheese are what make this dish epic. It adds a crunch and gooeyness that you would expect out of a casserole.
You'll be combining everything in a baking dish and then cooking for 20 minutes in the oven before adding the topping. Bon Appetit!
You can never have too many chicken noodle soup recipes! They're a great way to get protein, carbs, and veggies in with a nice, light broth.
This old-fashioned soup recipe uses dried herbs like bay leaves and thyme for an extra yummy flavor that you won't want to miss. You'll be using the skin-on, bone-in chicken for this meal, which only adds to the broth's flavor.
This is a perfect recipe to whip up on chilly nights. Serve it alongside some buttery biscuits for the ultimate meal.
Craving cheesy, buttery noodles? Here's a yummy recipe for you to try out. It's also super simple to make and only takes about 20 minutes in the oven.
You'll need egg noodles, parmesan, butter, sour cream, garlic, salt/pepper, and fresh parsley. Boil the noodles, then add everything into a baking dish before cooking in the oven.
This is one of the best vegetarian recipes with egg noodles that you'll find out there. It's versatile enough that it can pair with anything. Try it with vegetarian "chicken" nuggets.
French onion chicken noodle casserole includes all of the best parts about casserole – the crispy French onion topping, the noodles, of course, and a creamy sauce to tie it all together!
There's even French onion dip mixed with cheddar cheese for a stronger oniony taste to tie it all together. If you love onions, this is the recipe for you!
This is an excellent make-ahead dish. Just mix the ingredients in the baking dish and refrigerate. Then, when ready, add it into the oven. Yum!
Do you have extra ham from a get-together or holiday? This egg noodle dinner recipe allows you to use up that leftover ham in a delicious way.
You'll get an extra eggy taste with the addition of two eggs. Swiss cheese gives this dish a unique and unexpected flavor.
The ham, eggs, and cheese together are reminiscent of a breakfast dish, but you can count this as a dinner idea. Your family will love this recipe, and you'll be able to use up that extra ham!
Do you want a chicken noodle soup that's creamier and more decadent than traditional chicken soup? This recipe ups the bar by adding in cheese soup, cheddar cheese, and bacon.
No one in your household will be able to resist this delightful soup. All of the ingredients will be boiled together first, and then the noodles and cheddar cheese will be added for the last five minutes.
This thick, tasty soup is to die for. The addition of ranch seasoning may seem odd, but it makes all of the difference for this egg noodle dinner recipe.
Tired of having mac and cheese every night? This instant pot buttered noodles recipe gives you that same cheesiness as mac and cheese, with some extra spice!
You'll be using cheddar cheese along with pepper, oregano, garlic, and onion powder to season this dish. The cooking time is a whopping one minute in the instant pot.
This recipe is one to save! The longest wait time will be while the instant pot is releasing its pressure. You'll have this dish done in under fifteen minutes.
What's better than cheese combined with noodles? Not much. This is one of the tastiest and simplest egg noodle dishes that will blow your mind.
Only six ingredients are needed for this meal – egg noodles, butter, flour, milk, cheddar cheese, and salt/pepper. The pasta will need to be boiled while the cheese sauce is created in a separate pan.
Then, everything will be added to a casserole dish to bake and turn into a gooey, cheesy dish. Add some protein on the side like chicken or forego the protein for a vegetarian dish.
Parmesan buttered noodles provide the tastiest dish. It's a simple meal, yet it offers a delightful flavor.
This dish has a twist with added herbs in it. You can add basil, parsley, or chives for flavoring. I recommend trying it with some fresh sage or rosemary for a unique taste.
Otherwise, you'll just need parmesan, egg noodles, butter, and fresh black pepper. Cook the noodles as per usual, add in the butter, cheese, and pepper, then garnish with the fresh herbs.
Here's a way to combine French onion flavoring, pasta, and tasty sausage in one dish. You'll love this recipe using egg noodles. Plus, the decadence and cheesy, oniony flavors are unrivaled.
This recipe uses both cream cheese and parmesan cheese for an extra kick of tastes. Choose from sweet or spicy sausage to add in – both work well, though they will each bring out different flavors.
The sausages, onion, olive oil, and seasoning will be cooked in a pan first. Then, the additional ingredients will be added and simmered to create a thick sauce for the whole dish. This is a great meal for anyone and any occasion.
Chicken and ham together? Give this recipe a shot – you'll love how the combination of proteins mingle with the cheese and breadcrumbs for an awesome dish.
Panko crumbs and butter on top of the casserole will add an extra crispy topping. The texture difference between the soft noodles and the crunchy top is perfection.
Everything will be combined (including cooked noodles) into a cooking pan and then baked for about 30 minutes. Enjoy this meal with your family or take it to your next get-together!
Egg noodles are an excellent way to beef up any recipe. They work well with so many flavors leaving the meal options endless. Above are some of our favorite easy recipes with egg noodles.
If you love trying new combinations – add your spin to the recipes. You can add fresh herbs, swap out the meat, and even add extra cheese. Give it a try and see what you think!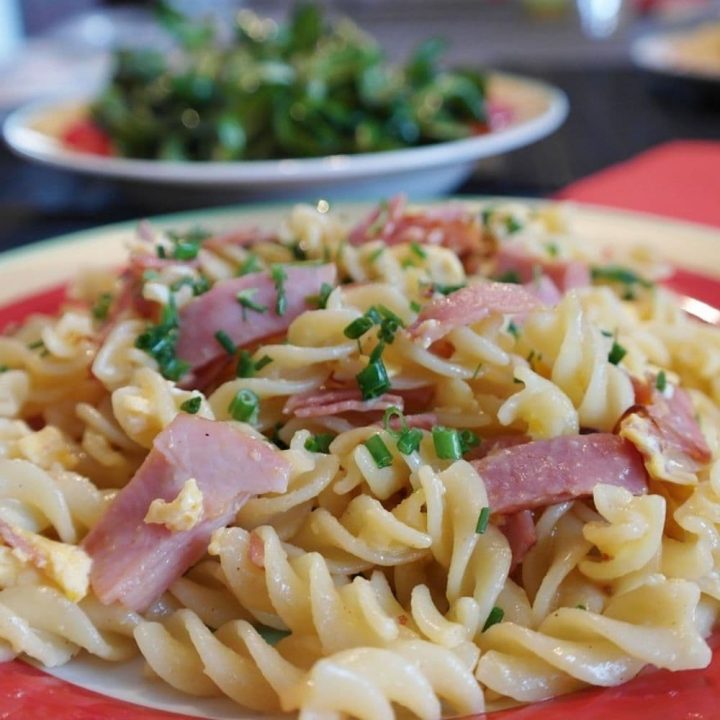 24 Easy Recipes With Egg Noodles
Instructions
Choose your favorite Egg Noodles dish!
Prepare ingredients according to the recipe.
Be ready in 30 minutes or less!