A chuck roast is a perfect slow cooker recipe and therefore it makes the perfect weeknight meal. But we often don't know what to do with it after we buy it and find ourselves asking: what to do with chuck roast? While a traditional roast recipe with potatoes, carrots, and celery is comforting, sometimes we want something different.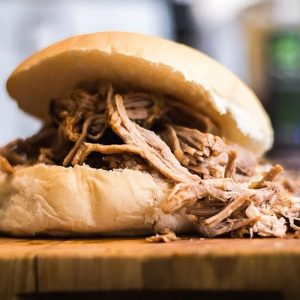 That's where this list comes in! Browse through these recipes for chuck roast and something will surely catch your attention.
There's everything from taco fillings to Korean chuck roast, something for everyone! A lot of these recipes can be made on the stove, in the slow cooker, or in an Instant Pot, whichever you have access to.
The best part about these recipes is all of them pack a lot of flavors. You can make any of these for a party, weeknight dinner, or special occasion. Keep reading so you can expand your chuck roast repertoire!
The first recipe on this list is a traditional pot roast recipe that will make you feel like you're eating in a cabin in the fall. It's warm and comforting, with the perfect balance of potatoes, and melt-in-your-mouth meat.
There's a reason this is a classic recipe, it's one of the top beef chuck recipes. The magic is in the Dijon mustard, it adds a complex flavor you can't replace.
If you have carrot and celery sitting in the fridge, feel free to add that to this recipe as well.
A French dip sandwich you can make in the Instant Pot? Yes, please! I love a French dip sandwich: provolone, tender beef, that delicious dipping sauce!
This has become one of my favorite Instant Pot chuck roast recipes because it gives me a French café worthy sandwich fast.
If you don't have beer around, simply swap out for an equal amount of beef broth. If you can get your hands on some fresh bakery bread for the sandwiches, do it!
The dry rub for this Mexican shredded beef is so unique and doesn't require anything out of the ordinary.
This shredded beef goes great in some tacos, a flour tortilla, or even a burrito bowl. Top with some pico de gallo, guacamole, or cilantro and diced onion.
Make sure you shred the beef in the liquid it cooked in, this ensures the meat soaks up all those delicious juices and maximizes that flavor! Don't skip the lime juice, it adds a needed hit of acid for balance.
This recipe is for the onion lovers out there! It's like combining French onion soup with a chuck roast, yum!
This is one of those dishes that can be served with just about anything: a bowl of pasta, creamy mashed potatoes, roasted vegetables, or even in a toasted bun.
It calls for white wine vinegar, but you can use whatever vinegar you have on hand, like red wine, apple cider, or balsamic.
Because this cooks long and slow, your whole home will be filled with the scent of this mouthwatering roast!
Pioneer Woman recipes are well-known and for a good reason!
Her recipes are the definition of comfort food, and this one is no different. It's simple but delivers that homey taste you're looking for from a roast.
The fresh herbs make this dish shine, but if you're in a pinch you can use dried herbs instead.
If you don't have a Dutch oven, that's okay, you can use a cast-iron pot or any deep, heavy-bottomed pot. Make this for your next weekend family dinner, everyone will love it.
Another take on a traditional pot roast here, but with some surprising ingredients.
This recipe includes a ranch dressing packet, dry onion soup, and pepperoncini peppers. Sounds sort of odd, right? Trust me, this recipe packs a lot of flavors and it's worth making!
If you need to cut out some sodium, use unsalted butter instead. This roast is wonderful on some toasted sourdough with more pepperoncini peppers on top. Make some extra and have sandwiched the next day.
This is another beef chuck roast recipe for French dip sandwiches. There are some slight differences in spices and seasonings, and it makes a bit of a difference.
I personally love to eat this recipe on some fluffy rolls with a combination of provolone and pepper jack cheeses.
If you don't have Worcestershire sauce, swap it for some soy sauce and a little bit of sugar, it has a similar flavor profile. Try serving these with some crispy sweet potato fries and roasted green beans for a balanced meal.
If you have a smoker, I'm sure you've scoured the internet for smoked chuck roast recipes, because a smoked roast is one of the most delicious pieces of meat out there.
You're in luck! This article provides you with all the tips, tricks, and secrets to smoking a chuck roast.
This lays out everything from temperatures, adding flavor with seasonings, and different types of wood, and the differing smokey flavors they produce.
For your next get-together, make a big smoked roast and lay it out with assorted toppings, tortillas, bread, and let everyone make their own creations!
Sometimes nothing beats a simple chuck roast and some fluffy mashed potatoes, it's a simple dinner but it's satisfying.
If that's what you're craving, this recipe is the solution. It yields a creamy, meaty gravy with tender beef that's poured over the best-mashed potatoes.
The potato recipe calls for evaporated milk, but heavy cream works just as well. All you need to make this a complete meal is a fresh salad or some steamed vegetables; then it's ready to put on the table!
Barbacoa beef is an amazing dish that is stewed with chilies and warm spices and then served on warm corn tortillas with fresh cilantro, chopped onions, tomatoes, and jalapeno.
The beauty of this recipe is it only takes ten minutes to prepare and then stews for 8 hours, making it the perfect weeknight recipe to throw on in the morning quickly.
The chipotle in adobo is what makes this dish special, you should be able to find it in your store in the Mexican section. Serve this over cauliflower rice with avocado and you have one of the best keto chuck roast recipes!
A Texas chili is a great way to please a large crowd. This recipe combines chipotle, tomatoes, and an amazing spice mix that results in a rich and filling chili you can top with all of your traditional favorites like sour cream and jalapenos.
The secret to this chili? Cocoa powder! It adds warmth and richness separates this chili from others.
If you're from the southwest, serve this with Fritos for a delicious Frito pie, or serve with baked potatoes for loaded chili potatoes!
This is also a great meal all on its own, however, you choose to serve, it will be loved.
This is another easy chuck roast chili recipe. It's not Texas-style, but more of a traditional chili with beans and ground beef in combination with the roast.
Combining the meats provides a different texture. If you like a spicier chili substitute jalapeno pepper for the bell pepper.
Like the last recipe, you can top this dish with the classic chili favorites, or you can serve it with tortilla chips for dipping.
Either way, your family or friends will be wanting seconds!
Another French dip recipe! This one ups the flavor with even more umami by adding fish sauce, soy sauce, and Worcestershire sauce.
If you've never had fish sauce, don't let the name throw you off. It's a salty umami bomb and the secret to many recipes, it won't make your roast take to like fish, I promise!
This recipe also calls for swiss cheese instead of provolone, which adds a nice flavor to the sandwich I quite enjoy. And of course, the sauce is delightful to dip that sandwich in!
This machaca beef is one of the most delicious Mexican chuck roast recipes I've found.
It uses whole green chiles and lime that provide a complex flavor profile for this dish. This recipe specifically used Hatch chile peppers, and if you can get your hands on those I recommend it.
However, true Hatch chile peppers can be difficult to find, so you can substitute any of your favorite green peppers like Anaheim or poblano.
Serve this with beans, rice, and tortillas for a Mexican experience that will make you wish you had doubled this recipe!
We haven't had any Asian chuck roast recipes so far, but this Korean chuck roast is a highlight of this list! It only takes ten minutes to prepare and is scrumptious served with rice and steamed broccoli.
The sesame oil, fresh ginger, and rice wine vinegar are a perfectly balanced aromatic blend that flavor the sauce the beef cooks in.
While fresh ginger is ideal if you're in a rush and don't have any, swap for ground ginger. Serve this with a bowl of steamed rice and you'll want to make this a permanent staple!
Do you have leftover chuck roast from one of these fantastic recipes? This recipe gives you a great option for using up those leftovers!
Chuck roast is the perfect filling for enchiladas. The brilliant part of this recipe is that it completely repurposes that chuck roast, so you don't feel like you're eating leftovers, it feels like a whole new meal.
The recipe also uses beans and corn in the filling, but if you have bell peppers, squash, or other vegetables that need to be used up, feel free to toss those in also.
Looking for something different to do with chuck roast? This recipe was a completely new idea to me. It's a fun and creative way to use a chuck roast.
Slather them in a delicious barbeque sauce and recreate the "poor man's burnt ends". The beef ends up being crispy and caramelized on the outside and tender on the inside.
Serve this with some homemade rolls and a large, tossed salad and you will have the best picnic lunch you've ever had!
Beef stroganoff is one of the best mushroom and chuck roast recipes available.
It's filling and flavorful, everything you need from a dinner! I bet you're wondering, what to serve with beef stroganoff? Try rice, noodles, potatoes, most starches work perfectly.
The best part of this recipe is the sour cream, you can use Greek yogurt instead if you prefer. By cooking this in the slow cooker you are guaranteed to have a tender, mouthwatering roast at the end that's smothered in the delicious sour cream, mushroom gravy.
Roast and beans are a flawless pairing and these borracho beans are proof of that!
The recipe list looks long, but it's mostly seasonings and it's the magic of this recipe!
There is a scrumptious garlic and cilantro mixture you smother the roast in and it gives the meat a unique flavor.
Serve this with some warm, soft cornbread for a perfect bite. Your whole family will want to eat this recipe again and again.
What to do with boneless chuck roast? Try this creamy mushroom roast beef! With six simple ingredients, you can throw this together for dinner effortlessly.
You end up with this smooth gravy that coats the roast and mushrooms and is perfect to pour over roasted potatoes or egg noodles.
If you don't have the cream of mushroom soup or want to omit it, simply add more mushrooms and some cream.
This chuck roast ends up so tender and juicy, nobody will ever know you only spend a few minutes on it!
Roast and cheddar ranch grits: this just sounds heavenly! The roast is cooked with hot sauce and chili sauce that break it down and result in a spicy pot roast.
The grits are cooked with ranch dressing and cheddar cheese to give you that stretchy, creamy grit texture.
Put the two together and it's a flavor bomb! You can add vegetables to the roast like carrots, celery, and potatoes and this will easily become a full plate.
One of my favorite chuck roast ideas is this slow cooker Korean beef. It has the perfect balance of salty, tangy, and sweet between the sugar, rice vinegar, and soy sauce.
Pour this over a bowl of sticky rice or chow mein noodles with some stir-fried vegetables for a tasty lunch.
Topping it with the sliced green onion and sesame seeds not only adds flavor but also a beautiful garnish that makes you feel like you're eating in an Asian restaurant.
These are probably the simplest tacos on this list, so if you have a chuck roast on hand and a taco craving, this is the recipe for you! It has minimal recipes but still results in a delicious tender taco filling.
If you don't have beef broth on hand you can use water and a beef bouillon cube, or even just water. Cook up a pot of beans and rice to go with this dinner and you'll be wanting a margarita to top it off!
This is the last recipe on this list, but it's not the least! Whoever decided to put barbeque in between two slices of bread had great ideas, because it doesn't get better than a barbeque sandwich!
I personally like to add some pickles to my sandwich in addition to the cheese, the acid cuts the fatty beef wonderfully.
If you can't find hoagie rolls, any sort of bun will work just fine. Make these for your next barbeque party for a delicious treat!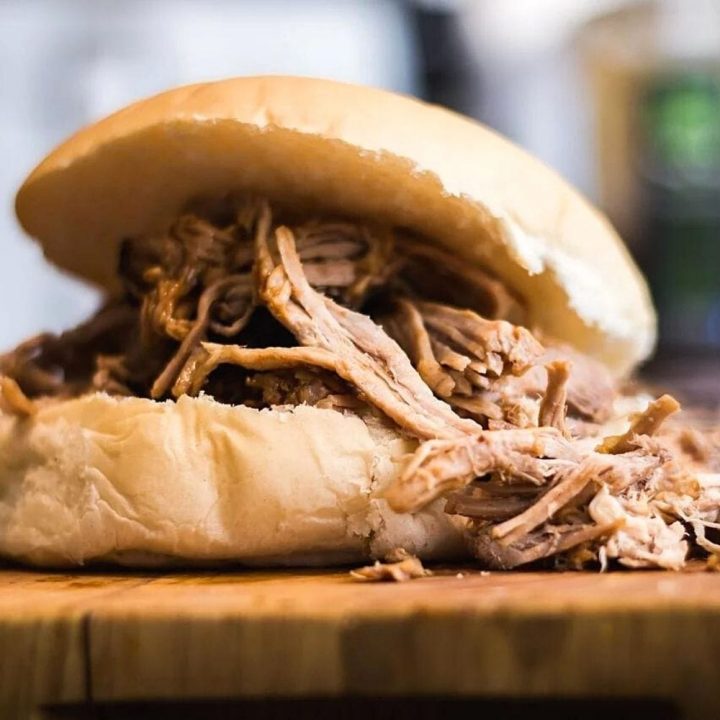 24 Easy Weeknight Chuck Roast Recipes
Instructions
Choose your favorite chuck roast dish!
Prepare ingredients according to the recipe.
Be ready in 30 minutes or less!