Have you heard about the cabbage soup diet? Also known as the "Military Cabbage Soup Diet," "Cabbage fat burning Soup diet," "TWA Stewardess diet," and even the "Dolly Parton Diet," it gained popularity in the '80s. Still, no one really knows when this cabbage soup diet recipe was invented.
Soup diet recipes have been passed by word of mouth over the decades, claiming to make you lose 10-17 lbs during the first week.
So, are you willing to give this weight-loss cabbage soup recipe a try? I fully recommend it. It is one of the best weight-loss soup recipes I've ever tried. After making this soup, I became a real fan of cabbage, and these are my favorite cabbage recipes:
How To Make This Cabbage Fat Burning Soup?
It is fairly simple to make. First of all, you have to:
Chop the onion, carrots, green beans, celery, bell pepper, and cabbage. Place all your chopped veggies into a large pot.
Pour in the V8 juice, whole tomatoes (with juice), beef broth, bay leaves, dried basil, dry onion soup mix salt, and pepper. Add enough water to cover the veggies.
Bring the soup to a boil, reduce the heat, and simmer for 25 mins.
When the 25 mins are over, check the seasoning and add more salt if needed.
Cabbage Soup Variations
Some people do not add the V8 juice. You can use tomato juice instead, or don't use it at all.
If you are looking for the vegan version, use vegetable stock instead of beef stock.
You can add a few more veggies if you want, like broccoli and spinach. Other recipes call for sauteing chopped onion and garlic in olive oil before adding the rest of the ingredients and using tomato paste and water instead of tomato juice.
If you want a bit of protein and good fat in your soup, add cooked shredded chicken and avocado, jalapenos, a bit of cumin, and oregano, and make it Mexican.
If you want to make it tomato-free, skip the tomatoes and tomato juice. Use chicken, beef, or vegetable broth as your base, and add the rest of your veggies.
Want an Asian twist? Use shrimp broth (use the shrimp shells to make it) and add bok choy, mushrooms, cabbage, bean sprouts, cooked shrimp, lime juice, and a bit of low-sodium soy sauce.
How To Store Weight Loss Cabbage Soup?
This soup keeps well in the refrigerator for up to 5 days. Before storing, wait for it to cool down completely, then place it in an airtight container and into the fridge. You want to make this big batch last you for a few days.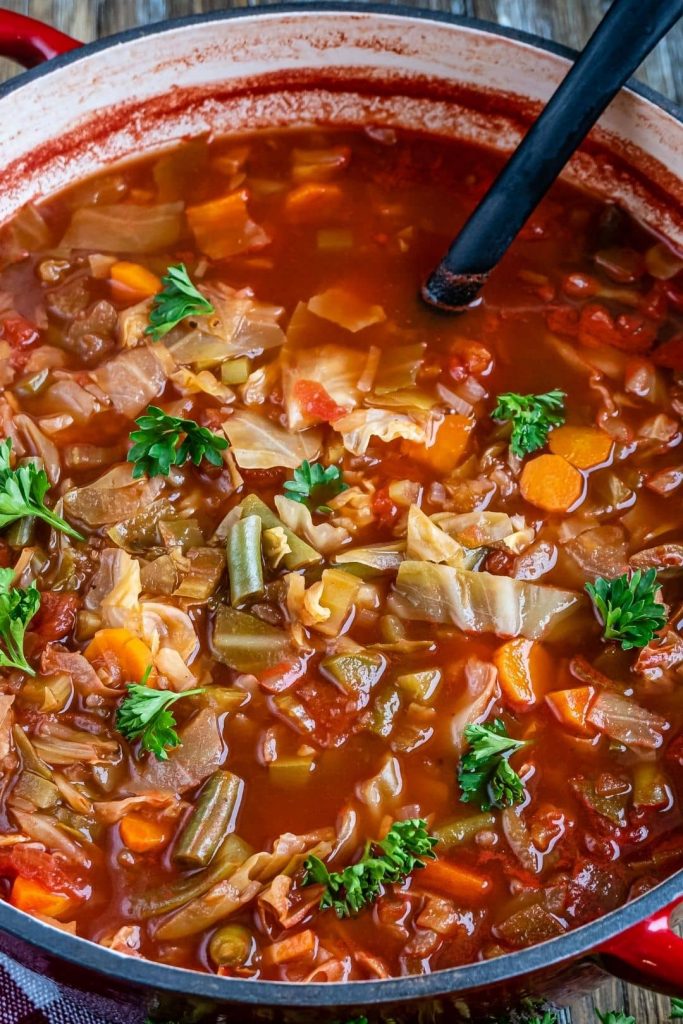 Recipe tips
Always check your seasoning after it has finished simmering and add more if needed. Remember it will reduce a bit, and if you add all the salt at the start, it may be too salty afterward.
Try to chop all your veggies roughly the same size, so everything cooks evenly.
If you don't have V8, you can use tomato juice instead or add more water and tomato paste.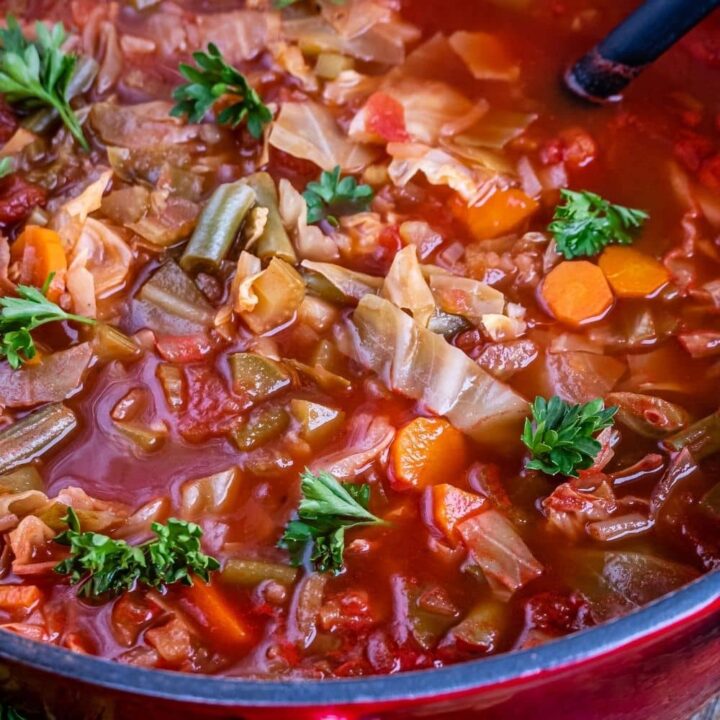 Cabbage Soup Diet Recipe
Ingredients
2 large carrots, chopped
½ onion, chopped
1 ½ cups green beans, cut into ½ inch pieces
1 green bell pepper, diced
3 celery stalks, chopped
1 medium head cabbage, chopped
1- 16 oz can whole tomatoes, with liquid
1 quart V8 juice
1- 14 oz can beef broth
1- 1 oz envelope dry onion soup mix
2 -3 bay leaves
1 teaspoon dried basil
Salt and pepper to taste
Instructions
Prep your veggies
Chop the cabbage
Place all the veggies inside a large pot
Pour in the V8 juice, beef broth, and add the whole tomatoes, dry onion soup mix, bay leaves, dried basil, salt, pepper, and enough water to cover the veggies.
Bring everything to a boil, lower the heat and simmer for 25 mins. Check the seasoning and add more salt if needed.
Nutrition Information:
Amount Per Serving:
Calories:

102
Total Fat:

0.6g
Carbohydrates:

18.5g
Protein:

4.5g