I know pasta is Italian, and all the purists out there will probably frown at this one, but don't knock it till you try it. Cheesy taco pasta is delicious. The sauce is like a Mexican bolognese. Instead of using Parmesan and Italian spices, this taco pasta casserole is infused with taco seasoning and gooey cheddar.
Ground meat, onion, garlic, chopped jalapeno for a bit of a kick, fire-roasted tomatoes, tomato paste, taco seasoning, and cheddar mixed with pasta shells make an amazing taco pasta recipe that I am sure all of you will love!
How To Make Cheesy Taco Pasta?
Cooking The Pasta:
Cook the pasta in a pot of salted water (don't be afraid to add enough salt) according to package instructions until al dente.
Reserve one cup of the cooking water for thinning out the sauce.
Drain and return to the pot. If you feel the pasta shells might stick to each, do not drain completely. Leave about ½ cup of water until ready to mix in the sauce. When ready, drain completely.
While the pasta is cooking, make the sauce. You should be able to finish the sauce almost at the same time the pasta is finished cooking.
Making The Sauce:
In a medium-sized skillet, brown the meat with chopped onions, garlic, and jalapenos. About 3 minutes. If the meat has too much fat, drain it.
Pour in the fire-roasted diced tomatoes, pasta cooking water, add the taco seasoning and tomato paste. Cook for about 3 minutes.
Stir in one cup of shredded cheddar until melted. Adjust the seasoning with salt and pepper.
Assembling The Dish:
Mix the sauce into the cooked pasta and add the remaining ½ cup of cheese. Stir everything up and serve with chopped fresh cilantro on top.
Variations and Substitutions:
Using a jar of salsa will make it easier by replacing the chopped onion, garlic, jalapeno, and diced tomatoes.
If you don't have fire-roasted diced tomatoes, regular ones are ok to use.
You can use ground chicken or turkey for a lower-calorie dish.
If you wish to make it Italian, use Italian seasoning instead of taco seasoning, remove the jalapeno and use basil instead of cilantro.
You can add other ingredients like sliced black olives, red or green bell peppers, and whole kernel corn.
For homemade taco seasoning, these are the spices you need:
1 tbsp chili powder
¼ tsp garlic powder
¼ tsp onion powder
⅛ tsp crushed red pepper flakes
⅛ tsp dried oregano
½ tsp paprika
1 tsp cumin
1 tsp salt
¼ tsp pepper
Storing The Leftovers:
Before storing the leftovers, wait for the pasta to cool completely, then place it in an airtight container into the fridge for up to 4 days. You can also freeze it for up to 4 months.
To reheat, simply thaw in the fridge overnight and reheat in the microwave or on the stovetop in a skillet over medium heat. I recommend adding a tablespoon of water to the pasta before reheating.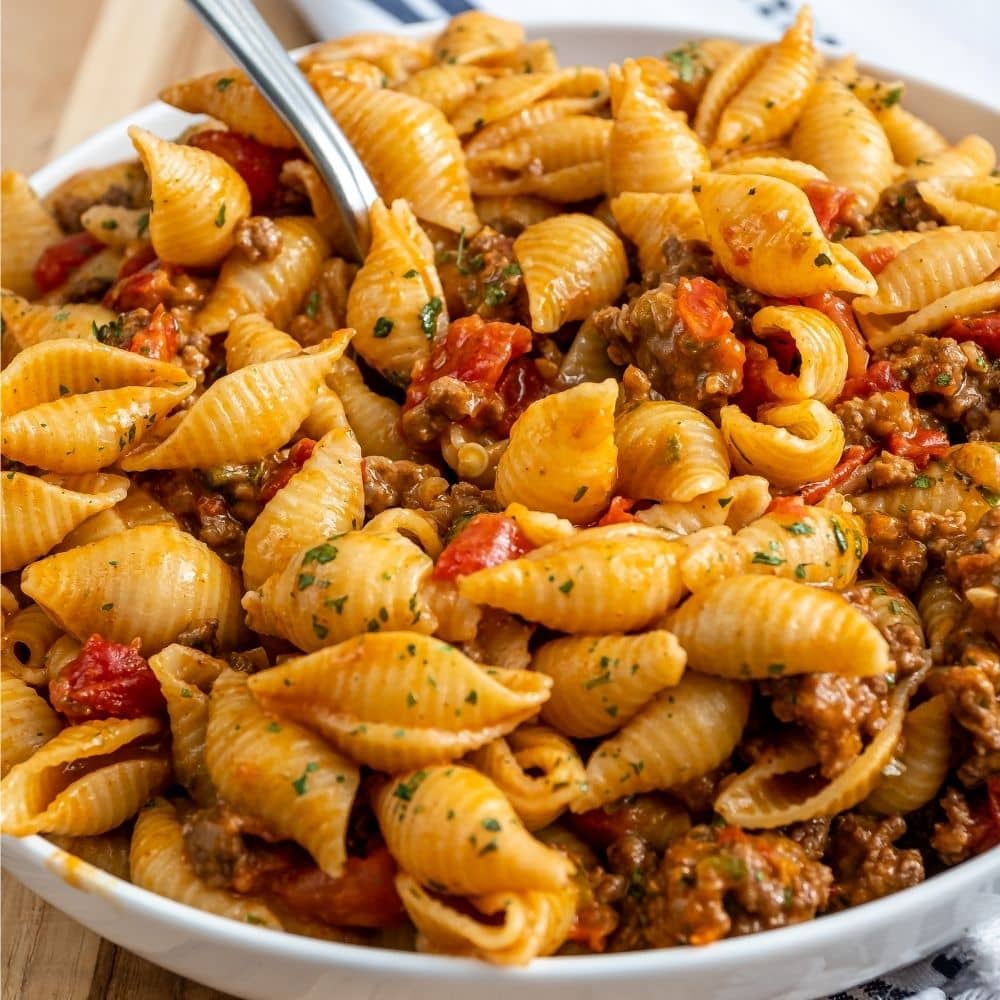 Cheesy Taco Pasta
Ingredients
1 lb lean ground beef (I use 93% lean)
½ cup onion, chopped
2 garlic cloves, minced
1 jalapeno pepper, chopped (seeds removed if you don't want too much heat)
1- 1.25 oz packet taco seasoning
1- 15oz can fire roasted diced tomatoes
1 tablespoon tomato paste
1 cup water (reserved pasta cooking water)
1 ½ cups shredded cheddar cheese, divided
Salt and pepper to taste
Chopped fresh cilantro for garnish
12 oz pasta shells
Instructions
Cook the pasta shells according to package instructions until al dente in a pot with salted water. Reserve one cup of cooking water to thin out the sauce. Drain, return to the pot, and keep warm.
In a medium-sized skillet, brown the ground beef with the onion, garlic, and jalapeno until no longer pink.
Pour in the fire-roasted diced tomatoes, a reserved cup of pasta cooking water, tomato paste, and taco seasoning. Cook for about three minutes.
Sprinkle one cup of shredded cheddar into the sauce and stir until melted. Adjust seasoning with salt and pepper.
Mix the sauce into the pot with the cooked pasta and stir in the reserved half cup of cheddar. Serve with chopped cilantro on top.