If you recognize German recipes for authentic cuisine as just being something like a bratwurst, you are missing out. They have a lot of other great dishes that can be quite enjoyable.
Whether you want something simple that has meat in it or you want to try out a flavorful dessert, you've got options.
Take a look at these simple German food recipes for some inspiration.
Potato salad is always a winner, right? The official term for this potato salad is Schwabischer Kartoffelsalat and it's not your average potato salad! You can have this ready to go in about 15 minutes. It's authentic and flavorful.
This restaurant-style potato salad gives you a unique flavor and texture combination that you just can't beat.
The real trick is to make sure you use the right potatoes. Yukon Gold potatoes are the best option outside of Germany. You're also going to need German mustard here.
How much do you know about schnitzel? Chances are you've heard the term, but did you know it's part of German cooking? This Authentic Jager schnitzel is one for the books.
You get the perfect combination of tender and crispy combined together and topped with mushroom gravy.
This is one of the top dishes in Germany. It's made with breaded pork cutlets.
The process is pretty simple but with the prep of the breading process and making the mushroom gravy, it might take about 45 minutes to complete the dish. You can pair it with Spätzle or any other side dish.
If you have a bit of time to devote to a delicious treat, try out this easy German Quark. It's a combination of cream cheese and yogurt, plus some other ingredients. German cheesecake recipes use quark to make them.
The total time to create this dish will take around 3 hours.
Some of that is cooking time so you won't have to hover the entire time. You can use your quark to create a cheesecake. You could also just use it for a dish or add in some fresh fruit as you might with yogurt.
When it comes to schnitzel, there are four different types. This particular option is schweineschnitzel. It's one of the original options and it's not served with gravy. It's a simple crispy, breaded pork chop.
The pork will be pounded to a very thin layer and then breaded so it can be crisp. You make it by frying it in a pan to make it nice and crispy.
Most people prefer to serve this with Spätzle and gravy so it can be authentic but it's up to you.
Here's one of our favorite authentic German recipes. It's authentically created using veal, but you could substitute pork loin or something similar if you prefer.
Zurcher Geschnetzeltes is a simple stew that combines veal with a white sauce and mushrooms.
This only requires a few simple ingredients, and it will take 30-40 minutes to prepare. The sauce is creamy and light. It's really straightforward and most of the time is just cooking time as opposed to massive prep needs.
Some people just serve the meat on the side as well.
Is it breakfast? Is it dessert? That's totally your choice with this German pancake. You might also know this delightful pastry as a Dutch Baby. They are one and the same.
All you need is some eggs, sugar, salt, milk, flour, butter, and some vanilla extract.
These are simple to make, and you can serve them the same way you would pancakes. It's not as common to serve them with syrup as a German dish.
You can also top it with powdered sugar or perhaps add a touch of whipped cream or some fresh fruit to the dish.
You've seen the came with coconut frosting, right? It's for German chocolate cake and it's one of the best desserts a person can possibly enjoy.
This recipe is for homemade cake and homemade frosting. It's chocolatey and sweet.
The frosting combines together coconut and pecans, which are how it's authentically made. It's absolutely delicious and incredibly rich. You can use a regular chocolate cake if you prefer.
It's really the frosting that turns this into a German chocolate cake anyway.
If you're looking for traditional German recipes that you could use for a tasty side dish or add-on, try out this German red cabbage. The dish is easy to make but you should plan for an hour to prepare the entire dish.
The end result is cabbage that is both sweet and sour to the taste.
Red German cabbage uses things like apples, sugar, and apple cider vinegar. These are what make that sweet and sour combination together.
In most cases, you can serve this as a side with something like pork or even sausage if you prefer.
This next dish is another one that might take some time to prepare. It is a hands-on recipe. The work is totally worth it. This authentic Swabian Maultaschen is almost like dumplings placed in a broth.
The creation of the pastry is what takes the longest in the process.
You can make the pasta piece by hand or just use pasta sheets, depending on how authentic you want this to be. The inside of the pocket is filled with beef and pork that are seasoned and spiced to perfection.
You also add some spinach to the mix.
Some of the best German recipes are desserts! We all need dessert options from time to time.
This German apple cake uses a host of delicious apples and creates a sweet baked dish that is irresistible.
The majority of the flavor comes from apples. It is slightly spiced with cinnamon and a touch of vanilla as well as sugar in the recipe. The result is something totally moist and dense. It can easily be vegetarian, although it does use eggs.
We're guessing you are already familiar with sauerkraut. Maybe you've had it on brats or even hotdogs. Maybe you like a delicious Reuben or even just a side of sauerkraut.
It's one of the most traditional German recipes you will find. This does require a certain taste preference but it's great if you like it.
This German sauerkraut recipe will require a few weeks to sit. It only takes about 30 minutes to put everything together though. You will get the perfect blend of tangy and tart when it's ready.
A little bit goes a long way. How will you serve your sauerkraut?
Mmmm…pretzels! Can you really go wrong with a delicious German pretzel? These are quite easy to make, and they are an authentic German recipe. These only take about 30 minutes to actually cook.
However, you will need to allow the dough to rest and rise in the process.
We love easy German recipes that are foods we enjoy regularly. With a pretzel, you can make it salted or unsalted.
You can always enjoy your favorite dipping sauce or even a side of cheese dip with these as well.
Next up is a goulash that isn't your average goulash. This German goulash is comparable to a stew. It combines cubes from a beef chuck with savory flavors that you can get from garlic, marjoram, parsley, rosemary, and bay leaves.
Toss is your veggie of choice. The traditional version uses orange bell peppers and carrots to make. This brings together a whole lot of hearty, savory flavor to enjoy. You won't be able to get enough.
Feel free to serve with potatoes or enjoy it like a stew.
If you like traditional German recipes like German chocolate cake, you need to know how to make the perfect frosting.
This frosting recipe is perfectly sweet and really fairly simple to make.
It will take you longer than just purchasing it out of a can but it's well worth it.
The sweet flavors use evaporated milk, born sugar, butter, coconut, and pecans to create. You will cook everything together to create a tasty glaze and then let it cool slightly to use as a frosting. You really can't go wrong here.
Here we are at a classic German dish. We couldn't pass up the chance to share bratwursts! Of course, we know you can run down to your grocery store and buy these already prepped and ready to grill.
But what's the fun in that?
This homemade German bratwurst recipe is the perfect way to experience the action behind a bratwurst. You can learn how they are made from scratch using pork fat and pork shoulder meat.
You will need a casing to stuff the meat. How do you like your bratwurst?
When soup season rolls around, you really can't go wrong with German potato soup. It will warm you from the inside out with savory flavors that are robust but not overwhelming. That's one thing common with German dishes.
They have deep flavors but are so tasty and simple.
This particular potato soup recipe uses bacon. Feel free to substitute with any meat of your choice though.
You'll have a flavorful flair of veggies, potatoes, a touch of meat, and deep flavors that bring it together.
If you're going to make soup or stew, you need some authentic German bread to pair it with. This bread will have several parts. Since it is authentic, you're going to need to give it rising and kneading time.
From start to finish, it's about 5 hours.
The bread is simple and will taste just like homemade bread from German bakeries. It's crisp on the outside and moist on the inside. The loaf goes a long way.
It's great for any dish that deserves a side of bread.
In terms of German cooking, this is one of Germany's national dishes. This authentic German Sauerbraten. It should be slow-cooked almost like you might slow cook a pot roast.
It's also best when it has been allowed to marinate for several days beforehand.
The recipe uses a beef roast and bacon paired with a good twist of sweet and savory flavors. You add things like red wine, raising, and thyme for your deep sweetness.
Pair with garlic, bay leaves, rosemary, and leek for a savory finish.
One Christmas traditional German dish is this stollen. It's a German Christmas bread that is sweet. It almost tastes like dessert but it's very unique in combination. This bread dates back more than 700 years.
It's a favorite Christmas pastry all over the world.
Making this stollen will take some time and work. Thankfully, it's mostly made around the holidays so it's not something you spend hours on all the time.
The secret ingredient here is a touch of high-quality dark rum. Yum!
Beets aren't for everyone, but they are commonly served with German meals. This German beets recipe uses fresh beets and pulls together hints of both sweet and sour flavors to really give you the best side dish.
You can serve your German beets with whatever main course you like. They pair nicely with beef.
These are really quite easy to make. You're going to create a glaze for the beets and that's the longest part. What will you serve yours with?
Here is another top choice of German dishes. It's a famous dish that is made with ground beef and bacon. This German Rouladen recipe creates a caramelized sauce to cover the meat.
The meat is stuffed with onions, bacon, mustard, and pickles and then rolled together to cook.
Plan to take some time for preparation and cooking. You won't regret the efforts! It's so flavorful and you're going to simmer the meat mixture in the rich glaze.
It's a blast of delicious flavor that you can serve with your favorite side.
Do you love cookies? These German springerle cookies are some of the best treats.
They are anise-flavored, so they have a deep flavor to them. A little bit is satisfying. This is another recipe that can be dated back to at least 700 years in Germany.
These cookies are popular around the holidays or used as treats for gifts. They are traditional and have a very unique, distinctive flavor and process. Traditionally, they are imprinted with some sort of simple pattern but that isn't required.
Spätzle is perhaps one of the most common side dishes to serve with meat dishes in German cooking.
These German Spaetzle dumplings are delightful. This recipe was designed to be vegetarian. However, you can also make them using bacon grease if you want a change in flavor.
These are really easy to make. It's simple but has a good flavor that is almost like plain pasta aside. You can add to them or serve them with a sauce as an aside. It's totally up to you.
Total creation time is only about 30 minutes.
Pudding can be great for a dessert, a treat, or even for a light meal or breakfast.
This German semolina pudding is a traditional dessert dish and it can be made in several different ways. It's simple to whip up.
It's sweet on its own thanks to the semolina that you use to make it.
However, some people like to add cinnamon or applesauce to add to it. You can also just add your favorite fruit. Blueberries are great!
Here's a twist on the traditional pork schnitzel. If you love schnitzel but don't love pork, it's a great choice. This chicken schnitzel recipe will be juicy and crunchy.
It tastes great and looks great on the plate. You can pair it with spätzle or something like German potato salad if you would rather.
Even mashed potatoes make a great side to accompany the meat. This is simple and easy for sure
We don't typically think of gyros as being German, but they certainly can be! This German gyros recipe is also known as Doner Kebab.
It's a very popular street food option throughout Germany and it's packed with flavor.
You just need some flatbread for the outer shell. This recipe recommends turkey but feels free to try other meat choices too.
The spices are very similar to other dishes, bringing you robust and savory flavor.
Finally, if you love Reubens or even just traditional bread, this German rye bread is an absolute must. It's sweet and hearty all at the same time. You don't need a lot.
Rye bread is perfect with corned beef to create a traditional Reuben sandwich. You can also use it in other ways.
This recipe is simple but be sure to allow for rising time with the yeast. Other than that, you've got flavor on your side.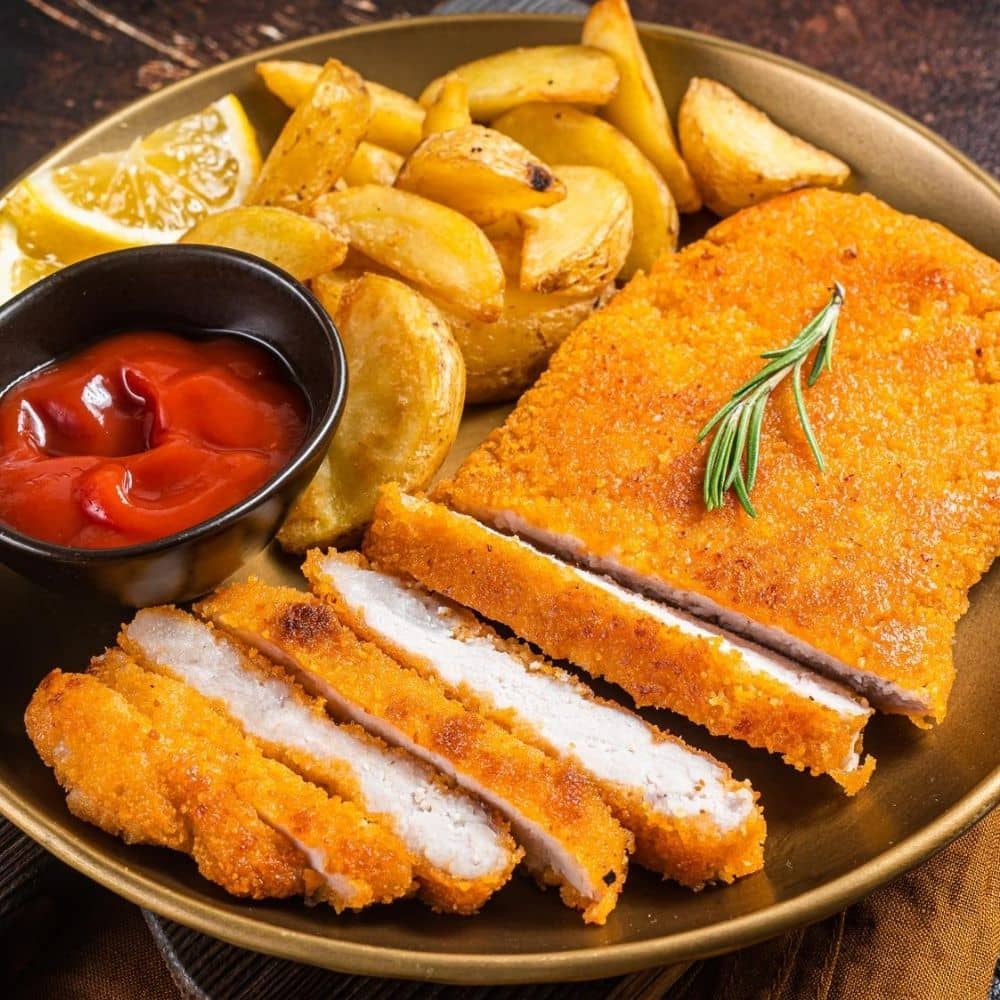 27 Easy German Recipes
Ingredients
8 center cut pork chops
2 lbs sauerkraut, drained
1 large red apple, diced
1 onion, chopped
1 c brown sugar
1 tbsp caraway seeds
Instructions
Preheat your oven to 350 degrees
Heat a skillet using medium heat.
Brown pork chops for about 5 minutes per side.
Place the browned pork chops in a baking dish.
Combine caraway seeds, brown sugar, onion, apple, and sauerkraut together and spread over the pork chops.
Cover the dish with foil.
Bake for about 45 minutes or until cooked.