We've put together a list of mouthwatering chicken sausage recipes that you'll want to make for every meal! These recipes with chicken sausage are tasty, easy, and quick.
Chicken sausage is an ingredient that is very unappreciated. They're packed with lean protein and easy to use in healthy chicken sausage recipes.
From delicious breakfast chicken sausage meals to savory and filling dinners, this ingredient is one that you'll want to stock in your fridge!
The best part is that chicken sausages are versatile and come in various flavors, from an herby variety to spicier options. Below, you'll find 30 delicious chicken sausage recipe options.
What's easier than making pasta for dinner? How about making pasta packed with lean protein, gooey cheese, and spinach that your family loves? You'll have a delicious dinner and easy clean-up for a win-win situation.
The not-so-secret ingredient in this recipe is the baby spinach that you'll mix with the pasta.
If your family dislikes the flavor of spinach, you can still sneak some greens in by using baby kale instead. It also folds/shrinks like spinach, and you won't have to remove the stem-like with regular kale.
We're continuing on the skillet theme with this tasty chicken sausage and vegetable one-pan option.
This recipe is packed with veggies, seasonings, and potatoes for a delicious dish that you can make at any time.
Pair a serving with soup or salad, and you'll have a complete meal.
One of the veggies that you'll find in this recipe is zucchini. If it's not in season, or you don't enjoy this vegetable, you can swap it with something similar to eggplant. Cut the veggie pieces evenly so you don't have some undercooked and part overcooked.
Don't limit yourself to pan-frying chicken sausage and veggies!
The skillet is also the perfect cooking tool to help you make a rich, creamy dish. We love how easy it is to adjust this recipe to your flavor and ingredient preferences!
For example, the recipe calls for cannellini beans. However, you can easily swap cannellini with kidney or pinto beans for an equally delicious meal.
Tip: Always check the flavor of sauces/dishes before serving. Taste the sauce after you season it, then adjust the salt and pepper quantity to your liking.
Want recipes with chicken sausage that are more hands-off? Try this roasted chicken sausage, peppers, and potatoes recipe!
Once you slice and prep the veggies and sausage, you'll be tossing everything with olive oil and seasoning, then throwing it in the oven.
The star of the show is the parmesan Italian chicken sausage. If you have other chicken sausage varieties on hand, feel free to use those as replacements.
You may need to adjust the seasoning for the rest of the dish since the parmesan and Italian herbs in the sausage help boost the flavor.
Tender chicken and flavorful sausage in one recipe?! We can't think of a better combo!
After roasting all the ingredients, you'll have caramelized veggies, chicken pieces, and sausage that are mouthwateringly good.
Are you prepping to make this recipe and realize you're out of fresh Italian parsley? You can use dried parsley, though start with half the amount the recipe requires. Otherwise, the flavor will be too strong.
If you and your loved ones enjoy a strong parsley taste, you can increase the quantity slightly.
Though, it's best to start with less and add more later.
Have some plain chicken sausages that just need that extra oomph? Here's a recipe that you can use to help flavor sausages for other dishes. Plus, it only requires five ingredients!
You'll need a liquid to help braise the sausages, and in this case, it's chicken stock.
For a richer flavor, you can use beef stock instead. Try using a vegetable stock or broth if you want a lighter flavor.
This recipe is great, as you can alter it with your favorite seasonings to better suit your taste preferences.
Italian sausage and pasta have been an unbeatable combo for years. Juicy pieces of sausage swimming in a creamy, spicy sauce are hard to resist. This recipe is also great to take for lunches during the week as it's quite filling.
You'll use a pre-made marinara sauce as the base for this creamy dish.
If you have a local store that makes or sells passata, you can use that for a fresher flavor.
This recipe also works with alfredo sauce, though you will want to skip the heavy cream for that option.
Chicken sausage rolls are a perfect on-the-go snack! Each flaky roll is stuffed with chicken and veggies for a lighter twist on this favorite. Healthy and flavorful is a fantastic combo with your kids asking for an extra roll for the road!
The flakey outer crust is made from pre-made puff pastry. Ready-made croissant rolls will also work, though they'll be greasier.
You can also attempt to make puff pastry dough from scratch if you have time, though it's not a requirement.
Say hello to your new favorite summer dish that's ready in only a few minutes. The delicious, colorful bell peppers make this recipe feel like a warm-weather meal.
As the finishing touch, you'll be enjoying toasted baguette slices to the side.
While the recipe calls for baguettes, you can use any hearty bread with this recipe. Try it with slices of sourdough.
Or, grab dinner rolls for a quick and easy swap.
Tip: Make sure to cut the sausages into thirds before cooking, so they finish simultaneously as the veggies.
Putting chicken sausage onto pizza?! Trust us, once you use chicken sausage as a topping, you'll never go back to pork sausage.
You still get to eat your pizza topped with sausage, though you'll be slicing off a few calories.
Like most pizzas, this option requires shredded mozzarella cheese.
You can also use fresh mozzarella for a more restaurant-worthy dish. Or, swap it with a non-dairy alternative if you have dairy sensitivities.
Add some garlic bread on the side or wings, and you'll have a delicious dinner calling your name.
Low-carb doesn't have to mean boring! This low-carb chicken sausage skillet is so tasty and filling that you won't even realize it's low-carb.
Squash and zucchini will help you stay satisfied and full after dishing out a serving of this meal.
Cremini mushrooms are delicious in this dish. Though, you can use your favorite type of mushroom instead.
Have some baby portabella mushrooms that need to be used up?
You can slice them and then toss them into this skillet without affecting the flavor!
There are so many ways to make a tasty chicken sausage skillet that we want you to have all the variations!
This option includes Brussel sprouts as one of the main veggies, creating a dish much different than the previous skillet options.
Add some pasta salad to the side for the perfect summer dinner.
Six ingredients are all you need for this skillet, including red onion.
For a slightly sweeter flavor, swap out the red onion for a yellow onion. You can use the same amount as the recipe lists.
Still in need of more chicken sausage dinner ideas? Here's a one-pot skillet recipe that guests will love at summer hangouts.
Serve this vegetable sausage skillet with homemade sangria, and it'll be a home run!
Using rosemary with chicken is always an excellent choice, as it pairs perfectly. However, that doesn't mean you can't try other herbs with chicken recipes!
Try using fresh herbs like thyme for an equally delicious taste.
Tip: This recipe makes about 7.5 cups of food, so it's great for large families and gatherings. Use half the recipe for smaller groups or solo eaters.
Looking for a recipe that you can serve by itself without planning side dishes? If so, this sheet pan chicken sausage with veggies and potatoes is ideal for you.
The potatoes help make this recipe quite filling, so any sides would create too much food.
One of the primary ingredients in this recipe is baby potatoes. You can use any variety you like, though we're particularly fond of sweet potatoes.
As potatoes have a subtle flavor, you can swap in whatever you have on hand without fear of changing the dish's flavor.
Something about spaghetti for dinner is so comforting! This recipe takes a standard marinara-covered spaghetti dinner and elevates it into a meal you'll want to eat every night.
Using simple, fresh ingredients is the secret behind creating this delicious recipe.
Fresh basil is the secret ingredient that adds a pop of color and a delicious flavor to the recipe.
You can also use dried basil in a pinch. However, it will take away some of the freshness of the dish.
Italian parsley is also a great addition to this dish. Use it as a garnish when serving the spaghetti.
If you haven't had escarole in your pasta, you're missing out! It's a type of bitter green that perfectly compliments the richness of the cheese and the other veggies.
Escarole is an ingredient that you'll find in many traditional Italian recipes, like Italian wedding soup.
While escarole is a fun ingredient in this dish, it can be swapped out for an easier-to-find option like spinach or baby kale.
As long as you're adding a green to the dish, you won't be too far off from the recipe!
Tip: Use spicy chicken sausage if you prefer the flavor to Italian chicken sausage.
Here's a fun recipe from Weight Watchers that's ready in half an hour and super easy to make.
Another bonus? This dish is budget-friendly, so you can make it as often as possible without breaking the bank.
You'll be using Greek yogurt to help create the delicious, creamy dressing. You can also use any unflavored, unsweetened yogurt as the dressing base.
Keep in mind that this type of yogurt will have a thinner consistency and require you to adjust the amount of olive oil you use.
Adjusting the olive oil will help prevent the dressing from becoming too watery.
Here's one of the yummiest chicken and sausage recipes! Skip making the same stuffed bell peppers and swap them for this recipe.
Each zucchini is hollowed out and filled with delicious ingredients like chicken sausage, onions, tomatoes, cheese, and breadcrumbs.
Adding breadcrumbs helps beef up the filling, creating a stuffing-like consistency. Pump up the flavor in this recipe by using Italian breadcrumbs instead of plain breadcrumbs.
If you have old bread that you need to use, toss it in the oven and break it up to create homemade breadcrumbs.
Need a delicious recipe that you can throw together in less than 15 minutes? This super tasty roasted chicken sausage option can be in the oven in a snap and ready to eat after 50 minutes.
That leaves plenty of time to get ready, hang with the family, or catch up on a show.
Brussel sprouts are delicious, but not everyone loves the flavor of these hearty veggies. Use broccoli florets or cauliflower florets for a similar consistency.
You can also swap out the Brussel sprouts for another seasonal veggie like cabbage.
Why not add it to a soup instead of baking, roasting, or pan-frying chicken sausage?
This Italian soup is flavorful and light with its tomato-based broth. It's a great soup to enjoy regardless of the season since it's not too heavy.
You'll use diced tomatoes to help flavor the broth and add bulk to the soup.
You can always use fresh tomatoes instead. Make sure to chop fresh tomatoes to a smaller size before tossing them into the soup.
Roasting the tomatoes beforehand will add a lovely smoky flavor to the soup.
How do roasted chicken sausage and sweet potatoes topped with creamy avocado salsa and fiery chili-lime sauce sound? Sounds pretty good to us!
This scrumptious dish is mouthwateringly good, and your family will think so too!
Adding a fiery flavor to the sweet potatoes and chicken sausage is easy when using chili powder. If you're a person who loves food to be as spicy as possible, swap out the chili powder for cayenne powder.
Be prepared for a higher level of heat in your dish!
So, you've worked your way through most of the list and are still wondering what to make with chicken sausage? Prep your grill and start assembling these kabobs!
They're quick to prep and cook (under 20 minutes total time!).
Avocado oil will help keep your skewers and kabobs from sticking to the grill.
However, this type of oil can be quite pricey. Olive oil will also work well and add a lovely subtle olive flavor.
Tip: Opt for extra virgin olive oil, as it can withstand temperatures up to 400F.
Need a way to use up a leftover pumpkin without resorting to pumpkin pie? Try this pumpkin and chicken sausage hash.
It's the perfect filling fall time recipe that will leave you with a full belly and appreciation for the versatility of chicken sausage.
Butternut squash is another excellent option if you have that on hand. You can use sliced butternut squash instead of pumpkin. Or combine the two for an even more fall-like dish.
Use the same total amount as the recipe requests if you're using butternut squash and pumpkin.
Sure, eggs, bacon, and hashbrowns are a delicious breakfast. However, sometimes you're craving something a little bit different.
This chicken sausage and pepper hash satisfies the potato cravings without you having to eat hashbrowns.
Like many recipes, you'll be seasoning this breakfast hash with black pepper. For a stronger punch of flavor, use freshly ground black pepper.
It will add the perfect kick of heat to your recipe.
This recipe is so good that you'll want to recreate it for lunch and dinner!
Cold winter evenings call for a filling, delicious stew. Here's a yummy way to use up leftover sausage and enjoy a homecooked meal in no time.
You'll be creating this right on the stovetop, so you won't need to own a slow cooker for this one.
The hidden ingredient in this dish is the carrots! They help add a delicious sweetness to the stew.
Skip a few steps by using baby carrots instead. You'll still need to slice them in half when creating the stew.
Jambalaya is one of the best recipes using chicken sausage. It's a fabulous way to remake this traditional Creole dish using a lighter sausage variety.
You'll want to grab a smoked chicken sausage to make this dish as flavorful as possible.
One of the main ingredients in jambalaya is rice, which helps soak up the mouthwatering broth. Make this recipe even healthier by swapping standard rice with cauliflower rice.
You'll want to add this replacement later than the recipe tells you since it takes less time to cook.
Maybe you've found that sausage and veggie skillets are not filling enough for you. And that's okay! This recipe with rice should help you stay nice and full until your next meal.
Plus, it's really tasty and easy to pack for work lunches.
This recipe calls for white rice. However, you can use basmati rice or brown rice as easy swaps.
As a reminder, brown rice typically takes a little longer to cook and requires slightly more liquid.
Tip: Save time by using rotisserie chicken in this dish.
Sausage and rice, have you ever met a better combo? This healthy dish is full of nutrient-rich veggies, lean protein, and grains for an easy mid-week dinner.
Did we mention this meal is a one-pot recipe?
Lovely bell peppers in nearly every color (red, yellow, orange) are sliced and added to this casserole.
You can use frozen bell peppers instead if you're in a rush. Or, try swapping them out for poblano peppers or your favorite veggies.
You'll be left with a healthy, tasty dinner dish no matter which vegetables you add to this casserole.
This jambalaya recipe takes it up a notch with the addition of shrimp. You can make this dish knowing that it has something for everyone! This comforting dish is perfect for family dinners during the week.
Yes, this recipe does call for shrimp. But that doesn't mean you can't swap it for your favorite seafood!
Add in tilapia pieces, oysters, or even scallops if you feel adventurous.
Tip: If anyone has seafood allergies, you can skip the shrimp and still enjoy a filling meal.
Skip wondering what to do with chicken sausage and make this yummy sausage and cabbage recipe! This yummy dish keeps it simple so that the cabbage and sausage flavors shine through.
You can't go wrong with a dish that only takes 30 minutes from prep time to cook time!
How do you create a tasty dish using minimal ingredients? By including garlic as a flavoring agent! Shallots are another great way to season this dish.
Plus, they have a more subtle garlic flavor for those who aren't as keen on a strong garlic taste.
Are you surprised by how many recipes include chicken sausage? Now that you're aware of its versatility, perhaps you'll stock up in your fridge.
You can also use chicken sausage in any recipe that calls for pork sausage. We hope you love these recipes!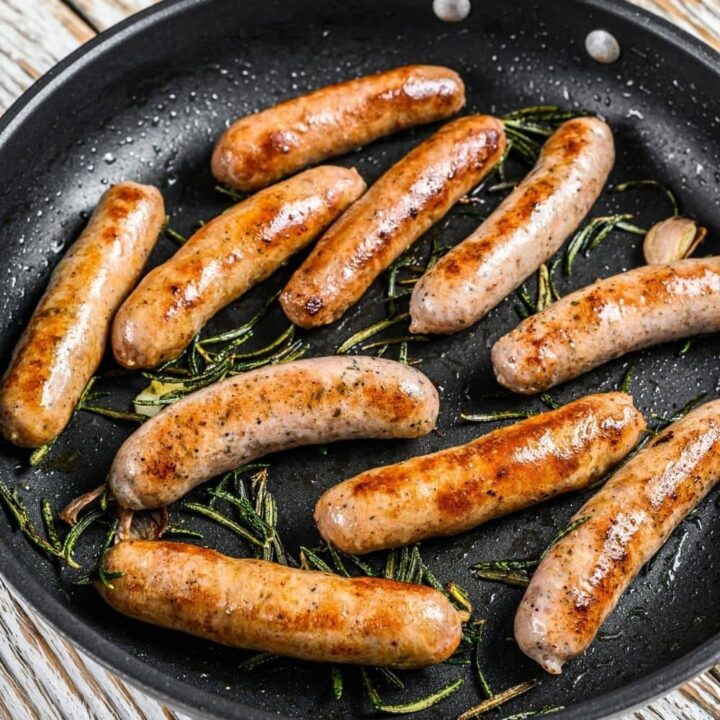 30 Easy Chicken Sausage Recipes
Ingredients
2 tbsps unsalted butter
3/4 lb sweet or hot Italian sausage, cut into chunks
3/4 lb skinless, boneless chicken breasts, cut into chunks
Kosher salt and freshly ground pepper
1 tbsp all-purpose flour
1 small onion, chopped
2 Italian green frying peppers, cut into 1-inch pieces
3 cloves garlic, roughly chopped
1/2 c dry white wine
3/4 c low-sodium chicken broth
1/4 c roughly chopped fresh parsley
2 jarred pickled cherry peppers, chopped, plus 2 tablespoons liquid from the jar
Instructions
Melt one tablespoon of butter in a large pan or skillet over medium heat. Next, brown the sausage for about two minutes. Then, season the chicken and toss it in flour before browning it in the pan for three minutes.
Next, add the veggies, salt, and pepper into the pan and cook for three minutes. Pour in the wine, making sure to scrape up any bits of veggies stuck to the pan. Boil for one minute before adding the broth and bringing it to a simmer. Add the lid and simmer for about five minutes until the meat is cooked through.
Remove the veggies and meat from the pan using a slotted spoon and place them on a separate plate. Bring the liquid to a boil and add cherry peppers and parsley. Let boil for about three minutes until the sauce slightly reduces, then remove from heat and add remaining butter. Pour the delicious sauce over the chicken, sausage, and veggies, and it's ready to serve.