Chicken thigh casserole recipes are a common dinner on a busy night or when someone is looking for something full of flavor. While most people think to use the chicken breast because it is a common ingredient, it's actually the chicken thighs that are the best to use.
Chicken thighs are tender, juicy, flavorful, and very forgiving. They don't get dried or overcooked easily, so if you're not an expert at cooking chicken, that's okay!
Using these chicken thigh casserole oven recipes, you can switch up ingredients and cooking styles and have a different dinner every night of the week.
It's never too early to start planning your football season menu! And this Buffalo-style chicken thigh casserole is sure to fill up any fans and make them happy no matter what team they're cheering for.
Made with traditional Buffalo flavors of blue cheese wing sauce, this recipe is a hit. Add in Blue cheese crumbles to give an extra pop of flavor inside the casserole and add even more to the top of the panko mixture before you bake.
This one-skillet chicken thigh recipe is a great way to make a fancy dish simple.
There aren't many ingredients; keeping it easy with flavors that add depth to a recipe like mushrooms, and shallots, brings an earthy note to the dish.
The white wine sauce made with chicken stock and the browned bits of the chicken brings a more mature flavor to the plate.
Sometimes all a person needs is a big pot of comfort food after a long day. And what's more comforting than bacon, mushrooms, and onion with juicy and tender chicken thighs?
The addition of leaks gives an extra onion flavor with a bit of sweetness to it. Serve with biscuits for sopping up all the thick and creamy sauce.
The preparation for this casserole only takes a couple of minutes, but it leaves everyone with a warm feeling inside.
Simple chicken thigh casseroles are even better when you add a warm carb to them- and rice makes a perfect addition. It's easy to cook and adopts any flavor that you're looking for.
With Chicken thighs being so flavorful, it pairs perfectly with rice. A quick cook of the rice with butter then added to the bottom of the baking dish gets things started.
Add your sauce on top and then, of course, the tender chicken thighs. A few extra seasonings (and melted butter because you can never have too much butter!) and set it to bake.
In one hour, you'll be ready to serve this hot and flavorful casserole dish.
A great way to add an extra kick to a casserole with chicken thighs and rice is to add some extra seasonings.
Seasonings are a fun and easy way to change up a recipe and give it a different flavor.
The addition of an herb like thyme gives any recipe a new depth. Thyme is a fantastic herb as it hits a lot of notes such as sweet minty, earthy, and even a hint of citrus. It takes your simple chicken and gives it extra layers of flavor.
In the mood for something earthy? Then adding in mushrooms will always do the trick!
This recipe calls for button mushrooms which tend to have a nutty or woody flavor. Paired with the sweet burst that the peas will give and you've got a lot of flavors in one just pan.
But the recipe doesn't stop there!
Adding salty pancetta and garlic shallots will ensure that this chicken thigh casserole will hit every bit of your tastebuds.
Casseroles tend to be thought of as carb-heavy and don't fit on many diets. But this healthy chicken thigh recipe will change the game!
It's a keto diet-friendly recipe that is also gluten-free and is a simple dish to make for any time you're craving those juicy chicken thighs.
Just because it's healthy doesn't mean it's light on flavor or will leave you feeling hungry.
It has broccoli and leaks for our vegetable component, heavy cream, cream cheese, and mayonnaise to keep it creamy, and
Dijon mustard for a kick-in flavor. Who says diet food has to be boring?
Do you ever need a rustic, down-home dinner? This cooked chicken thigh casserole is exactly that and checks all those boxes.
In a casserole dish, start by frying the chicken thighs. The flour and chicken stock you'll add next will be what creates the sauce.
The carrots, potatoes, and onions are what bring this chicken casserole recipe a homey feel.
Lemon is another ingredient that can take a simple recipe and elevate it.
Lemon gives a fresh citrus burst when added to anything. This is why it pairs well with chicken thighs, as it enhances the flavor but cuts through the fatty feel of the chicken.
When the earthy leaks are added to the lemon, it balances both flavors.
Another flavor that goes great with lemon is black pepper which adds spice to the blend. Recipes are all about balancing flavors and this recipe does exactly that.
Chicken thighs, cheese, and bacon- what else could a person ask for?
This recipe is the combination of all of these perfect ingredients in one dish.
Because this recipe calls for the chicken to be cubed, it's best to save this one as a boneless chicken thigh casserole recipe so that the chicken is easier to dice.
This is also a low-carb dish as well with only chicken, cheese, and a mayonnaise mixture.
If some people trying this casserole are looking for some carbs, this will spoon nicely over rice so some can enjoy the carbs and others can stick to their diets!
Trying to be healthy but still want to fill your stomach? This vegetable-forward chicken thigh recipe is great for filling people but in a healthy way!
Packed with green beans, kale, mushrooms, and cannellini beans there are plenty of vitamins and flavors to go around.
If you're looking to add even more vegetables, there are other canned bean options like garbanzo beans and kidney beans, or
you could add a sweet touch of some corn!
Fresh or frozen doesn't matter, it'll all come together with the chicken and broth to make a simple and hearty meal.
Looking for a way to turn up the heat for dinner? This spicy chicken thigh casserole will do just that.
Cooked Italian style, with olives and capers in a tomato and wine sauce, is already going to give this recipe a traditional Italian flavor. But to turn up the heat, add red pepper flakes to the sauce.
Add as much or as little as you want to depend on the heat level you enjoy!
The bell peppers will add a sweet note as well as slightly bitter from the green, which will enhance the depth of the flavor.
Mustard is a unique ingredient that people sometimes forget about.
Dijon gives both a sweet and spicy flavor to whatever food it's used with. It's especially delicious in this chicken thigh casserole.
If you're unsure about how much mustard to use, always start with less because you can always add more as needed.
With any ingredient, you can add more but you can't take it out once it's added.
Tasting the ingredients as you put them in any recipe, as well as tasting the food as you go, is the best way to know how much to add.
This Dijon vinaigrette with shallots packs quite the punch so taste it before you put it over your chicken and potatoes!
In this chicken thigh recipe, cheese is the winner!
With a blend of three kinds of cheese, zesty marinara, and fried boneless and skinless chicken thighs it becomes a perfect version of chicken parmesan. Ricotta, parmesan, and mozzarella will melt together when it's baked with the chicken.
And for this recipe, there is no such thing as too much of any ingredient- so add as much cheese into your mixture as you'd like!
A good jarred marinara can be a simple and quick way to make this recipe. Of course, if you're in the mood, you can always make one from scratch!
Stuffing is often thought of as Thanksgiving food, but it is good for so much more than that. In fact, it's the perfect food on a cold night.
With chicken thighs and a creamy soup, it's a good way to make a casserole.
Stuffing is another food that can be made from scratch but can also be made from a box if time is an issue.
Either way, this casserole has minimal dishes and can be prepared quickly for a family dinner.
Add a small leafy salad for a little something fresh on the side.
Chicken thighs and dumplings are a classic combination. And this recipe combines these two into a savory herb casserole.
Making the dumplings can seem difficult- but they only take three ingredients: cold butter, self-rising flour, and seasonings.
But if the idea of a boxed batter for the dumplings sounds easier, then use that instead!
Baking the pre-cooked chicken thighs with the dumplings and tomato sauce makes this casserole a perfect balance of sauce, chicken, and carbs.
Gnocchi is an ingredient that people don't think to use often, but it can be a great replacement for pasta, rice, and other potatoes.
In a chicken thigh casserole, these potato-filled pillows of dough make a great addition to chicken thighs.
They can be made by hand but take a little extra time.
Buying frozen or boxed is a quick solution and will still taste yummy! The Asiago and garlic cream sauce gives a nice nutty flavor to the warm spinach and chicken.
This chicken thigh casserole makes for quick comfort food on a busy night.
This chicken thigh casserole is made with a sweet and light tomato sauce. With the vegetables added, the pot turns out more like a light stew.
As with any soup or stew, it can be served on its own or added with potatoes, rice, or pasta (like ziti or penne).
Even a simple bread and butter will be great for dipping, so you don't leave a drop behind.
Since the flavors here are simple and versatile, you can add many different vegetables, beans, or ingredients to enhance this casserole recipe.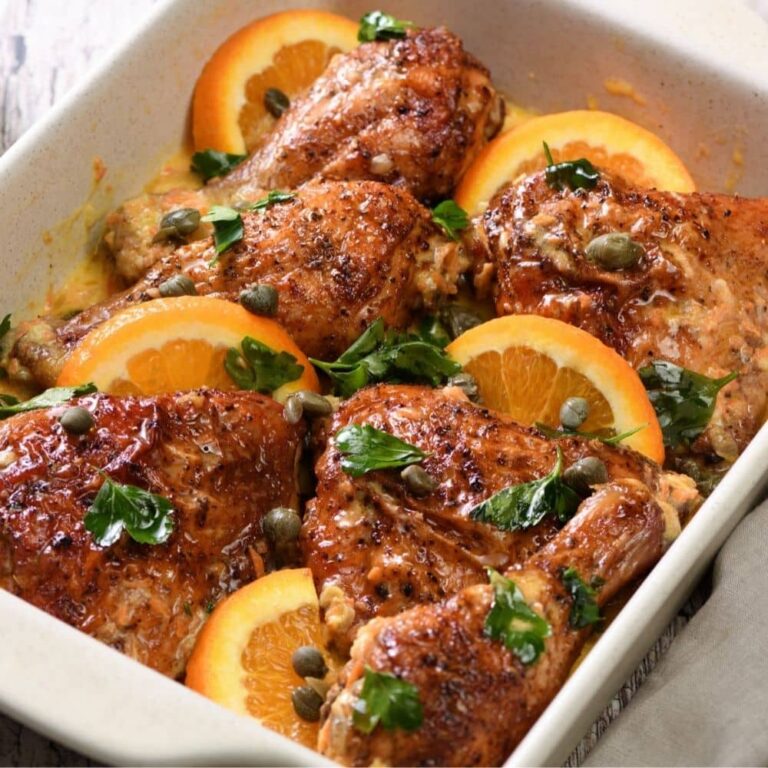 18 Easy Chicken Thigh Casserole Recipes
Ingredients
3 stalks celery, cut into matchstick-size pieces
2 carrots, shredded
⅓ c buttermilk
⅓ c crumbled blue cheese
2 tsps red wine vinegar
1 tsp Worcestershire sauce
½ tsp celery seed
½ tsp salt
3 lbs boneless skinless chicken thighs
1 c buffalo wing sauce, divided
Instructions
To make the wing sauce, put Worcestershire sauce, vinegar, celery seed, salt, buttermilk, shredded carrots, and salt in a bowl. Stir until mixed.
In a separate bowl, put ¾ of a cup of the wing sauce and cover the chicken.
On an already heated and oiled grill, place the chicken on the grill.
Grill for six minutes, and then flip and grill for another 6 minutes. Continue to baste with the wing sauce until it is thoroughly cooked (no pink down to the bone/ 165 degrees F)
Serve with a slaw (from step 1) and extra crumbles of blue cheese.