Can you cook chicken and shrimp together? Absolutely yes! This is one of the best meal combos you can try if you need alternatives to normal chicken.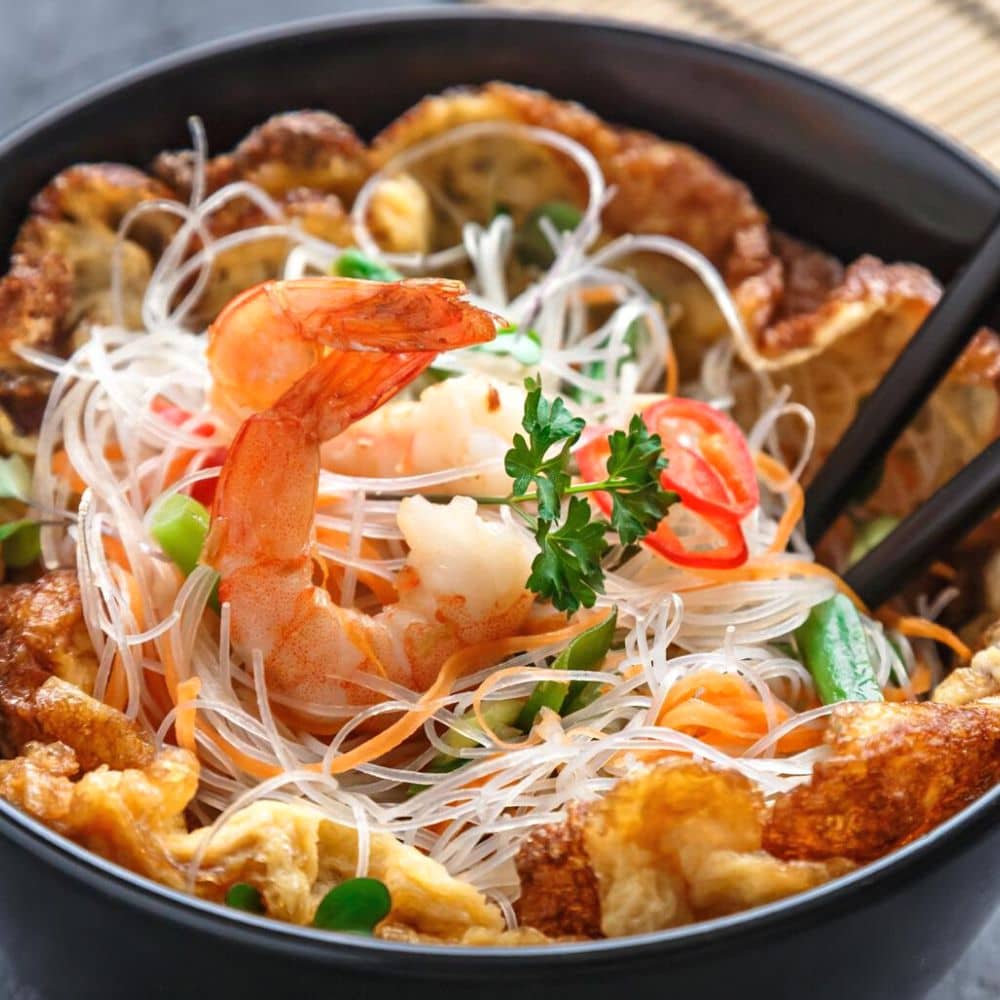 If you are looking for chicken and shrimp dinner ideas, we have a collection of recipes with chicken and shrimp you can try at home.
Enjoy crowd-pleasing dinners with your family with these chicken and shrimp recipes that will impress everyone in your family.
Chicken and shrimp pair well and this recipe create a quick and enjoyable dinner in less time. The combination of the tender chicken, juicy shrimp, and garlic make it a yummy midweek meal.
The chicken acts as a second protein, and this makes the meal satisfying. Garlic and fresh herbs give it more flavor.
Anyone can prepare this scampi-like meal and serve it with pasta, boiled rice noodles, or linguine. Cooking the chicken and the shrimp in one pan offers minimal cleanup.
Are you craving flavorful one-dish chicken and shrimp dishes? This skillet dinner will leave your whole family wanting more.
I love meals that make cleaning a breeze, and with just one skillet, this is a winner recipe in my kitchen.
The hearty chicken and shrimp meal is healthy and flavorful. It can make a quick dinner meal for those busy nights.
If you have not tried chicken and shrimp recipes with pasta, you are missing out! The Cajun Chicken and Shrimp Pasta is flavorful and super creamy.
This is an easy recipe you can make in 25 minutes and you can customize it to your liking by adding any veggies of your choice.
The Cajun-inspired recipe comes in handy for hectic dinner days. Even though you have two different proteins, it is super quick to make a restaurant-quality dinner.
Look no further than this Chicken and Shrimp with Lemon Cream Sauce if you need a satisfying meal that takes less time to prepare.
Prepare this creamy pasta for your kids, and they will love it. The easy and elegant dish tastes like restaurant quality.
I love the creamy lemon flavor that makes me want to prepare this recipe over and over. Try this for your family, and everyone will love it.
Southern-style recipes are my favorite and I'm always craving the Chicken and Shrimp Jambalaya during summers.
With a generous quantity of lean protein, this meal is super filling and healthy.
You won't believe how easy it is to make this dish.
If you need to cook for a crowd or your family, get your skillet and make this boldly flavored meal that pleases everyone.
This is an ideal meal for entertaining.
Chicken breasts are my kitchen staple and our favorite protein. The combination of chicken breasts with shrimp creates the most delicious dish.
If you have visited Olive Garden, you must be familiar with their chicken scampi recipes.
The recipe uses a similar sauce as the Olive Garden's Chicken Scampi, and I'm sure it will be your family's favorite.
The wine-infused sauce and the creamy tomato give the chicken and shrimp much flavor.
This recipe is quick to make in 30 minutes and it suits dinners for any occasion.
You can never go wrong with having shrimp and chicken in one meal. This is a perfect combo for your weeknight dinners.
The dish is incredibly creamy and mouthwatering. The creamy and flavorful Cajun parmesan sauce smoothens the shrimp and the chicken making the pan-fried meal heavenly.
Making the dish is straightforward with minimal effort. I love pairing it with fettuccine noodles but any pasta works fine too.
Take your weeknight dinners to another level by trying easy Italian chicken and shrimp recipes.
The Chicken and Shrimp Carbonara is an example, and it tastes just like the one at Olive Garden.
The Italian-American dish is hearty and super creamy. It is rich in proteins hence fulfilling for your family.
You can easily make this recipe at home and it comes out better than the restaurant quality. I serve it with Italian salad, breadsticks, and white wine.
If you are having a hard time deciding whether to eat chicken or shrimp, why not have both? Gumbo is a perfect potluck meal you can have any time of the year.
Serve this meal to your friends especially when it is cold outside to provide a warming heat.
This is a must-try recipe for cold nights!
The combination of the chicken, tender shrimp, and brown rice makes the combo hearty and filling.
Sometimes a quick dinner is all you want, especially if you don't want to spend many hours in the kitchen. Fajitas are one of the easiest meals you can prepare for dinner.
You just need to fry a few ingredients, and your recipe is ready. Chicken and Shrimp Fajitas make an easy and flavorful weeknight dinner.
The seasoned chicken and shrimp are sautéed with onions and pepper and wrapped in a tortilla. This is a winner recipe you will love to make frequently.
Have you tried chicken and shrimp recipes with rice? If not, try this recipe and you won't need to buy takeouts again because homemade always tastes better!
This is a 20 minutes recipe you can prepare in one skillet. It is healthier, flavorful, and contains tender shrimps.
You can also try this recipe if you need alternatives to make fried rice amazing. The recipe is a great weeknight meal especially when you need to make rush dinners.
Take a break from your normal chicken dinners by trying the Chicken and Shrimp Paella. This is one of the simple chicken and shrimp recipes if you love traditional Spanish cuisine.
The one-pan recipe is a delicious and healthy dinner for your entire family.
You can even batch cook and have it all week long.
It comes out so delicious, and you can't stop yourself from coming back for more.
If you need healthy chicken and shrimp recipes to feed a crowd, this recipe is for you. The Chicken And Shrimp Fajita Nacho are not only colorful but also delicious.
The combination of pepper, cheese, onions, chicken, and shrimp makes the meal yummy. Try this recipe on busy weeknights when you don't have time to cook.
Nachos make the dish inexpensive to make, and it gives a nice presentation on the table.
You can personalize the recipe to your liking by adding various nacho toppings.
It is possible to make restaurant-quality Bang Bang Chicken recipes right in your kitchen.
The recipe is easy and quick to prepare with bursting flavors.
If you have never tried this copycat recipe, it's time you do it and enjoy a nice combination of flavors and texture, making it insanely delicious.
It takes less than 30 minutes, and you will be excited about this easy and quick dinner. Most of the ingredients in this recipe are spices, and you probably have them in your pantry.
Sheet-Pan Chicken & Shrimp is always on our dinner rotation. The family-friendly dinner is delicious and a great weeknight meal.
The shortcut sheet-pan dinner only takes 20 minutes to prepare.
You can also prep it quickly in the morning, and bake it at dinnertime.
A melody combination of spices gives this meal complex flavors. It tastes so good that you will want to make it over and over.
The combination of flavor in chicken and shrimp meals is classic.
If you are fond of Hibachi dishes, you can easily make a homemade dish with simple ingredients.
Hibachi Chicken and Shrimp have sautéed vegetables served over fried rice to make a delicious and easy dinner.
I love it and it tastes just like other Hibachi dishes I have eaten out.
With shrimps, vegetables, and rice, this is a complete meal on its own. It's not only easy to make but also super tasty!
If you love Cajun spiced food, this is a wonderful recipe to try. Pasta is loaded with shrimps, Cajun spiced chicken, cream, veggies, and parmesan.
The combination of all these ingredients makes it one of the most delicious recipes you can make from scratch.
I love fresh flavors and this recipe uses all fresh ingredients that provide a natural taste.
It comes out well, and I'm certain you will love it!
Chicken and Shrimp Dumplings are easy to make and amazingly delicious. If you haven't tried making the recipe at home, you need to try it!
The mixing process is super easy but folding can be time-consuming. If you find folding them quite a task, get some help from a family member.
I love making a large batch so that I can freeze them for later weeknight dinners. You can choose to boil, steam, or pan-fry your dumplings.
Chicken and shrimp pair well, and even the pickiest eaters will enjoy them. If you would like to include shrimps in your dinner routines, this is a must-try recipe.
Brown the chicken pieces and then cook them in a tomato-based sauce. At the end of the cooking time, add the raw shrimps which add a nice flavor.
The chicken also comes out juicy.
Serve the shrimp and chicken sauce over cooked pasta and pair it with crusty bread and tossed salad as the side dish.
Shrimp & chicken recipes come in handy for many family dinners. If soups are your favorite, you should try Thai Coconut Chicken & Shrimp Soup.
I love making this soup for my family especially on chilly mornings and nights during fall.
Not only is it hot, and spicy but also delicious. This is one of the best and tastiest soups you can make in your kitchen with just a few ingredients.
The soap tastes way better than any Thai takeout.
20 Easy Chicken and Shrimp Recipes
Ingredients
10 oz uncooked fettuccine
1 lb fresh asparagus, trimmed and cut into 2-inch pieces
1 lb boneless skinless chicken breasts, cubed
1/2 tsp garlic salt
1 tbsp olive oil
1/2 lb uncooked shrimp (31-40 per pound), peeled and deveined
1 c heavy whipping cream
2 tsps grated lemon zest
3 tbsps lemon juice
1/2 tsp salt
1/8 tsp pepper
Instructions
Cook fettuccine per the package directions in an oven, adding asparagus in the final 3 minutes.
In the meantime, season the chicken using garlic salt. Pour the oil into a large frying over moderate heat. Cook for 8-10 minutes, or until chicken has no pink.
Stir in the shrimp and cream, and simmer, covered, for 2-3 minutes, or until the shrimp become pink. Combine the lemon juice, chicken broth, salt, pepper, and lemon zest, in a mixing bowl. Return the fettuccine to the pan after draining. Toss in the sauce to coat.