Asian chicken is so good. It's always perfectly sweet and delicious. There are so many different Asian chicken recipes out there so you can enjoy your dish however you like it.
Whether you like a chicken with a little bit of a kick or you would prefer something sweeter, we've got you covered.
These 27 Asian recipes with chicken do a great job of showcasing a variety of flavors with the perfect combination to keep you satisfied.
First up is a recipe that gives you the perfect sticky sauce with a delightfully crisp finish. You really can't beat sticky and crispy in an Asian wing recipe.
This recipe for Asian chicken wings uses the trick of starting to cook your wings at a low temperature before you add any sauce.
You round out with higher temperatures to make the wings start to crisp up. You're only going to cook with the sauce for about 10 minutes in the end.
Would you rather turn your meal into a delightful salad option? This Asian-style chicken recipe takes the unique flavors of Asian chicken and creates a delicious salad out of it.
The Asian chicken salad blends savory flavors like cilantro and garlic and adds in a touch of sweetness with Mandarin oranges.
It's flavorful and packed with nutrition. Toss in some chow Mein noodles and a sweet dressing to top it off and you've got the best flavor possible.
There is just something about that stick Asian sauce that really makes any chicken dish stand out. This sticky glazed Asian chicken uses a honey orange mixture for a touch of sweet flavor to the sticky sauce.
The honey and orange really compliment each other nicely.
Of course, you can also mix up the glaze a little bit and try something like honey garlic lemon instead. They used chicken thighs here, but you could easily use wings or breasts instead.
The recipe works with any chicken you choose.
Sesame chicken is one of our favorite Asian chicken dishes. It's just something about the mildly sweet flavor, sticky sauce, and a crisp finish.
This crispy sesame chicken adds just a hint of spice to the flavor so you get that sweet flavor, a little hint of spice, and plenty of sticky sauce.
That hint of paprika paired with the crisp exterior really helps to bring the entire dish together into something phenomenal.
It's perfectly served with some sticky rice or veggies. What will you serve with yours?
Ok, ok, we get it! Not everyone wants breaded or fried chicken recipes. If you prefer a grilled chicken dish, you can still totally enjoy Chinese recipes with chicken. This grilled Asian chicken is a good one.
You can marinate your chicken breasts in the sauce and then grill them up.
Save a bit of sauce so you can glaze the chicken at the very end and really pump up the flavor.
Serve this with your side of choice. A salad, a baked potato, or maybe even some fried rice will do.
Do you prefer your Asian chicken with some spice to them? Check out this Asian chili chicken. It's the perfect blend of spice to the combination of Asian flavors.
You use all of your traditional ingredients for an Asian sauce but add in some chili flakes and a hint of sriracha to give yourself that extra heat.
This is perfect for the spice lover in your household. It's simple to make and it pairs well with just about any side that you like.
If you're a big fan of sesame chicken recipes, take a look at this sticky sesame chicken. It switches up the flavor just a tad and it's quick and easy to make.
This certainly falls into easy Asian chicken recipes since you can prepare it from start to finish in only about 30 minutes.
If takeout is your go-to, you're about to have a new favorite.
The chef's expert tip is to not overcoat your chicken for the perfect flavor. What will you serve with yours?
Sometimes it's so much easier to get chicken thighs from the store and work with those. You can even find boneless chicken thighs if you look carefully.
Thighs are the perfect size for this recipe. These Asian chicken thighs have a thick sauce that is just a little bit tangy.
You might be surprised at one of the ingredients here.
They actually use ketchup to help create the sauce. It's an interesting twist and the end result is quite tasty.
If you like to give things a healthy twist, these Asian chicken lettuce wraps will do just that.
They are packed full of flavor and can be made in different ways. If you've ever had the chance to eat at a P.F. Chang's restaurant, this is a copycat recipe for their Asian wraps.
The entire combination is healthy and there is no gluten or dairy at all in it.
You can make these up in less than 30 minutes. The chicken resembles a cashew chicken stir fry and it pairs perfectly with large lettuce portions.
So many Asian chicken thigh recipes require you to marinate your chicken. How often do you forget to prep things and then run out of time to marinade?
This roasted Asian chicken thighs recipe skips the marinade and still gives you great flavor. The glaze is thick and sweet with the right amount of stickiness to it.
It's light in flavor so it's not overwhelmingly sweet. They recommend serving it with Bok choy but what is your recommendation for the perfect side?
Are you a fan of soup? Sometimes we just need a bit of soup in our lives. It's comforting and warm and still quite tasty if you make it right.
This Asian chicken noodle soup uses simple ramen noodles and then packs in the flavor with chicken, vegetables, and well-rounded spices.
The only prep work is to sauté your veggies and slightly sear your chicken before compiling everything into a soup and letting it simmer. Add a touch of sriracha if you want to give it a little kick.
Let's kick it up a notch, shall we? What if you can have the perfect flavor of an Asian glaze and pair it with a little bit of heat and a smoky grilled flavor? That's exactly what this Asian chicken with marinade does.
Combine together the perfect amount of sweet, savory, and spicy.
Marinate or glaze your chicken and then grill it up for the best overall flavor. This recipe adds some red chilies to really bring in some heat. It's delicious!
How many of us have busy lives? So often dinner is an afterthought thanks to work, sports, and other activities. We need something quick and easy or something that's ready when you walk in the door. This slow cooker Asian chicken is perfect.
Since you're using a slow cooker, tack this recipe into your Asian chicken breast recipes.
Use whatever chicken is convenient. Just put it all in the crockpot and let it simmer together all day. Are you hungry yet?
A great way to mix it up a little bit is to make meatballs instead of traditional chicken. These Asian chicken meatballs still have chicken and that delightful Asian glaze on them. They're really easy to make and quite delicious.
The meatballs make it easy to pair your meal with some steamed rice and a side of healthy broccoli too.
This is another recipe that you can have on the dinner table in about 30 minutes. The glaze is perfectly sticky and flavorful with honey and ginger.
Not a big fan of the sauces that focus heavily on honey and ginger? Take a look at this sweet and sour chicken instead.
It pairs together sweet flavors with some sweet vegetables like onions and bell peppers.
The breading is light and crisp, and the glaze is sweet but doesn't add the typical ginger and honey that so many of these recipes include. Here's another sauce with ketchup as the secret ingredient.
Who would have thought it could make such delicious chicken?
We don't know about you, but we love a good noodle dish. Yakisoba is a noodle that is similar to ramen but just slightly thinner and more flavorful. Of course, you could probably get away with using ramen on this classic chicken yakisoba dish.
It's very simple and gives you the opportunity to add some veggies to the dish.
This yakisoba dish is very close to stirring fry with the addition of the noodles.
It's perfectly flavorful and really very simple to make. You just need to prep your chicken a bit to make sure it gets cooked.
Let's change up the flavors a bit with these Asian chicken thigh recipes that give you a Korean twist of flavor. Your sauce will still be sticky and thick, but you get a combination of sweet, savory, and spicy flavors all packed into one.
Top it with sesame seeds for the perfect finish.
Start with cooking the chicken and breading it to make it nice and crisp. The sauce will be the real winner here.
The Korean fried chicken adds a red chili paste known as gochujang and it's perfectly delicious.
How many of you use the Instant Pot to make simple dinners? This one is for you! This General Tso's chicken recipe is made perfectly easy in your Instant Pot.
It's yet another dish you can create in less than 30 minutes and it's delightful.
Skip the breading on this recipe. You're going to create a spicy sauce that is both sweet and sour with the spice.
It gives you a new spin on an Asian dish with a Midwest touch.
Mmmmm… do you smell that? It's the perfect blend of rep pepper, honey, and delightful orange flavors. Chinese orange chicken is all about the sweet flavor but you would be surprised at the hint of spice in it as well.
It's tangy and perfect with a crisp, breaded finish.
The thing about orange chicken is you can always add orange zest or some real orange to the mix.
You can also lighten the orange and still have a sweet flavor. How do you prefer your orange chicken?
Here's another new option among our Asian chicken recipes. And it's another option that allows you to make the best chicken in a slow cooker.
Teriyaki is a unique flavor that combines soy sauce, ginger, garlic, and a touch of honey. It's packed with savory flavor and less sweet than some sauces.
When you use the slow cooker, you just have to set it and forget it. There's no breading or prep work, other than loading the crockpot up.
What side do you add to a slow cooker meal like this one?
So many Asian chicken dishes have a glaze that is heavy in sugar and carbs. You also commonly pair them with rice or noodles, which adds more carbs. Don't get us wrong, they're delicious.
But where are the lighter sauce and veggies when you need them?
This Asian-style chicken lightens the sauce up just a tad and pairs with veggies so you get plenty of flavor and some healthy additions. It's still sweet. They just changed their approach to the overall creation.
We love simple recipes that make dinner time so much easier! Here is another instant pot recipe. This honey garlic chicken recipe is so quick to make. You'll be wondering how it could possibly be so easy!
It's simple because you just create your glaze and toss in the chicken. No breading is needed on this one.
The sauce has a lot of flavors. All you need to do is figure out your side dish. Some steamed rice works well.
This Moo Goo Gai Pan dish gives you another twist on Asian-style chicken. Rather than your sticky, sweet glaze, you get savory and healthy. It's still loaded with flavor and it's loaded with a ton of great veggies too.
With this dish, a little bit goes a long way so you can feed plenty at one time.
The dish has a good stir fry approach and uses the savory sauce to bring it all together.
This will take slightly longer than some dishes do but you can still have dinner in under an hour.
Sweet and savory combinations are often the biggest draw to Asian chicken recipes. It's even better when you make it at home.
This Mongolian chicken recipe brings together a perfect balance of the sweet and savory flavors, with an emphasis on savory.
The basic sauce uses a few traditional recipe pieces and then some diced green onions.
However, you could easily add to it with something like peppers, mushrooms, sliced carrots, or water chestnuts. The total time to finish is only about 30 minutes.
Have you ever cooked with pineapple? When it comes to Asian chicken dishes, you will find that pineapple can sometimes be a common addition.
The reason for that is that it adds a hint of sweet flavor to an otherwise savory dish. It pulls it all together so you can enjoy savory that isn't overbearing.
We recommend trying this pineapple chicken recipe with some simple steamed rice.
The simple flavor perfects the dish and helps bring the natural flavors out more.
Grab your Instant Pot and give this honey sesame chicken recipe a try! It's really sweet thanks to the honey approach. This one is another choice for the instant pot and it's well worth a try!
It's quick and easy with a delightful flavor so you really can't go wrong.
Side note: this recipe is actually a top choice recipe on Pressure Cooking Today. That tells us they're doing something right! Your total cook time from start to finish will only take about 25 minutes.
If you love those honey garlic flavors that bring together sweet and savory, here's a great option. How often do you cook with your slow cooker? It makes dinner time so easy!
You can prep this one the night before or in the morning and it will be steeped in flavor by dinnertime.
This slow cooker honey garlic chicken is both sweet and tangy.
Your chicken will be tender and your glaze will have tons of flavor from marinating in the crockpot all day. Does it even get any better than that?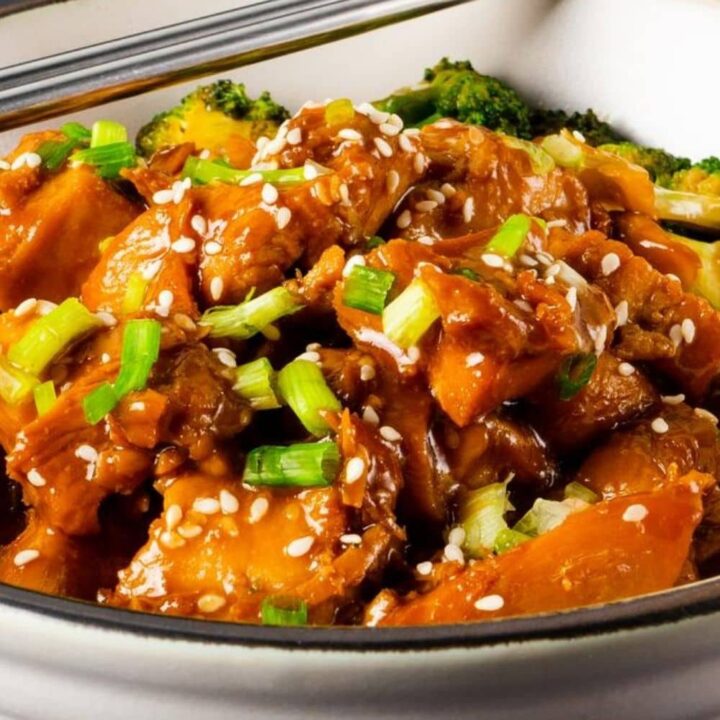 27 Easy Asian Chicken Recipes
Additional Time:
20 minutes
Ingredients
¼ c soy sauce
4 tsps sesame oil
2 tbsps honey
3 slices fresh ginger root
2 cloves garlic
4 skinless, boneless chicken breast halves
Instructions
In a bowl, combine garlic, ginger root, honey, oil, and soy sauce. Heat it up for just about 1 minute in the microwave and stir. Then heat an additional 30 seconds.

Layout your chicken breasts in a dish with a lip. It can be shallow. Coat the chicken in sauce and let it sit for about 15 minutes.

While the chicken is marinating, heat up the grill. Drain the excess sauce into a saucepan and toss the chicken on the grill.

Cook the chicken for about 6-8 minutes on each side. While you're cooking the chicken, bring the sauce to a boil on the stove.

When the chicken is nearly finished, baste it with the remaining sauce until the chicken is finished.